Health systems network of hospitals accrued more than $1 billion in debt in 18 years, says CEO Adcock
Published in the October 3 – 16, 2018 issue of Gilroy Life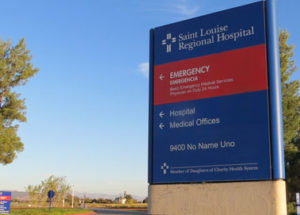 Santa Clara County started taking steps to purchase St. Louise Regional Hospital after Verity Health System of California filed for bankruptcy protection Aug. 31. The Gilroy medical facility will remain open while the California hospital chain restructures.
Along with St. Louise, the county has an offer to also purchase O'Connor Hospital in San Jose. Both offers' sums are undisclosed. If the sales proceed, the county promises to operate both hospitals in terms of quality of the medical services offered to patients in a similar manner to how they are currently run.
"The county is interested in buying the hospitals so that we can ensure that residents have continued access to local health services," said Supervisor Mike Wasserman, who represents the South Valley area. "We are well-positioned to run the hospital given our status as a public entity and record of providing quality services."
The county would initially pay cash, he said. A few months after the sale, depending on the market and when it can get the best rates, lease revenue bonds would be issued to finance the purchase. The financing term would likely be 20 to 30 years.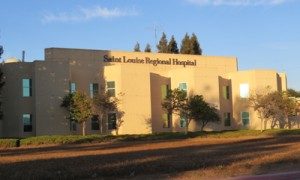 "Reliable health care services are critical for South County, and I am strongly in favor of the county acquiring it, as I was back in 2015 when the hospitals were up for sale by the Daughters of Charity," Wasserman said. "I understand how important this is for South County residents, and I will continue to do everything in my power to ensure residents are healthy and safe."
If the county's purchase offer goes through, it would add the 93 beds now at St. Louise and the 358 beds at O'Connor to the 563 beds now operated by Santa Clara County at its acute care hospital Valley Medical Center in San Jose.
After looking at all possible options, Verity took the position that the hospitals in its system would be better positioned if they were separately owned to better deal with its financial problems. More than $1 billion in debt has been accrued in the past 18 years, said Rich Adcock, CEO of Verity Health
"Despite many efforts during the past decade to create opportunities for success, we can no longer swim against the tide of our operating reality, which includes a legacy burden of more than a billion dollars of bond debt and unfunded pension liabilities, an inability to renegotiate burdensome contracts, the continuing need for significant capital expenditures for seismic obligations and aging infrastructure," Adcock said in an Aug. 31 press release.
St. Louise was originally owned and operated by the Daughters of Charity of St. Vincent de Paul. Verity Health was formed in July 2015 when the DOC selected BlueMountain Capital Management LLC, a private investment firm, to recapitalize the health systems operations and transition leadership of the health system to the new Verity Health System.
Before that, DOC had been unsuccessful in an affiliation with Ascension Health Alliance and a sale to Prime Healthcare Services.
In July 2017, NantWorks, the Culver City company controlled by physician and billionaire entrepreneur Patrick Soon-Shiong, purchased Integrity Healthcare, the company that manages Verity. His goal was to revitalize the hospitals, many of which are in lower-income neighborhoods. Soon-Shiong bought the Los Angeles Times this summer.
Verity has been losing about $175 million annually on a cash flow basis, Adcock said. It secured a $185 million loan to stay afloat and pay employees and suppliers as it seeks potential buyers.
In mid-September, as a result of the Chapter 11 filing, S&P Global Ratings downgraded Verity Health System to "CC" from "CCC," affecting about $325 million of debt.
The rating reflects S&P's view that the issuer may see no repayment in the next year. S&P also acknowledged the health system operates in a highly competitive market and the outlook is negative.
Besides O'Connor and St. Louise, Verity operates two other hospitals in the Bay Area that also filed for bankruptcy, the Seton Medical Centers, one in Daly City and another near Half Moon Bay.
In Southern California, it runs St. Francis Medical Center and St. Vincent Medical Center in Los Angeles County.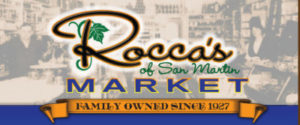 Latest posts by Marty Cheek (see all)