Published in the October 17 – 30, 2018 issue of Gilroy Life
Through the decades, Gilroy has long been lucky in the leadership excellence that has guided our community. We want to thank Pinnacle Bank Senior Vice President Kurt Michielssen for letting us know about four of these leaders who will be inducted into the Gilroy Hall of Fame at 11:30 a.m. Saturday, Oct. 27 at Old City Hall Restaurant downtown. The 2018 honorees are Al Gagliardi, Lawson Sakai, Jack Sturla, and Susan Valenta.
Gagliardi grew up on a 10-acre farm located on the corner of Monterey Road and Farrell Avenue. With his brothers, Sal and Mike, and his sister, Eleanor, he learned the prune business first-hand. In 1943, with World War II raging, Gagliardi and his brothers went off to serve our country. Tragically, Sal was killed in Germany and Mike died in a postwar auto accident. When his duty was completed in 1946, Gagliardi returned to the farm. Prune orchards were on their way out and he began growing grain and cucumbers. In 1948, he became a deputy sheriff and the family leased the farm to a strawberry farmer and eventually sold the land in 1960s. He worked in law enforcement until 1977.
As a hobby, Gagliardi began collecting prune box ends, which grew into quite a collection. He has been collecting prune box ends for 60 years. No longer serving his community through law enforcement, the man stays involved with the Gilroy Historical Society. One of his projects was the recovering of Gilroy's now-restored 1923 Seagrave Fire Engine. He advanced the work of the Historical Society as a member and the go-to source of information about the past.
Sakai was born in Los Angeles Oct. 27, 1923. On Dec. 8, 1941 (the day after Pearl Harbor), he tried to enlist in the military service and was rejected based on a government classification that he was an enemy alien because of his Japanese ancestry. His family was sent to an internment camp in Colorado in 1942. In March 1943, enlistment opportunities opened up for Japanese-Americans to serve in a segregated unit. Sakai volunteered for 442nd Regimental Combat Team. He was overseas in May 1944 until Nov. 1945. In the famed combat team, he served in campaigns in Italy and France, including the liberation of Bruyères, France, and the rescue of the Lost Battalion where he was seriously injured.
During the war Sakai was wounded four times. He received a Bronze Star, a Purple Heart and a Combat Infantryman Badge. In December 1945, he was discharged from the army. After leaving the service, he attended Pepperdine College and operated a travel agency in San Jose. He lived in Gilroy for many years with his wife, Mineko, the daughter of farmer Jimmy Hirasaka, the original "Garlic King." Now a Morgan Hill resident, Lawson stays active in 442nd reunions. He recently led a group of 53 to Bruyères for the 60th anniversary of the town's liberation.
Up until the time Sturla joined the U.S. Air Force just after the attack on Pearl Harbor, he was following in his family's footsteps as a farmer. In 1943, after graduating from flight school in Santa Ana, he was assigned to Will Rogers Field in Oklahoma City, flying A-20s. One of his proudest moments was being chosen as leader of one of two 12-plane squadrons to raid a Japanese radio station 60 miles south of the American base in New Guinea. He flew 52 combat missions. After his military service, he returned home where he met Dorothy Nagle, the woman of his dreams. They were married for 60 years.
In the 1960s, Sturla became a board member of the South Santa Clara County Water District, which later became the Gavilan Water District. Over the years, he farmed, worked in the employment office, worked at the John Sherrer's "Pieter-Wheeler" Seed Company, as well as serving as the manager of the Gavilan Water District before retiring.
Sturla also advanced the work of the Gilroy Historical Society as a board member. He was a wealth of information regarding Gilroy's past. He shared his knowledge of generations of his family's farming, allowing photos of his artifacts of Gilroy's past including the fence he rescued from Don Pacheco's Rancho Ausaymas y San Felipe. One of his favorite stories from the past was how he once saw the smoke rising from Henry Miller's burning mansion, and heard that drunken cowboys accidentally started the fire. Sturla could always be counted on to illuminate Gilroy's past. He died in 2014.
Valenta  has made a lasting impact on the community of Gilroy, especially as CEO of the Gilroy Chamber of Commerce for more 20 years. She brought professional leadership to the organization that resulted in business opportunities for the community. Her work led directly to the founding of the Gilroy Economic Development Center, Gilroy Welcome Center, Leadership Gilroy and the Gilroy Downtown Business Association.
In addition to her leadership at the Chamber of Commerce, Valenta has worked tirelessly with the Gilroy Rotary Club. She served as the district governor, allowing her to visit many of the Bay Area's Rotary clubs
Many leaders in the community serving today were influenced by Valenta's service through the Leadership Gilroy program she helped establish. In 2013, Silicon Valley Business Journal recognized her as one of the most influential women in Silicon Valley.
Congratulations to all four community leaders. An honor well deserved for your Gilroy involvement.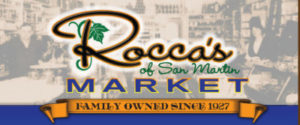 Robert Airoldi is the editor of Gilroy Life newspaper. If you have a story idea or an Around Town column item you want to tell him about, you can reach him at (408) 427-5865 or at editor@gilroylife.com.
Latest posts by Robert Airoldi (see all)