Published in the October 31 – November 13, 2018 issue of Gilroy Life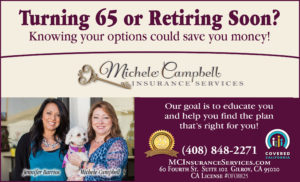 Open enrollment has started and you're likely to be overwhelmed with mail and other advertising at this time of year. This is your window to make a change to your health plan for your Medicare and Individual coverage.
You have until Dec. 7 for Medicare, to change your plan, for a Jan. 1 effective date. The Individual Open Enrollment Period runs through Jan. 15. If you want to make a change for Jan. 1, you must make your change by Dec. 15.
If you're on Medicare, this is an important time to review your Medicare Advantage plan and/or drug plan, to be sure it is still the best plan for you. Medicare Advantage and drug plans (Part D) change from year to year. Some plans go away, new plans come, and the drugs that are covered can change. In California we have 30 Part D drug plans to choose from. In Santa Clara County, we have 17 Medicare Advantage plans to choose from. That's a lot. When shopping for a Medicare Advantage plan, which are mostly HMO's these days, it's really about the networks first, then the price and benefits. If you want to keep your doctor, you need to be sure which network they're in, then choose a health plan that works with that network.
Many folks feel overwhelmed with what they're supposed to do at open enrollment or even when they do know what to do. I hear it all the time, that they just don't like dealing with insurance. Not to worry, you're not alone. You don't necessarily have to do anything.
However, this is the time to analyze your plan, especially your drug plan, to be sure your medications are covered well and will save you the most money. One way to analyze your medications is to go to Medicare.gov. You can enter all your medications, then choose the pharmacy you prefer, then see how your prescription drugs are covered. This can be daunting from some people. If this is your case, then contact an agent to help you. They can help put your mind at ease.
Michele Campbell is the owner of Michele Campbell Insurance in Gilroy. She can be reached at (408) 848-2271 or michele@mcinsuranceservices.com.

Michele Campbell owns and operates Michele Campbell Insurance in Gilroy. If you have questions or need help, reach her at (408) 848-2271 or at michele@mcinsuranceservices.com.

Latest posts by Michele Campbell (see all)