Scott Lynch returns in 2018 version as Clarence Odbody, angel 2nd class
Published in the November 14 – 27, 2018 issue of Gilroy Life
For Scott Lynch, "It's A Wonderful Life" is a wonderful story. The holiday tale of redemption has impacted him on a deeply personal level, and he believes it can shine a light of hope on an America now facing dark days of divisiveness.
South Valley Civic Theatre's revival of the show "It's a Wonderful Life" provides a chance for Lynch to gain a fresh look at the Christmas drama based on the classic Frank Capra film of 1946 starring James Stewart. Ten years ago, the Gilroy resident played the main role of George Bailey, a good man who makes his home in the small town of Bedford Falls and learns at the end of the story his life does matter to his friends and family. With SVCT's revival of the play opening Nov. 9 at the Morgan Hill Community Playhouse, Lynch will help tell the story through the character of Clarence Odbody, Bailey's child-like guardian angel who guides him through his journey from darkness into the light.
"The play came to me in a time of my life that I was just going through a lot of changes, and a lot of it resonated with me," Lynch said of the 2008 show. "And it became a very special experience as a result."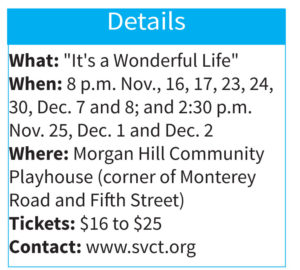 Since then, Lynch has appeared in or produced several SVCT shows as well as served on the community theater group's board of directors.
Carol Harris directs the new rendition. She also directed the 2008 version. The revival of "It's a Wonderful Life" has a set design that includes rear-projection video to show the audience the look and feel of Bedford Falls.
"It's a story for today. It's a hopeful story," Harris said in an interview during a recent rehearsal. "This show of kindness conquering meanness is what we need right now."
SVCT's revival version will be different because Joseph McCarty, who plays George Bailey, brings his own style of personality and acting technique compared to Lynch's, she said.
"He is a very good George. He's just different," she said.
A writing instructor at Evergreen Community College, McCarty portrays George as a good, hard-working man with complex flaws.
"I think he's a great character and people can empathize with him," the San Jose resident said. "He represents something wonderful and something we all aspire to, but there's a lot struggle and he faces the bad as well as the good."
A big reason the film and stage versions of the story touches the hearts of audiences is because people can relate to many of the frustrations, temptations and other life experiences George faces in his journey, McCarty said. "It's a very human thing. We all face the good and the bad and hopefully we choose the good," he said.
Audrey Del Prete plays the role of Mary Hatch, George's girlfriend and later his wife. A social worker from San Jose, she got ready for the role by the memories of a beloved relative as well as high school romances.
"I was trying to put myself into the shoes of someone who grew up in that time," she said. "Honestly, I'm trying to channel that time when I had a first crush."
The comical role of Bert the policeman is played by Chris Snook, who for years stayed involved with SVCT in the backstage parts of productions and building sets. He decided this small part was perfect for his debut on stage.
His daughter, Becca Snook, is now playing the mischief-maker fairy role of Puck in Live Oak High School's "A Midsummer Night's Dream," and his son Ben Snook has been in several SVCT roles, winning best supporting actor for a teen show this year at the group's awards show.
Theater is a family affair for the Snooks. Chris's wife, Marianne Snook, has produced several plays and this year received an award for "Outstanding Board Service."
For people who have only seen Capra's film version of "It's a Wonderful Life," the stage version will hold some fun surprises. But ultimately, it stays true to the theme of love for the family and hope for the future, Lynch said.
"Like most of us, we don't really appreciate how good our lives are until we reflect on it. First, George has to reflect on his life, and then out of desperation, Clarence says, 'Let's pretend you were never born and see how other people are impacted by that,' " he said. "I just love the show and ultimately the message is so positive. It ends on such a wonderful note. I think it's great for the season. You kind of go through the darkness, but you end truly in a state of light."

Latest posts by Marty Cheek (see all)