Published in the November 28 – December 11, 2018 issue of Gilroy Life
The South Valley remembered earlier this month with pride and patriotism the men and women who have served in the U.S. Armed Forces. Two Veterans Day celebrations honored those who have put their country's defense selflessly ahead of their own interests to protect America. This year was especially poignant to remember the brave fallen because it marked 100 years since the end of the "war to end all wars."
The Gilroy Exchange Club, Scouts and members of the Veterans of Foreign War in South Valley honored those who have served in the Army, Air Force, Navy, Marines or Coast Guard at the VFW Post on Sixth Street in downtown Gilroy. It was an emotionally moving event with a Color Guard and speeches about the importance of honoring these men and women who answered the call to duty.
In Morgan Hill, a group of about 100 residents came together at the downtown Veterans Memorial to pay tribute to the local men and women who served in the military. Among them was Carol Agaliotis, who pointed at the name of her uncle Charles Raney on a brass plaque engraved with the names of South Valley residents who died in service since World War I. Raney died at 22 after his plane was shot down in the South China Sea during World War II.
"He had only been married two weeks and never had any children," she said. "It was Easter Sunday and my grandmother woke up very disturbed and said, 'I had a dream last night that Charlie was calling me from out of the waves.'"
The premonition proved sadly true. A military service chaplain came to her house four days later and told her that Raney had died at that time.
Let us remember not just on Veterans Day but every day that America is home to more than 325 million people who enjoy the blessings of freedom paid for by the ultimate sacrifice made by men like Charles Raney. Freedom isn't free.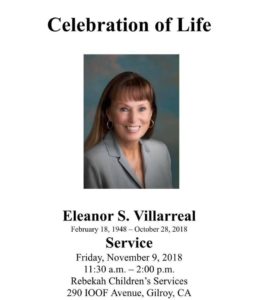 Beloved Gilroy volunteer Eleanor Villarreal was given a fond farewell by about 250 people Nov. 9 at a celebration of life on the grounds of Rebekah Children's Services. Gilroy Life Publisher Marty Cheek attended and was impressed by the life Eleanor led and how many people it impacted.
She served on many boards and participated in various community events including the Exchange Club of Gilroy and the Coastal Habitat Education and Environmental Restoration group. She help found the Gilroy Hispanic Chamber of Commerce, the Gilroy Hispanic Cultural Festival and the Latino Family Fund. She was probably best known for her devotion to children while working at Rebekah Children's Services and representing the South Valley on the First 5 Commission of Santa Clara County.
"Eleanor touched many people in many ways. She has given so much to Gilroy and asked for little in return," said Gilroy Mayor Roland Velasco who spoke at the celebration. "Gilroy was fortunate to have a person so dedicated to children and our community. She was courageous in her convictions, strong-willed and passionate. Simply put … amazing. Eleanor taught us to have an open heart, tolerance towards others, and to do what we can to right any injustice. Eleanor was my friend and will be missed."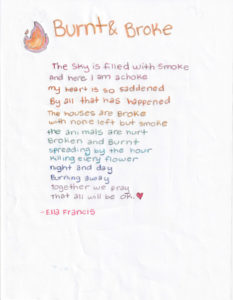 The people who lost their lives and their homes in this month's devastating Camp Fire in Butte County are in the thoughts and prayers of local residents — including Britton Middle School seventh-grader Ella Francis. We received a beautiful poem honoring them from her grandparents, Christine and Ralph Chellino and her parents Mike and Teressa Francis.
"After dinner (one recent evening) my 12-year-old granddaughter, Ella Francis, composed this empathetic poem reflecting on the pain caused by the California fires, in particular the Camp Fire," Ralph wrote us.
Above, read the poem sent to us by Ella's proud grandpa and grandma.
We share the sentiment of these words and encourage all Gilroy, Morgan Hill and San Martin residents to help out the victims of this tragedy in any way you can.
Robert Airoldi is the editor of Gilroy Life newspaper. If you have a story idea or an Around Town column item you want to tell him about, you can reach him at (408) 427-5865 or at editor@gilroylife.com.
Latest posts by Robert Airoldi (see all)