It's vital to create a safe space around your home and be ready to evacuate
Published in the November 28 – December 11, 2018 issue of Gilroy Life
By Donna Lane
The Camp Fire devastation reminds South Valley residents that with climate change impacting our environment, fire season in the Golden State lasts all year. Fall can be the worst season for wide-spread fire. Flammable vegetation has dried out and the rainy season hasn't yet begun.
The California Department of Forestry and Fire Protection reminds all South Valley residents to take basic actions to protect people and property. With 26 years at CalFire, local Fire Chief Sam Gonzalez has gained much wisdom about firefighting and fire prevention.
"There's no break, really, in Northern California," he said. "The true hard fire season is October and November, because they are the driest months. In California, it's become very normal, especially in the Bay Area, to see fires year-round."
South Valley features a wide variety of properties, adding complexity to fire prevention. The landscapes within Morgan Hill, Gilroy, and San Martin transition from a buzzing urban shopping center to a suburban housing development to miles of rural properties and unincorporated acreage in a matter of a few minutes' drive. For this reason, it's especially important to be mindful of fire prevention, Gonzalez said.
He advised homeowners to create and maintain a minimum of 100 feet of "defensible space" around their properties, as required by law. Not only does this protect a home, it provides a safe area for firefighters to work should a structure catch fire.
To create this space, start by clearing 30 feet of space immediately surrounding the home. This is called the Lean, Clean, and Green Zone. Then, work on the Reduced Fuel Zone, which is defined as the next 70 feet, or to your property line, depending on the steepness of your property as well as the vegetation.
That means getting rid of the limp, dying vines that saw their best blooms in the summer sunshine. Trim back any branches that overhang the eaves. Tree limbs should be at least 10 feet away from chimneys. Remove all dead branches hanging over a home or garage.
Also, pay attention to the spacing of plants. Create both horizontal and vertical space. Leaving a multitude of dead plants at the base of a large tree creates a vertical fire ladder, which can accelerate rapidly. As for landscaping, Gonzalez advised homeowners to choose drought-resistant ground cover, such as succulents, which don't require as much watering as other types of plants.
Be sure to clear gutters of any dry leaves or needles, which can ignite and hasten the spread of a fire on your property. Avoid stacking firewood against the house. Be mindful of the proximity of equipment to dry brush.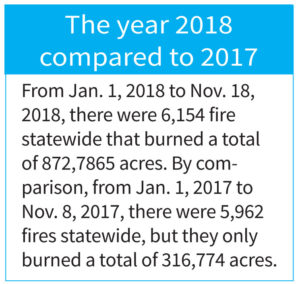 Have a plan for evacuation if a major fire starts, Gonzalez urged.
"If you have to evacuate, get your family, pets, and medicines, and important documents and, if there's time, irreplaceable pictures," he said.
Fire safes are not totally fireproof past a certain temperature so consider taking the safe filled with documents and precious photos during an evacuation, he said.
Law enforcement handles evacuations. Gonzalez advised residents to follow their local law enforcement feeds on social media, and pay attention to media, radio, TV, and Internet coverage. Heed evacuation warnings, even if they're not mandatory, and be prepared to leave with plenty of time. If evacuation is necessary, a mandatory order will be issued.
"Hopefully, you're not leaving when that order is given because everyone hits the streets at the same time," he said.
CalFire offers "red flag warnings" when there's a combination of high winds and low humidity.
"From late summer to early fall we can get winds similar to the Santa Anas," Gonzalez said. "And that's a perfect combination of events for a fire to ignite and rapidly spread."
When responding to a blaze, CalFire receives extra help from the skies above. Aircraft and helicopter bases are strategically placed so that they are within a 20-minute flight of a given location.
"We're very lucky to have an air tanker based out of Hollister," Gonzalez said. "It's often flying above us by the time we get on scene. That's a luxury, and we have a helicopter based at Lexington Reservoir."
Gonzalez reminded everyone to use caution when enjoying South Valley recreational parks.
"If you visit the local reservoirs or go for a hike, remember to be safe with barbecues, and don't leave fires unattended," he said. "A lot of people get lulled into a false sense of security. It's not summer anymore, but the large, damaging fires are in October and November."

Donna Lane is a storyteller and San Jose native who earned her journalism degree at San Francisco State University. She lives in Gilroy with her family, who inspire her to celebrate life each day.

Latest posts by Donna Lane (see all)