Published in the November 28 – December 11, 2018 issue of Gilroy Life
It's a sunny 75 degrees in late October and we are walking to downtown Gilroy wearing shorts and flip-flops.  We make a right on Fifth Street at Monterey Road and the sidewalk is already bustling with walkers.
We make our way to our first stop at Golden State Brew & Grill at the annual Downtown Gilroy Beer Crawl. They have been closed for construction of their final phase to build out a full restaurant.
We walk in and see Gilroy Councilmember Fred Tovar smiling and pouring beer. He waves us over to kick off an afternoon with friends and neighbors enjoying the movement that has been in progress for several years … creating a vibrant downtown for us and future generations.
October is one of my favorite times for downtown Gilroy. We welcome the annual Downtown Beer Crawl and Jumpin Jax pumpkin patch at the VTA/Caltrain Station. Three years ago during my first beer crawl, I discovered restaurants and shops that I normally would drive by. This is another event that makes you slow down and come inside to see what's offered in these storefronts. Since we don't have a permanent plaza or park in the downtown yet, the pumpkin patch provides a destination for families who come to eat at local restaurants. What kid doesn't want to play on some bouncy houses while shopping for pumpkins. Perhaps the City Parks & Recreation Commission will advocate for a downtown park during the next budget process.
The city finance department came to our Bicycle Pedestrian Commission meeting in October to present the process for the upcoming city budget.  In November we submitted our requests/projects and aligned them with the Gilroy City Council's top five Strategic Plan Goals and our current work plan. We asked that select Commissions/Committees meetings be audio and video recorded for increased transparency. By live streaming, governments are demonstrating transparency and accountability; it also provides real-time and accurate information to citizens quickly and efficiently. I would like to complete the decorative bike racks project in downtown, and start a process for merchants to request free bike racks.
Bird E-Scooters is an alternative mobility company that will be presenting at our November Commission meeting.  They want to come to Gilroy. You can watch it live on our Facebook page. Bird is a clean, convenient, affordable, car-reducing alternative to make cities more enjoyable. A perfect fit for our growing downtown, those that don't own vehicles, and the train station. Did you know that many Silicon Valley high-tech company buses are now picking up workers at the Caltrain station?
We have established a bike rack decal program for decorative bike racks in Gilroy. The cost is $350 for five years and then that donor will get first rights for another five years.  It's a brushed aluminum decal that is purchased through TFB Designs in downtown Gilroy. The funds go into a Public Bike Fund where we can support public bike projects. The fund can accept direct donations as well. We currently have six locations in downtown Gilroy with active decals and three that are open (Seventh Street at Monterey Road, Fourth Street at Monterey Road and Fourth Street at Eigleberry Street).  We have seven open locations for decorative bike racks. We currently have 100 bicycle parking spots in historic downtown and with all the current unused public spaces we could reach 300 bike parking spots, which includes all the downtown districts. These racks serve as way finding signs, public art, and a bike rack.
Our commission will have an opening for a four-year position beginning January 2019. Check out our section of the city website to see what we are all about. Follow us at #GilroyBPAC
Zachary Hilton is a member of Gilroy's Bicycle Pedestrian Commission. He wrote this column for Gilroy Life.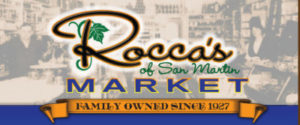 Latest posts by Marty Cheek (see all)