Published in the December 12 – 25, 2018 issue of Morgan Hill Life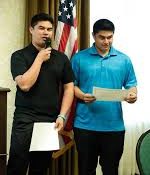 Christopher High School students shine! Austin and Dylan Ellemberg, who happen to be twin brothers, are both semi-finalists for the Coca Cola Scholars Foundation Scholarship Program.
The Gilroy scholars were selected from among more than 95,000 applications from across the country based on their academic excellence, leadership, and service demonstrated in school and community activities. A total of 1,896 students are vying for 150 of the $20,000 scholarships. The twins will now complete phase two of the application, which consists of essays, recommendations and transcripts.
"We believe that identifying these young leaders throughout the country and encouraging their passion for serving others not only empowers the students, but also lifts up those around them," said Jane Hale Hopkins, president-elect of the Coca Cola Scholars Foundation.
The finalists will be named in March and visit Atlanta in April for a celebratory banquet. Good luck, gentlemen!
Additionally, CHS senior Maia Nantais was awarded second place by the Santa Clara County District Attorney's Office for the poster she submitted for their annual "Justice for All" contest. This year's theme was Post Parkland: Students Speak Out Against School Shootings.
"Parkland was both an atrocity and a spark," said Santa Clara County District Attorney Jeff Rosen. "Young people are seeking solace and solutions."
Maia won $1,000 for her poster art endeavor. She'll be recognized at a GUSD board meeting at a later date.
After winning two awards at the annual California Landscape Contractors Association Central Coast Chapter in June, Greenstreak Landscaping, Inc., won two more awards in November at the California Landscape Contractors Association State Trophy Awards at the annual convention held in San Diego last month.
The company and its owner, Pete Gluhaich, won the Jon R. Alsdorf Memorial Award Best Entry and the Gary Vallen Memorial Award Best Residential Landscape under $150,000. Gluhaich was unable to attend, but his son Nikolas accepted the two awards on his behalf.
"We were thrilled to win these two state awards," Gluhaich told us. "It's a tribute to our team of master craftsmen. I've been in the landscape industry for more than 30 years, and most of my team have been with me for more 25 years. We are like family. We take pride in working with our clients to attain their dreams for their outdoor living space. Winning the top two awards is beyond my dreams."
Congratulations, Pete, to your team.
The Morgan Hill Chamber of Commerce concluded its annual Celebrate Morgan Hill Awards surprise presentations with two final categories. At the Dec. 6 Good Morning Morgan Hill Breakfast they surprised Gavilan College President Dr. Kathleen Rose as the 2019 Educator of the Year. Then they surprised us at Life Media Group (which publishes Gilroy Life and Morgan Hill Life). Community relations director Brittney Sherman announced we're the 2019 Small Business of the Year. We're truly honored. We started Morgan Hill Life in 2013 and Gilroy Life is now in its third year.
"We appreciate the community recognizing the value of the free press," publisher Marty Cheek said. "Thank you to the South Valley for making our two local publications possible."
Congratulations to all the other winners, announced earlier: Man of the Year, Rich Firato; Woman of the Year, Karen Crane; Volunteer, Cherisse White with Cherisse's Hair Salon; Large Business, Pinnacle Bank; Student, Live Oak High School senior Alexis Munson, and Nonprofit, Edward Boss Prado Foundation.

Latest posts by Marty Cheek (see all)