Published February 5, 2019 on GilroyLife.com
Canadian playwright Norm Foster brings his fine wit and humor to the Pintello Comedy Theater.  Pintello's favorite Canadian author delivers a  delightful story with a  cast that keeps the full house laughing  for two hours plus.
Four friends meet on a weekly golf  get together, ( they  have been meeting for years).  This  week they are one short.  One of the four has bit the dust after being struck by lightning while sitting atop a ferris-wheel. They decided to play an 18 hole round in their departed friend's honor,  remembering the good and sometime sensitive  times.  A friend of the deceased joins the group  to make up the foursome and  seems to know more about their friend than they knew, making them wonder if they really knew their friend as well as they thought they did.
Producers Marion and Rod Pintello and director Whitney Pintello  gathered  a charming, talented cast  with Denee Lewis, Becky Owens, Roberta Vinkhuyzen and Adrianne Wilkinson for the weekly golf foursome . All delivered solid performances with their individual characters.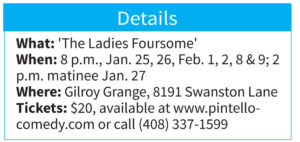 The  Pintello Comedy Theater  continually offers four solid. comedy productions a year  usually involving one or more of the family starring , directing. producing or handling lights or sound. (You can always bet there is a Pintello somewhere in the production.) They have a loyal following that enjoys entertaining, well done theatre in our own backyard.
"The Ladies Foursome" is a  well-timed, well done comedy that Pintello Comedy Theater productions always deliver.
For the 2019 season look for another Norm Foster play "Opening Night" in March and "I Love You, You're Perfect, Now Change" in August.  November brings us "The Foreigner' and the Pintello Comedy Theater New Year's Eve  bash  "Little Shop Of  Horrors" will bring in 2020 with their annual New Year's Party.

Camille Bounds is the theater columnist for the Morgan Hill Life and Gilroy LIfe newspapers. She has performed on Broadway and traveled around the world. She can be reached at: bounds17@gmail,com

Latest posts by Camille Bounds (see all)