Awards honor those who make Gilroy a special city for everyone
Published in the February 20 – March 5, 2019 issue of Gilroy Life
The 2019 Spice of Life Awards honor individuals and businesses that make Gilroy a special place to live and work. They were presented by the Gilroy Chamber of Commerce at a gala held Feb. 2 at San Juan Oaks Golf Course in Hollister. Along with Man of the Year Frank Angelino and Woman of the Year Susan Mister, six other awards recognized the winners' generous spirit.
Large Business of the Year: Gilroy Chevrolet
This award recognizes an outstanding Gilroy Chamber of Commerce business member (with 26 or more employees) that has made a significant contribution to the community of Gilroy. "We've been involved with the Gilroy Chamber of Commerce for quite some time and have been more active the last couple of years," General Manager Joe Lopez said. "I was surprised when the Chamber of Commerce came to the dealership, gathered our employees, and announced that we'd won the award. It's exhilarating and such an honor. It has to do with community involvement, taking care of our own backyard."
Lopez has been selling automobiles in Gilroy since 1978, "longer than anyone," he quipped. The dealership has been part of the Gilroy Garlic Festival, the Garlic City Car Show, and organizations such as Little League and the Knights of Columbus. He added that the award for Gilroy Chevrolet "shows appreciation for local people, and local businesses taking care of local businesses."
Small Business of the Year: CalSilk Screen Printing
This award goes to an outstanding Gilroy Chamber of Commerce business member (with 25 or fewer employees) that has demonstrated an extraordinary level of excellence and success.
Michele Pierson took over the business from her mother, Gloria, in 2013, when her mother was ill. From the start, Pierson, who runs the business with her husband, Tim, chose to honor her mother's example of helping the community in any way she could.
"I give a lot back and don't expect anything in return," Pierson said. "I'm honored to be recognized. In 1985, when it was still California Silk Screening, the business was being sold, and she bought it. After 9/11, she raised $21,000. She's my role model. It's what I was taught. We help with homeless, serve as a drop-off station. The fires we had just put things in perspective. We donated shirts to volunteers. We really take pride in what we do and feel like customers are more like family."
Sadly, Gloria succumbed to cancer in 2015, but Pierson noted, "I'm humbled, with big shoes to fill. I know my mom would be proud."
Gilroy Educator of the Year: Emily Diaz
This award recognizes an individual who has enhanced the learning experience in Gilroy. Emily Diaz teaches English at Christopher High School and has been there since the school opened.
Diaz was surprised when Chamber of Commerce personnel showed up at a recent staff meeting, which included a video made about her. "My eyes watered, and all my colleagues stood up. It was very moving. I was speechless and just grateful. I've worked with a lot of wonderful people."
In fact, she has spent her entire career in the Gilroy Unified School District. She started in 1996 at Gilroy High School, then served as the Department Chair when Christopher first opened.
Diaz teaches AP English, but she's also committed to teaching freshmen in English I, the EL pathway that mainstreams students from their first ELD courses. The contrast gives her a wide perspective. "One of the reasons I made the commitment 20 years ago was that new English learners wouldn't always get a top-quality experience," she recalled. "My parents immigrated from the Azores (in Portugal). My mom was 16 years old and had a great ESL teacher, who she still talks about today. My parents were bilingual, successful, and are and retired now. I've been fortunate."
"I'm really thankful to the Gilroy community. Lots of people, including Chamber of Commerce board members, have come through my classroom," she added. "And I've worked with a lot of people who really put kids first and try to make a difference for kids. I think I'll be teaching at least another decade. Kids really inspire me."
Non-Profit of the Year: South Valley Community Church
This award recognizes a community non-profit organization that has made a significant contribution to the health and livability of the Gilroy community.
"We strive to be a light in our community and a force for reconciliation and renewal," said Sam Whittaker, the mission pastor at SVCC. Because we identify as Gospel-centered and mission-focused, we partner with local non-profit organizations that are already doing a great job. Twice a year, we do large scale community service projects, where our members go out and work in the community in place of holding a church service."
In addition to these experiences, SVCC offers support for a variety of needs, including recovery, financial help, and grief. There's a large emphasis on foster families through Foster the Bay, and the church offers two programs at Christmas, The Angel Tree and The Bridge Christmas Store. Angel Tree lets people buy gifts for families with incarcerated parents, while Bridge Christmas Store provides an opportunity for struggling families to come and select free gifts. "In everything we do, we try to bring as much dignity as possible and involve the people we're trying to help," Whittaker noted.
SVCC is comprised of four campuses, with two in Gilroy and two in Hollister. Whittaker estimates that between 700 and 900 people attend service at the main Gilroy campus, on Kelton Drive at First Street, each Sunday.  "What we do is only possible because of the hundreds of volunteers in our congregation stepping up," Whittaker said.
Firman B. Voorhies Volunteer of the Year: Clorinda Sergi
This award gives special recognition to a Chamber of Commerce volunteer who has performed above and beyond the call of duty, and who has contributed to furthering its mission.
Clorinda Sergi, of Sergi Properties, does much work for the Chamber of Commerce like helping with ribbon-cuttings, greeting new business owners, and serving as the chair of food for the Garlic City Car Show. In that capacity, she works with the Environmental Health Department to coordinate licensing and permits, and on the day of the event, she checks to make sure everyone is in compliance.
She also works with Wreaths Across America, putting out flags and wreaths. And at Chamber breakfasts, she collects fees and sells raffle tickets, among other duties.
"It's a good way to help your town," she said of her involvement with the Chamber. "I like to see my town do well. There's a sense of pride. I was brought up in 4-H. You know, head, heart, hands, health. It takes a community, a lot of help, to get things done if you want to have a vibrant community. It's not all politics."
Susan Valenta Youth Leadership Award: Brandon Krueger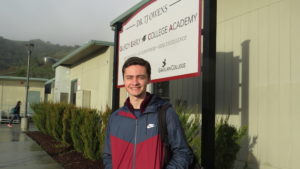 This distinction is awarded to young leaders in the community who inspire others through service and dedication.
Brandon Krueger, 17, is a senior at Gilroy Early College Academy. "I've worked within my school as part of the ASB, student government, and on the Honors Tribunal," he said. "I work with upholding the honor code with students and help with improving relationships between students and faculty."
As an example, Krueger helps students reflect on who they are, mistakes they've made, and how to be better citizens in the community. He's also the vice president of the Christian Club. "We try to educate people on Christianity, and how they can be better students and be motivated to be the best they can be," he said.
Outside of school, he tutors classmates and friends to aid their learning in math, chemistry, and Spanish.
"I try to be a better person every day, not just for self-satisfaction, but to do better," he said. "You never know if you've made a difference or had an impact on your community. But it opens your eyes that people really do see and appreciate what you're doing."

Donna Lane is a storyteller and San Jose native who earned her journalism degree at San Francisco State University. She lives in Gilroy with her family, who inspire her to celebrate life each day.

Latest posts by Donna Lane (see all)