Click here to find more stories published in the April 17 – 30, 2019 issue of Gilroy Life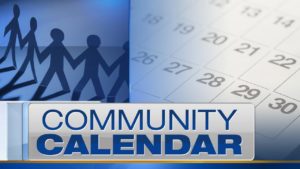 Mondays
Free Guitar Lessons
Free guitar lessons at the Gilroy Senior Center, 7371 Hanna St., from noon to 1 p.m. Details: (408) 846-0414.
Line Dancing Lessons
Line dancing lessons from 7 to 9 p.m. at the San Martin Lions Club, 12415 Murphy Ave.
Celebrate Recovery
Group meets at 6:30 p.m. at South Valley Community Church, 8095 Kelton Dr., Gilroy. Details: (408) 848-2363.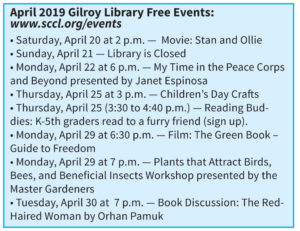 Monday & Thursday
Duplicate Bridge
Bridge games begin at 1:20 p.m. Mondays and 10 a.m. Thursdays at the Gilroy Senior Center, 7371 Hanna St. Details: (408) 921-8512 or email win.stone@charter.net.
Mon., Wed., Fri. & Sat.
Join the Gilroy Gators Masters
From 5 to 6 a.m. and most Saturdays from 7 to 8:30 a.m. at Gilroy High School. Masters swimming for adults looking to get in or stay in shape, or for triathletes looking for more swim time and/or instruction. Details: www.gilroygators.org or email gilroygatorsmasters@gmail.com.
Mon. through Fri.
Spring Boutique Fundraiser
Visit the Annual Spring Boutique Fundraiser from 9 a.m. to 3 p.m. at Live Oak Adult Day Care, 651 W. Sixth St., Ste. 2. The sale, which runs until Easter, features Spring and Easter décor, jewelry, home-baked goods, garden items, books, and more, all at good prices and to help raise funds for the nonprofit. If you have items you'd like to add to our sale, drop them by anytime.
Tuesdays
Meditation Class
Each class consists of a short introduction, a 20-minute meditation, and a brief discussion. It takes place from 6:30 to 7:15 p.m. E-mail artofyogamorganhill.com, or drop by 16165 Monterey Road, Suite 200. Suggested donation $5. No one turned away.
Tuesday & Thursday
Community Closet
The St. Catherine Community Closet is open from 10 a.m. to 1 p.m. and the first Saturday from 10 a.m. to noon. Get free, gently-used clothing and household items, at 13570 Depot St., San Martin. Details: (408) 857-4516.
Wednesday
Student Recovery/Life Skills Class
"God Heals" is an eight-step program for middle and high schoolers providing life skills. Free classes take place from 6:30 to 8 p.m., at Cathedral of Faith, 7250 Forest St. Details: Suzie at (408) 497-2494.
Alzheimer, Dementia Care Support
Find support, respite, and education 6:30 p.m. in the activities room at Merrill Gardens, 7600 Isabella Way. Details: Anne Seckinger at (408) 857-7811.
American Sewing Guild
If you love to sew and work with fabric you'll enjoy meeting a group of sewing enthusiasts who challenge and teach each other sewing skills. Meet at 10 a.m. in the Jackson Oaks area of Morgan Hill. Details: www.asgsanjose.org.
Third Thursday
Women in Touch
Women in Touch II invite others to renew friendships and make new ones. Meetings, which include lunch and entertainment, take place from 11 a.m. to 2 p.m., at the Gilroy Elks Lodge. The cost is $23, reservations required. Call Mary Saccullo at (408) 847-1964 or email msaccullo@aol.com.
Fridays
Friday Night Bingo
Doors open at 4 p.m., early games start at 6 p.m. at the VFW, 74 W. Sixth St.
Celebrate Recovery
Group meets at 6 p.m. for food, 7 p.m. for large groups and 8 p.m. for small groups, at New Hope Community Church, 8886 Muraoka St. Details: (408) 398-5107.
Late Evening Gym
Come to a safe space and have fun from 6 to 9 p.m. at the El Portal gym, 222 I.O.O.F. Ave. Food is served. Program for ages 13 to 19 though younger children are allowed if accompanied by a parent or sibling older than 18. A permission slip is needed if attending for the first time. Details: (408) 846-0460 or (408) 846-0313.
Second Friday
Horsemen Meet
The San Martin Horsemen's Association meets at 7 p.m. at the San Martin Lion's Club, 12415 Murphy Ave. Details: www.smhorse.org.
First & Third Sunday
Grief Support Group
Group meets at 2 p.m. at the United Methodist Church, 17175 Monterey St. It provides a safe place to share grief. Details: (408) 607-5779 or email platnumer@aol.com.
April 24
Age Well, Drive Smart
Take part in a free senior driver education class from 1 to 4 p.m. at the Gilroy Senior Center, 7371 Hanna St. Contact Officer Chris Miceli at (408) 848-2324, ext. 211.
April 27
Spring Crafters Faire
Check out local vendors showcasing jewelry, art, knit, crochet, and other types of handmade goods that make great gifts for Mother's Day. The faire takes place from 10 a.m. to 3 p.m. at the Gilroy Senior Center, 7371 Hanna St. Details: (408) 846-0414.
April 28
Wags'n Wine
Sip wine and watch local heroes escort adoptable tail wagers down the runway at the South County Tail Waggers 3rd Annual Wags 'n Wine Rescues on the Runway, at 1 p.m. at Guglielmo Winery, 1480 E. Main Ave. Details and tickets: www.sctailwaggers.org/wagsnwine.
May 4
Quilt show sends girls to STEM camp
Enjoy a bit of leisurely luxury at a quilt show and luncheon from 11 a.m. to 2 p.m. at the IFDES Lodge, 250 Old Gilroy Street. A light lunch will be served continuously. The $25 entry fee also includes viewing of many unique, gorgeous quilts. Guests will have a chance to purchase tickets for the Opportunity Quilt by Diana Berry. Get show tickets at the Nimble Thimble, 7445 Monterey St., or call Judy Bozzo at (408) 847-4559 or Marianne Peoples at (408) 842-9022 for additional information.
May 9
Pop-A-Cork benefits Rebekahs
The 5th Annual Pop-A-Cork Celebration benefiting the 10-year anniversary of the Culinary Academy at Rebekah Children's Services from 5:30 to 9 p.m. at Clos LaChance Vineyards, 1 Hummingbird Lane, San Martin. Tickets are $75 and available at www.rcskids.org/pop-a-cork.
May 10 & 11
Home & Garden Tour & Boutique
Walk back in time through five charming homes and an expansive private garden in the Princevalle area of Gilroy. Presented by The Gilroy Assistance League, the 15th Annual Home & Garden Tour & Boutique, begins at 7640 Santa Teresa Blvd. Doors open at 10 a.m. and guests must check in at the first home by 2 p.m. Includes hors d'oeuvres and no-host wine. Home and Garden Boutique closes at 5 p.m. Tickets are $35 in advance, $40 at the door and available at (408) 713-1414. One hundred percent of proceeds benefit local youth. Details: www.gilroyassistanceleague.org.
May 11
Day Out on the Ranch
Enjoy rodeo event demonstrations, rodeo skills stations, bluegrass music, hot dog, chips and drinks, horseback rides and a petting zoo at this rodeo for adults and children with special needs. It takes place from noon to 3 p.m. at Thorson's Arena, 2005 Hayes Lane, San Martin.
Please send calendar items to editor@gilroylife.com.

If you wish to send a Calendar Page item to Gilroy Life, please send your event's details to editor@gilroylife.com. If you have a good quality publishable photo or a flyer of the event, please feel free to send that to the same email address.

Latest posts by Calendar Editor (see all)