The Edward Boss Prado Foundation is this year's Legacy Award winner
Click HERE for more stories published in the May 1 – 13, 2019 issue of Gilroy Life
Many members of the South Valley community were honored by CARAS (Community Agency for Resources, Advocacy, and Services) at Gilroy's Old City Hall Restaurant, March 30 as part of the annual Cesar Chavez Celebration and Community Champions Program.
CARAS Community Champions for 2019 are:
Government Award: State Senator Bill Monning (presented by Rebeca Armendariz)
Educator Award: Rachel Mendoza (presented by Rebeca Armendariz)
Legacy Award: Cecelia Ponzini for the Edward Boss Prado Foundation (presented by Christina Turner and Michelle McKay)
Youth Award: Gilroy High Wrestling (presented by Art Barron)
Youth Award: GECA student Lizeth Villarreal (presented by Ernesto Olivares)
Community Award: Lori Ramos Ehrlich (presented by Reymundo Armendariz)
Business Award: Raj Nayyar (presented by Fred Tovar)
Volunteer Award: Dolores Vasquez (presented by Sally Armendariz)
Tamal Festival Sponsor: Mark Sigala (presented by Art Barron)
Christina Turner, the city manager for Morgan Hill, praised Ponzini's work with the many volunteers who help families and people in need through the Cecelia's Closet and other programs the Prado Foundation runs.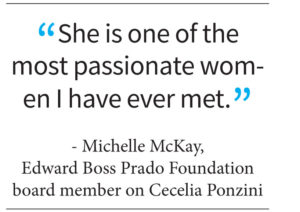 "We are so blessed in South County to know her, and that includes Gilroy, San Martin, Morgan Hill and she is reaching San Jose as well," Turner said. "Cecelia is a friend to so many. I think we can all agree that Cecelia is someone who has touched so many different people. She does it because that's what she does."
Michele McKay, a board member on the foundation, told those attending the event that Ponzini is lovingly called "the queen bee" for her leadership.
"She is one of the most passionate women I've ever met," McKay said. "At the root core when you're finished experiencing Cecelia and walk away, you'll see she's one of the most giving and caring people you may ever meet. We're so lucky to have her here serving South County. And I'm so lucky to have her as a mentor and a friend."
Robert Airoldi is the editor of Gilroy Life newspaper. If you have a story idea or an Around Town column item you want to tell him about, you can reach him at (408) 427-5865 or at editor@gilroylife.com.
Latest posts by Robert Airoldi (see all)