Thank You for visiting our Community Calendar.
If you would like to submit an event for review click on the green button to the right.
Mar
16
Fri
Helping Hands & Healing Hearts Awards Luncheon

@ Morgan Hill Community & Cultural Center
Mar 16 @ 11:15 am

Join Community Solutions in honoring a community leader dedicated to improving the lives of others and an individual who has triumphed over personal adversity to positively change the course of his or her future. This heart-warming event is a treasured tradition for local businesses and community members alike. Proceeds support Community Solutions' programs and services creating positive change for local children, families and individuals.
Mar
25
Sun
In His Own Words

@ Advent Lutheran Church
Mar 25 @ 5:30 pm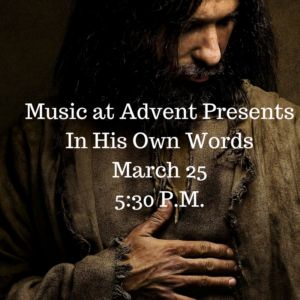 Join us on March 25th at 5:30 P.M. for the California premiere of Dan Goeller's cantata In His Own Words – a musical reflection on the words and teachings of Christ at Advent Lutheran Church. In His Own Words is an aesthetic experience in which the message of the Word is proclaimed through both singing and narration drawn exclusively from the words of Christ. The cantata consists of nine choral pieces, each intersected by underscored narratives and interludes. In addition, a Festival Te Deum by Advent's Director of Music Kyle T. Jones will be premiered.
Save the date and invite your friends and family to a sublime concert experience that will beautifully set the tone for a meaningful Holy Week. All are welcome.