Published on Morgan Hill Life's website on September 29, 2017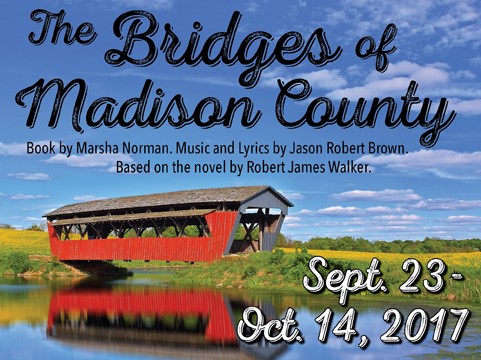 The musical of "The Bridges Of Madison County" is a deeply emotional, sensual story of love, compassion and sacrifice. South Bay Musical Theatre brings in a full-bore production that envelopes the audience and takes its breath away.
Dian Milo directs a first rate cast with a sensitive closed fist that never draws back on the delicate subject. The book by Marsha Norman and the music and lyrics by James Robert Brown were adapted from the 1992 bestselling novel by Robert James Waller.
Taken from the 1995 film that was directed and starred Clint Eastwood and Merel Streep, Jason Robert Brown added music and lyrics to this musical production that moves into the soul and heart. The musical premiered on Broadway on February 2014 and won three Tony Awards, for music and orchestration.
The story tells of Francesca (played by a superlative Alicia Teeter) who is brought to America from war-torn Naples, Italy as a war bride to live quietly for the past 18 years on a small farm in rural Iowa. She has raised two children and has settled into the day-to-day life of a farmer's wife dreaming of one day visiting Naples. Her husband (solidly played by Michael Hirsch) and teen children are off to the 1966 State Fair 4H competitions, leaving her looking forward to a relaxing four days by herself. Robert Kincaid, (well cast by rugged Chris Janssen) is a National Geographic photographer who gets lost and stops by her house for directions to the bridges he wants to photograph. The subtle and at first innocent bonding that works into a full love affair is well presented and touching and changes their lives forever.

"Bridge's can brag of an above average cast that brings in a solid review that is a pleasure to watch. Dan Singletary directed a balanced 14-piece orchestra. The lighting by Michael Glenn Munoz, sound by Bryan Foley and sets that were well-choreographed by Richard Cartwright's staff created a complete package of the sense and feeling of the plot.
For an evening of fine theater, "The Bridges Of Madison County" will satisfy the most avid theater devotee.
"The Bridges Of Madison County"
Produced by South Bay Musical Theatre
Book by Marsha Norman
Music and Lyrics by Robert James Walker
Where: Saratoga Civic Theater, 13777 Fruitvale Ave., Saratoga
Through: Oct 14
Time: 2 hours 20 minutes with one intermission
Call for tickets and Information: $20-$37
(408) 266-4734 or visit: www.SouthBayMT.com

Latest posts by Camille Bounds
(see all)