Published in the November 29 – December 12, 2017 issue of Gilroy Life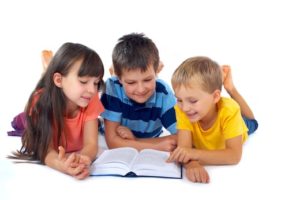 With the holiday season here, Morgan Hill's BookSmart bookstore launched its annual Gift of Reading program to get a book into the hands of underserved children in the community. This year, Gilroy Life is teaming with BookSmart to add a fun new element to this program, one that promotes the Common Core curriculum of reading and writing.
With our sponsorship, about 80 classrooms in Gilroy, Morgan Hill and San Martin public schools will receive a new book for the holidays ($25 value) to share with students not just the "Gift of Reading" but an opportunity to share a class's thoughts about the book with the community through our website.
Elementary school teachers who wish to participate in this "Gift of Reading and Writing" program will receive a BookSmart $25 gift certificate to purchase a book for their classroom. The class will read the book and prepare a written review. The teacher will then forward this review along with a class photo to the publisher and we will publish each review on our website. The deadline to receive all book reviews is Feb. 15, 2018.
The publisher and editor will pick the best review from all Gilroy Unified School District elementary schools. The winning review will be published in a print issue along with a photo of the class.
We encourage our readers to participate in the program, a local holiday tradition for more than a decade. We hope everyone who cares about kids might help by donating a new or like-new book or two at the book store by Friday, Dec. 9.
The donated books collected through the program will be distributed by Cecelia's Closet to underserved children and to help teachers build classroom libraries for their students — increasing the chances at long-term academic success.
Access to good quality fiction and nonfiction books is essential to developing basic reading and writing skills. The National Commission on Reading has found that the single most significant factor influencing a child's early educational success is an introduction to books and being read to at home prior to beginning school. Having books in the home has been proven to improve a child's reading performance, cause children to read more and for longer lengths of time, and produce improved attitudes toward reading and learning among children.
Last year, the local Gift of Reading program collected more than 3,000 books. Brad Jones, co-owner of BookSmart, said, "Let's make this year's Gift of Reading the best ever. So many kids have never had a book of their own. We can change that!"
Together, we can encourage literacy among our young people with a gift of a book this holiday season. If you are an elementary school teacher in a Gilroy or Morgan Hill public school, or a parent involved with a Home and School Club who might wish to help teachers participate in this year's Gift of Reading and Writing program, please go to www. gilroylife.com/2017/11/21/2017-gift-of-reading-program-for-gilroy-elementary-aged-children to learn how the program works.

If you would like to share your thoughts about this editorial, please email Robert Airoldi, the Gilroy Life editor, at editor@GilroyLife.com or call him at (408) 427-5865.

Latest posts by Gilroy Life Editorial (see all)