Published on MorganHillLife.com December 7, 2017
When the TheatreWorks' Artistic Director Robert Kelley took on this race "Around The World in 80 Days" he certainly applied the old platitude that "less is more". He does more with double duty scenery, a the stage that becomes the world and a five member cast that aptly plays more than the dozen plus roles than some larger productions with special effects and fireworks. "Fasten your seat belt, it's going to be a bumpy ride," is more than a gentle admonition it's a signal of what is to come.
Mark Brown adapted Jules Verne's 1873 Victorian novel about Phileas Fogg a man of means and obsessively correct in everything, agrees to a shocking wager of his wealth with his snooty club members to go around the world in 80 days. He is off with his newly hired manservant meeting friends and foes and adventure. We all know that Phileas will somehow make it and come back a better man.
Joe Ragey's compact colorful sets catches the imagination throughout the production. If the actors are on bumpy train, aboard a ship in a storm, or riding an elephant or a sled with a sail racing across the stormy plains of Nebraska you feel you are there moving with the actors.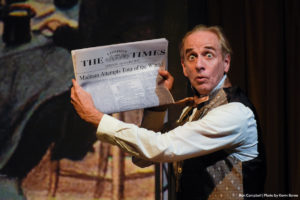 Jason Kuykendall plays the seemingly uptight perfectionist Phileas Fogg with just enough sensitivity and preciseness to make his character almost likeable. (He does grow on you.) He handles the complex role and warms up as the trip progresses.
His sidekick, valet and Jack of all trades Passepartout well played by Tristan Cunningham keeps up the pace with almost effortless energy. Passepartout is suppose to be French but what the hay this is in the spirit of fun, don't pay attention to the accent just watch her closely her agility is subtle and interesting.
Ron Campbell and Michael Gene Sullivan handle most of the at least dozen plus roles along with Ajna Jai who plays the love interest and three other male characters with smooth, easy transitions that shows their capable abilities.
The real heroes of this production are the backstage dressers. They did not  miss a cue and the less that fifteen second fast changes seemed to be handled without a mishap. Steven B. Mannshardt's  lighting, Cliff Caruthers' sound and B. Modern's costumes were all on mark.
" Around The World In 80 Days" goes bounding around the world like an obsessed locomotive with jerky stops and uncontrollable careening throughout the story. It's good plain well-done enjoyable, delightful, fun with an above par, talented well directed cast. These days can you ask for anything more?
Details:
"Around The World In  80 Days"
Where: Lucie Stern Theatre: 1305 Middlefield Rd.-Palo Alto
Through: Dec. 31
Running time: Two hours and fifteen minutes with one intermission
Tickets: $40- $100
Tickets, reservations and information: (650) 463-1960 or visit: www. theatreworks.org

Latest posts by Camille Bounds
(see all)