Nonprofit provides valuable services for people who struggle
Published in the June 13 – 26, 2018 issue of Gilroy Life
Most Gilroy residents consider taking a warm shower or running a load of laundry to be mundane tasks. But to someone without a home, such activities are luxuries. The Gilroy Compassion Center, along with some generous donors, have helped make those tasks accessible to a segment of the population that is often forgotten.
At a May 11 ribbon cutting, the center introduced its newest amenities, including a new shower, which are handicap accessible and can accommodate a shopping cart if necessary. Other new additions are a laundry area that features a washer, dryer, and sink, and new flooring. Prior to this, a laundry trailer would come by for people who needed to wash clothes. The renovations put everything conveniently under one roof and make these routine tasks more routine for those who are challenged with housing and food.
The Gilroy Compassion Center began in 2011, after a group of concerned South Valley citizens came together to address the absence of critical services for the homeless. Jan Bernstein Chargin is the center's board chair. She explained that the original space had been donated for five years. In 2016, the center moved to its current location, tucked into the tree-lined bend of Tomkins Court. They rent two adjacent spaces. One is a service center, where folks can eat, wash up, do laundry, and relax. The other provides counseling and education.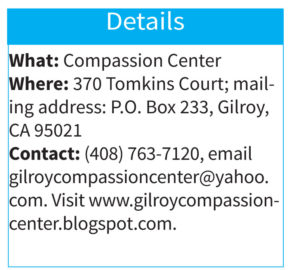 Reid Lerner, an architect, is the board's vice chair. "When people come here, they can eat and get settled," he said. "Then we take them to counseling. We get them the benefits they've earned. Our social workers can facilitate these things."
Chargin said, "This place is run by the people who use it. I think that makes it an incredible place. There's a board here that says, 'Action plus compassion, that's what makes change.' And it does."
In addition to the center's staff, there are volunteers from local churches and the community. The Valley Homeless Healthcare Program van provides services every Friday. Homelessness can be a delicate issue. For many, an unexpected job loss, staggering medical bill, or a series of unfortunate events might put them in the same situation.
Silicon Valley is one of the least affordable housing markets in the U.S. Although Gilroy is one of the region's more affordable options, it's still out of reach for many people. The Gilroy Compassion Center can help bridge that gap for those who are struggling.
Sandra Murillo of Housing Trust Silicon Valley, speaking at the ribbon cutting, said, "If there's one word, it's gratitude. I'm so grateful to be a part of an organization that brings services to Gilroy and South County. Years ago, there was a study. And many were surprised to learn how many homeless folks are in Gilroy because they're not visible, mentioned, or talked about. But it doesn't mean they're not here."
The drop-in day center is available to anyone who is homeless, from 8 a.m. to 3 p.m., Monday through Friday. From Dec. 1 to March 31, hours are 6 a.m. to noon, Monday through Friday. It also offers Saturday potluck suppers at 3 p.m., from April to November. In addition to providing meals, clothes, bathrooms, and personal hygiene supplies, there's also a women's support group and case management.
There are a variety of other programs helping Gilroy's homeless population recover to permanent housing. The Almost Home Camping features safe and legal campsites with showers, food, transportation, and case management. The center's biannual event, Project Homeless Connect, features multiple services from around the county, a hot meal, clothing distribution, and haircuts.
A shower, clean clothes, and a meal can go a long way. But the social services the center provides are equally helpful.
The center envisions a pathway to stability that maintains self-respect and recognizes the dignity of each human being. Its values include compassion for those who need help, respect for people of different faiths, perspectives, and abilities, cooperation among individuals and organizations working toward the same goals, and partnership rather than duplication.
Its goals are to develop a place to stay that is safe, clean and respectful of both clients and the community. The center aims to provide basic needs such as bathrooms, showers, laundry, food, and a one-stop day center with referrals and resources. It develops an income-generating program to provide operating revenue for the center and provides job training and work readiness opportunities for those they serve.
At the ribbon cutting, Chargin proudly announced, "we're growing" before she introduced the center's new executive director, John Perales.
"I saw it as a blessing," he said. "I've been blessed with so many skills through other jobs, and memberships. It was time to give back."
Even though he's only been in the position a few months, he knew he was in the right place after speaking to one of the men the center serves. "God put in my heart this is where I need to be," he said.
That seems to be a common feeling among those who stay and those who volunteer at the Gilroy Compassion Center. There's a feeling of hopefulness there that many find comforting.
Marie, a woman who utilizes the center, said, "A little over a year ago, I came here with my fiancé. We're recovering. We have five children and five grandchildren. We're homeless. But we're also so blessed and grateful."
Marie volunteers six days a week. She said she's "like the Mother Hen here. God has given me the opportunity to be here. We walked in, we had no vehicle."
The family recently bought a car, which will help transport them to jobs and other places as they get themselves resettled. But Marie understands that this long process has a purpose.
"I'm one year in recovery, and this is where I need to be," she said.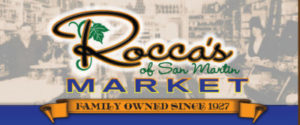 Latest posts by Marty Cheek (see all)