Volunteers keep the Gilroy Garlic Festival running strong for 40 years
Published in the June 13 – 26, 2018 issue of Gilroy Life
The Gilroy Garlic Festival is known the world over as a unique experience with a focus on the South Valley's most famous crop. It celebrates 40 years this July. But it would never have achieved its extraordinary success without the thousands of volunteers who generously give their time and talents.
"It takes more than 4,000 volunteers to run the festival," said Brian Bowe, executive director of the Gilroy Garlic Festival Association. "We vary between 7,000 and 8,000 shifts, about 40,000 hours."
That's a lot of chopping.
In fact, most people might be surprised to learn that the festival only has three paid staff members. Everything else, including the preparation of all the official food, is accomplished by volunteers.
"Part of the 'secret sauce,' and we say it all the time, is that you can only be a chairperson or a board member for a two-year stint," Bowe said. "You keep moving on and moving up. It keeps everything fresh and new. For us on staff, it keeps it exciting. There are new faces, and new challenges, but it's an opportunity to excel every year."
Many of those volunteers are high school students. By working at the festival, they raise money for their school groups, sports teams, and nonprofit organizations. In fact, since 1979, the festival has raised millions of dollars for local schools, charities, and nonprofit organizations.
"It's impressive. I think about the younger volunteers, how hard they work," said Katherine Filice, who does PR for the festival. "And they do some of the hardest jobs, like parking and trash."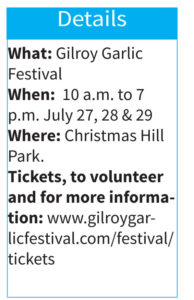 Jason Locsin is the band director for Live Oak High School's Emerald Regime marching band and color corps. A graduate of Live Oak, he recalls volunteering at the festival 20 years ago, and said the band has been volunteering since before that. He reflects that although the festival has changed over the years, the Emerald Regime's process and contribution has remained the same.
"We sell stuffed mushrooms in Gourmet Alley," Locsin said. "And we use the same recipe from 20 years ago."
It's likely that there are families out there who've enjoyed the stuffed mushrooms over multiple generations and look forward to partaking in this tradition each time they visit the festival. But aside from creating memories, the festival is also an opportunity for students to learn about teamwork.
Locsin estimates that there are around 48 people on a shift, with a combination of students and adults. There's a morning shift and evening shift each day, for a total of six shifts.
"People work the whole time," Locsin said. "We have about eight to ten adults who work alongside the students, as cashiers, chefs, and supervisors. Meanwhile, we have a team of 40 to 50 students who brush the mushrooms, clean them, pull of the stems, and stuff them."
He continues, "It's not easy. It gets hot in those tents. And they're on their feet the whole time. It's a tedious process, but it teaches them diligence and patience. Kids learn how to work together with some stressors. But afterward, there's a sense of accomplishment from working toward a community goal."
Volunteers receive a meal and drink ticket, and Locsin encourages his band members to go out and enjoy the festival after their shift.
But the bigger reward comes a few months later: a check from the Festival to thank the organization for their time. For the Emerald Regime, a few hours stuffing mushrooms in a hot tent translates to funding for uniforms, instruments, school buses, and other transportation costs.
"These organizations completely get it," Bowe said. "They happily engage and participate because they understand not just the spirit and the power of volunteering, but they benefit financially."
Another advantage is the teambuilding experience the festival offers school groups, sports teams, and charitable and non-profit organizations.
"It's great for us because the festival happens right around the beginning of our season," Locsin said. "See, a band is like a super team. No one sits on the bench. We use everyone. The experience shows the kids that everyone is important. And, if we don't get enough sign-ups, we won't be able to go to our first competition, which is their favorite part of being in the band. The Festival brings our band community together, and we always pull it off."
It's a priceless life lesson that will serve the students, athletes, and other volunteers for years to come.
Local Day, held the Friday of the festival, was designed with community spirit in mind. And it's not just for Gilroy residents.
Residents who present their ID showing a valid address from Hollister, San Juan Bautista, Aromas, San Martin, Morgan Hill or Gilroy pay only $15 for adults (ages 17-59), $10 for seniors, and $5 for youth (ages 10-16). Children 9 and younger are admitted free on all three days of the festival. Not only are ticket rates reduced for locals, but there's a chance to see the South Valley community truly at work.
"Local Day is for you," Bowe points out. "The money goes toward your organization."
Residents interested in volunteering should visit the festival's web site, www.gilroygarlicfestival.com, to access, fill out, and submit a form. Volunteer opportunities are available on an as-needed basis.
Once an individual or a charitable or non-profit group submits their information, it goes into a database that can be accessed by the committees who are looking for help. Then, volunteers can be matched to tasks.
The logistics of such an event can be overwhelming. Fortunately, there are more than 4,000 reasons for its continued success.
The 40th annual Gilroy Garlic Festival will be held July 27, 28, and 29, at Christmas Hill Park.
Hours are from 10 a.m. to 7 p.m. daily. It features food, beverages, cooking competitions, arts and crafts vendors, live entertainment, and a children's area.

Latest posts by Donna Lane
(see all)