Eleanor Villarreal was a founding member of several Latino organizations
Published in the November 14 – 27, 2018 issue of Gilroy Life
Eleanor Villarreal lived a life devoted to making Gilroy a better place for all.
For family and friends, the longtime Gilroyan will be fondly remembered as a woman devoted to service in the South Valley. A celebration of her life was held in her honor Friday, Nov. 9, at Rebekah's Children's Services, a site where she spent more than 20 years passionately helping local youth.
Villarreal was born in San Francisco Feb. 18, 1948. She died Oct. 28 at her Gilroy home with family members and husband, Raul Vega, after a two-year battle with leukemia.
"My wife was a ray of sunshine," Vega said. "She always wanted everything equal for everybody. She was an advocate for animals and anyone who was underprivileged. Eleanor believed in the mission of taking care of underprivileged kids."
Villarreal was raised in Hollister and moved to Gilroy at 18. She attended Gavilan Community College and graduated from the University of San Francisco. Her passion was advocating for children and families in the South Valley. As an active supporter and member of the Latino community in Gilroy, she was a founding member of the Gilroy Hispanic Chamber of Commerce, the Gilroy Hispanic Cultural Festival and the Latino Family Fund. Last year, she received the Legacy Award from CARAS (Community Agency for Resources, Advocacy, and Services).
"She grew up in that era where Latinos were suppressed, you couldn't even speak Spanish in school," Vega said. "She grew up among Mexican people and so therefore she related to their suffering and all those things."
Fundraising was a special talent for Villarreal and through her efforts RCS raised millions of dollars for the expansion of its programs. She was awarded the honor of Outstanding Professional Fundraiser in 1997 by the Association of Fundraising Professionals of Silicon Valley. In 2017, RCS named its library after her to honor her for her fundraising and other work.
"She could ask people for money and people would pull out their wallet," Vega said. "Eleanor was one of the best fundraisers that I've ever known. Every time she joined a group, she helped them raise money for their event or a cause or whatever the mission was."
Throughout her life, Villarreal stayed involved in many Gilroy nonprofit organizations. She was a founding member of the Exchange Club of Gilroy and the Coastal Habitat Education Environmental Restoration (CHEER) group. She was a member of the South County Democratic Club. She served as commissioner for the Santa Clara County FIRST 5 program. She also served as chairwoman and a volunteer at the Gilroy Garlic Festival. In 1996, Villarreal received the Gilroy Woman of the Year honor. She also received the Lifetime Achievement Award from the Latino Family Foundation.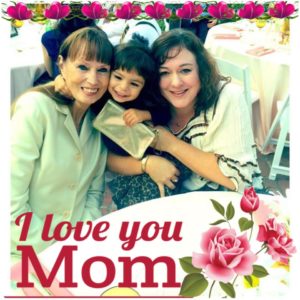 Outside of volunteering, Villarreal enjoyed exercising, eating good food with friends, walking her dogs, dancing, finding items at antique shops and estate sales, and spending time with her children, Freddy and Nicole, and grandchildren, Selene, Breea, and Kiana.
"She was a person who loved her family and the community. She loved us all equal. She was a very loving person," Vega said. "There's a lot of things to say about Eleanor. I lost my partner and so I'm heart-broken. Eleanor to her last day always believed that everybody should have a chance in life."
Villarreal's legacy will be one of philanthropy, children's advocacy, and community leadership, said her close friend Ernesto Olivares who worked with her in the Latino Family Foundation's Youth in Philanthropy program. She helped in the group's Tequila Tasting fundraising event held every May.
"She was key in the success of that fundraiser because she managed the silent auction," Olivares said. "She was the one who was always really brave to approach merchants and other donors for nice donations and gifts. She was very effective in us being able to have a successful outcome at that event financially and being able to fully increase the amount of grants that we give."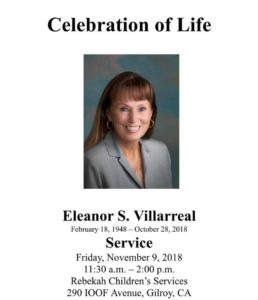 As a person, Villarreal was highly regarded in Gilroy because her character and her integrity was always beyond reproach, he said. Despite her illness, she stayed involved volunteering.
"Even when she was becoming weaker, she would respond positively to any request for support," Olivares said.
Karolinne Livingston got to know Villarreal through their work at RCS. They would often go to groups such as the Rotary and encourage donations. "Forceful" is the word Livingston used to describe her friend.
"She would not take no for an answer," she said. "She was very assertive and had very positive goals to take care of kids and keep kids going."
Villarreal was kind by nature was fun to be around.
"She had a very cheerful attitude and was very friendly with everybody," Livingston said. "But she was determined to do what she had to do and she had a mission for children and she was going to do it — and we had better get on board."
Villarreal was the "heart and vision" behind RCS's annual Festival of Trees, which she began 16 years ago, said Claudia Sandoval, Rebekah's fund development and community relations director.
"It's incredible to see her how her vision of Festival of Trees has flourished throughout the years, auctioning off over 160 lavishly decorated trees and raising more than $900,000," she said. "Festival of Trees has become Rebekah Children's Services signature event. We are honored to continue Eleanor's legacy through our Festival of Trees and the through the lives she has changed at RCS and the community. She will truly be missed."
Friends of Villarreal, Jaime and Evelia Rosso worked with her on many projects through the years and saw her as a loving, caring and inspirational leader.
"Her entire life was a testimonial to her passion and love for our community," Jaime said. "She was a powerful and respected advocate for community service, equity and justice…. Her legacy will live on in the hearts of all who share her love for our community."
Marty Cheek is the publisher of Morgan Hill Life and Gilroy Life. He is also the co-author with Congressman Jerry McNerney of the book Clean Energy Nation: Freeing America From the Tyranny of Fossil Fuels. Email: marty@gilroylife.com Phone: (408) 782-7575
Latest posts by Marty Cheek (see all)