Published in the November 28 – December 11, 2018 issue of Gilroy Life
As Gilroy friends and family launched the holiday season last week by tackling the Thanksgiving turkey, stuffing and cranberry sauce — and tackling other shoppers on Black Friday at the Premium Outlets stores — let's take a moment to reflect on the many benefits and blessings most of us South Valley residents are fortunate to enjoy.
In 2007, Robert Emmons began studying gratitude through a frame of psychological research. His findings showed that expressing gratitude is an activity that brings many benefits. Giving thanks impacts our overall experience of happiness — and these effects tend to be long-lasting and lead to a far more productive life. From Emmons' research here are a few reasons why we should feel gratitude in our lives:
It improves out physical, emotional, and social well-being. It increases our optimism and happiness. It improves our feelings of connection in times of loss or crises. It increases self-esteem. It expands our capacity for forgiveness, which leads to more benefits in of its own. It decreases stress, anxiety, depression, and headaches. It heightens our spirituality, leading to an ability to experience something in our lives bigger than ourselves.
In the spirit of Thanksgiving, we made a gratitude list of blessings Gilroy residents can show appreciation for not only just this week but all year long.
Local parks: We have an abundance of destinations to visit in the South Valley region, including several county parks and reservoirs, the redwood-covered Mount Madonna County Park, and the 87,000-acre Henry W. Coe State Park, which celebrates its 60th anniversary this month. Show your appreciation for nature by exploring a local park with your family — or by yourself for a reflective walk along a trail.
Volunteers and nonprofits: We are blessed with hundreds of volunteers who give their time and talent to numerous nonprofit organizations that ensure we preserve and enhance the quality of life in the South Valley. Among them are Rebekah Children's Services (which assists local families in need), the Gilroy Foundation (which helps fund many worthwhile charities), and the Gilroy Rotary Club (which provides numerous benefits to community projects). Show your gratitude for these groups by joining an organization or support them with funding.
Education: Gilroy cares about its young people enough to give them the opportunity to gain knowledge and skills for a positive and productive life. For adults, Gavilan Community College provides opportunities to enhance their careers or gain knowledge in some area of interest. Show your gratitude for education by helping a school through donations or work on a class project — or visit Gavilan's main campus for a walk among the colorful sycamores.
Downtowns: Both Gilroy and Morgan Hill have truly wonderful downtowns that are fun places to spend an afternoon or an evening with friends and family. During the holidays, visit both for shopping and dining — and enjoy the Holiday of Lights Parade in Morgan Hill Dec. 1. In downtown Gilroy, we suggest a visit to the Gilroy Center for the Arts to catch a Limelight Theater show or enjoy works of local artists — including the mural in the plaza.
Wineries/restaurants: We are truly blessed here in the South Valley for having more than 30 wineries to visit throughout the year. Visit Wineries of Santa Clara Valley's website to find many of them and what they offer. And, of course, we have more than our fair share of excellent restaurants in both Gilroy and Morgan Hill. During the holidays and throughout 2019, we suggest you show your gratitude for our local wine industry by spending an afternoon doing some wine-tasting, followed by an evening dinner with friends and family at a local restaurant.
Library: Santa Clara County is blessed with one of the best library systems in America, and we're grateful that the Gilroy Public Library is a part of it. Show your appreciation by visiting our beautiful library facility and pick out a few books, music CDs, and DVDs/Blu-ray discs to enjoy later – and help out the Gilroy Friends of the Library with a membership and donation.
Local history: South Valley has had many interesting stories of the people who lived here in the past. That's why we recommend visiting the Gilroy History Museum a block from the downtown at 195 Fifth Street. There you will learn more about the city's colorful story and feel grateful to the many people who have shaped our region.
Arts and entertainment: We're blessed with many art and entertainment opportunities in the South Valley region, and we encourage our readers to truly appreciate them. Take a stroll through the streets of downtown Gilroy and you'll find murals and sculptures that add beauty to the city. And we have plenty of entertainment to keep us occupied. We recommend seeing the South Valley Civic Theatre's show "It's a Wonderful Life," which is now running at the Morgan Hill Community Playhouse. And the South Valley Symphony will perform its "Holiday Hit Parade" concert at the Gavilan College Theater at 4 p.m. Sunday December 9 to get locals in a musical mood for the holidays.
And finally, we at Gilroy Life are truly grateful for you, our readers and advertisers, for your encouragement and support for our newspaper throughout the years.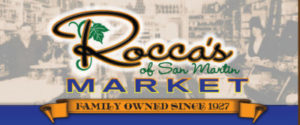 If you would like to share your thoughts about this editorial, please email Robert Airoldi, the Gilroy Life editor, at editor@GilroyLife.com or call him at (408) 427-5865.

Latest posts by Gilroy Life Editorial (see all)