Published in the December 26 – January 8, 2018 issue of Gilroy Life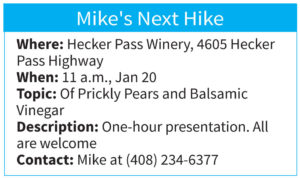 One of my family traditions during the holidays is to sit at the counter of Original Joe's restaurant in San Jose for a hearty meal before a visit to the nearby Christmas in the Park. As soon as we hop onto the bar stool seats, we straightaway ask the waiter for fresh bread and crushed garlic to soak up a blend of their 'house' olive oil and balsamic vinegar.
After several recent columns about some Italian families in South Valley who more than 100 years ago developed many of our vineyards and wineries, I have been exploring a range of Italian food delicacies including balsamic vinegar and — wait for it — the fruit of the prickly pear cactus.
Since Mario Fortino, the owner of Hecker Pass Winery, was born in Italy, and because right across the street from his winery a pear cactus farm of more than 150 acres was cultivated for years — I thought that this would make an interesting pairing. David Karp, a friend of orchardist Andy Mariani, described in a 2014 Los Angeles Times story that of the "hundreds of species of cactus, there are at least 30 that are grown for their fruit," with the pear cactus or prickly pear far and away the most popular. A native of Mexico "cultivated there for at least 9,000 years, the pear cactus was brought to Europe in 1495 by Christopher Columbus where it found favor in the Mediterranean basin, especially in Sicily."
I'm sure that David Karp's research included a 1977 article by James Curtis in an academic publication called "Economic Botany." Curtis noted that "the Santa Clara Valley leads the nation in the production of prickly pears. A Sicilian immigrant to California, Marco Rancadore, introduced cactus pear farming locally at the turn of the 20th century.  After World War II, Rancadore's grandsons, Marco and Sal LoBue, began to move some of prickly pear production to South Valley. By 1965 the LoBue family, situated along Hecker Pass Highway, had the largest pear cactus farm in California. In 1968, the LoBue's sold their cactus ranch to D'Arrigo Brothers, a very large farming operation in the Salinas Valley."  In 2014, D'Arrigo Brothers had 300 acres of pear cactus in the Gonzales area.
The fruit of the prickly pear may be green, purple, orange or red. According to an account written in 1515 by a conquistador, the taste texture were reminiscent of figs from Spain. The pear cactus is not only harvested for food, but it also has medicinal qualities and has been consumed as an indigenous treatment for diabetes, cholesterol control and auto-immune problems. The colloquial name for the fruit is "tuna" and the pears make for a sweet snack or an ingredient in margarita mixes. In Brazil, cactus pear cultivation is widely used as fodder for livestock. Cactus crops are receiving significant attention due to their ability handle harsh weather conditions exacerbated by climate change including drought and high temperatures.
Many of our local wineries offer balsamic vinegar for sale to complement their tasting rooms. Of course, when we think of balsamic vinegar, its association with Modena, Italy, comes to mind.  Since the Middle Ages, artisan producers of balsamic vinegar there have been aging and reducing the "must" (unfermented juice) of sweet wine grapes such as Lambrusco and Trebbiano. The grapes are harvested as late as possible and sometimes are sun-dried to complete ripeness in order to maximize the sugar content. After the grapes are pressed, the must is reduced by boiling the juice. Then through the aging process the vinegar is stored and transferred into smaller and smaller barrels of varying woods. The wood of acacia, ash, cherry, chestnut, juniper, mulberry, oak and walnut may all be used for barrel aging.
Premium balsamic vinegars are like liquid gold, having been aged for as long as 25 years. The result is a velvety, dark brown, syrup consistency condiment that is both sweet and tart — an epicurean delight that is very pricey.  The challenge for many consumers is to trust what is actually in a bottle of balsamic vinegar.
There are mass-produced balsamic vinegars made in Italy from grape must that may be aged up to three years, and there are imitations that can be made anywhere from cider vinegar that has be colored, thickened and flavored to pose as the real thing. Authentic balsamic vinegar from Modena is certified through regulations developed by the producers and the Italian government.
Please join me at Hecker Pass Winery to swap stories about Italian foods and recipes. Although the land where the pear cactus farm was located now grows houses, we can still recall some of our agricultural heritage and taste the fruit of the vine made by an old time Italian winemaker. My plan for February will include more pairings as we near Valentine's Day and share the magical story of chocolate.
Happy Holidays to all! Keep on sauntering!
Mike Monroe coordinates local discovery outings to great places like wineries, parks, museums in the Valley of Heart's Delight. Visit thevalleyofheartsdelight.org.
Latest posts by Mike Monroe
(see all)