Published in the January 9 – 22, 2019 issue of Gilroy Life
Whether it's a TV or smartphone, more and more people glue their attention to a screen and disconnect from the human side of entertainment. So it's good to support local talented performers acting on stage with many of the live theater show productions the South Valley is blessed with.
One of the best ways to enjoy a musical or drama is at the Morgan Hill Playhouse with the South Valley Civic Theater company. It puts on five productions a year, with each season typically including a large musical with an all-age cast, a smaller and/or perhaps more modern or less well-known musical, a teen musical, a children's musical, and a comedy or drama.
SVCT celebrates its 50th birthday with a big "Inspiring Our Future"-themed gala featuring dinner and dancing Jan. 12 at the Morgan Hill Community and Cultural Center.
SVCT's roots date back to 1969 when it was started as Gilroy Community Theatre by Gilroy residents Al and Frances "Pinky" Bloom and a small group of dedicated volunteers. The first show was Neil Simon's comedy "Come Blow Your Horn." As it grew, the community theater group put on about three productions a year. Often, these shows were performed at Gavilan College's theater stage.
In 1983, George Costa joined GCT as its managing director. He had served as producer and director for the San Jose Civic Light Opera, which later was renamed American Musical Theatre of San Jose. Costa was responsible for SJCLO's growth and status from 1963 until 1981. His skills and experience were important factors in GCT's continued growth over the next years.
The early 1980s were also challenging times financially. Ambitious productions and small audiences created an ongoing budget deficit. Board members frequently fronted production costs, and worries grew about the continued viability of the organization.
In 1985, the GCT board voted to expand performance locations to include Hollister and Morgan Hill. To reflect the new regional emphasis, they changed the name to South Valley Civic Theatre.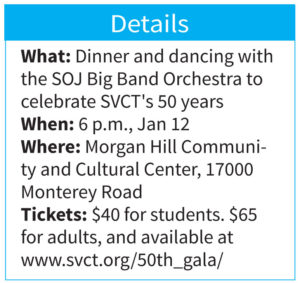 During the years, SVCT wandered from venue to venue, putting on shows at a former nightclub at Tennant Station shopping center, Gilroy High School, Live Oak High School, the Old Gilroy Hotel, the Pumpkin Patch in San Martin and even a Rosso's Furniture store. Rehearsals took place at a paint store in Gilroy and a community room in a mobile home park in Morgan Hill.
Publisher Marty Cheek even enjoyed participating in a few productions, initially helping with the backstage crew of "Gypsy" at the Pumpkin Patch. Soon after he took on the challenge of actually singing, dancing and acting on stage as chairman of the board "Wally Womper" in the romantic-comedy musical "How To Succeed In Business Without Really Trying."
SVCT's fortunes took a dramatic upswing in 2001 with the start of a major redevelopment project to build a community and cultural center in downtown Morgan Hill.
The theater group collaborated with the city to have a 1920s-era church already on the property moved to the corner of Monterey Road and Fifth Street and refurbished as a modern playhouse. The Morgan Hill Community Playhouse, a modern, 186-seat performance facility, became the new and permanent home for all SVCT productions. The group's first show at the site was "Lend Me A Tenor" performed in February 2003.
During the past five decades, SVCT has thrived as the premiere theater group for the region. Increased membership and ticket sales now pay for rental warehouse space for rehearsals, storage, and set construction.
The group continues to stretch itself, staging more challenging productions from cutting-edge playwrights. This, in turn, draws additional acting and production staff talent from a broader geographic area. These factors, along with the commitment of the community and the volunteers,  contribute to the high caliber of its productions.
We hope our community will continue to support the performing arts produced by local theater groups such as SVCT by attending shows. Check out a show and you'll discover they're really well-done productions that are a fun outing for families or a date night for couples.
We especially encourage you to get to know SVCT's members and performers at the Jan. 12 gala. Get your tickets now at www.svct.org/50th_gala.
As the song says: there's no business like show business. And South Valley Civic Theatre proves that fact time after time with its amazing drama and musical productions performed by your fellow community members.

If you would like to share your thoughts about this editorial, please email Robert Airoldi, the Gilroy Life editor, at editor@GilroyLife.com or call him at (408) 427-5865.

Latest posts by Gilroy Life Editorial (see all)