Published in the March 20 – April 2, 2019 issue of Gilroy Life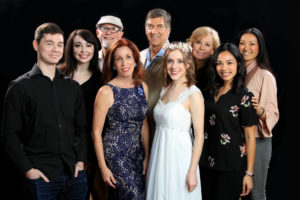 Some of South Valley's most popular theatrical talent will shine as "super troupers" in San Jose Musical Theater's "Mamma Mia!" opening later this month at Evergreen Valley College Theater.
Morgan Hill resident Marilyn Pifer, who is on the SJMT board, told us many people who have graced South Valley stages will be performing.
Morgan Hill residents in the cast include Dan Devou, Rob Christopher, Nick Bedard, Nikki Cendreda, Megan Griffin, and Joy Reynolds. Gilroy resident Mary Beth Anderson is also in the show. Other South Valley Civic Theatre veteran players Lindsay Sommers and Edie Flores appear as well. Producer Marianne Snook, choreographer Nicole Tung, costume designer Michelle Griffin, and lighting designer Dylan Maack (all from Morgan Hill) and associate producer Ingrid Rottman (from Gilroy) also all have extensive SVCT experience.
Morgan Hill and Gilroy residents make up nearly a quarter of the cast and crew, Pifer told us.
"Most of the South Valley contingent have been involved in recent South Valley Civic Theatre shows," she said.
Head up north and catch the local performers in "Mamma Mia!" For showtimes, tickets, and directions to the theater, visit sjmt.org or brownpapertickets.com/event/3568085.
Gilroy Historical Society's board president Connie Rogers asked us to let Gilroy Life readers know they can participate in greater awareness of local historic buildings. They're looking for nominations for the 2019 Architectural Awards. The deadline is March 31 and winners will be presented at the society's annual meeting in June,
"We want to honor people who have invested in the preservation and beautification of their home or building, a significant effort that makes Gilroy a better place," Rogers said.
Send your nomination by e-mail to Gilroy.Museum@cityofgilroy.org, postal mail by sending a letter to the  Gilroy Museum, 195 Fifth St., Gilroy, CA 95020 or phone the Gilroy Museum at (408) 846-0446. Include your name, the street address of the nominee, and a brief explanation of why you think the building or residence deserves an award in one of these categories:
Historic Design Award — for a new building in the downtown area that complements the original historic buildings or enhances the Downtown Historic District area
Historic Commercial Building Award — for a building at least 50 years old in the downtown Historic District or on an Historic Site that restores, retains or preserves the building's historical, cultural or architectural values.
Historic House Award — for a home that is at least 50 years old that is an outstanding example of restoration and renovation. Exterior only.
Certificate of Commendation — for residential, commercial or "other."  This could be for new construction, restoration, renovation, additions, landscaping, painting or significant improvement. Send in your nomination today.
Congratulations to Ron Hannon, Gavilan Community College's Dean of Kinesiology & Athletics. He has been selected Athletics Director of the Year by the California Community College Athletic Directors Association.
"I had an evening phone call with Dan Clauss, president of CCCADA," Hannon said. "We talked about other issues, then he said, 'oh by the way we want to recognize you.'"
Hannon has managed Gavilan's kinesiology and athletics programs for the past 18 years. The department offices are filled with awards and trophies Gavilan athletics teams have won during his tenure.
Hannon's accolades reflect a bigger picture. A Gavilan alumnus, he continued his education at San Jose State University and was working there when the athletic director position opened up 18 years ago. Hannon insists the college deserves the recognition because of the entire team. He views his role as a facilitator who sets boundaries, buffers and offers vision.
He noted that many of the past honorees were from larger colleges. "We're a small institution where we roll up our sleeves, get dirty, and that's what makes our students successful," he said.
Competing in athletics as a youth, Hannon cited three values that were instilled early by his coaches: teamwork, quality people and relationships, and the freedom to excel.
"It takes a team," he said. "You can't do this by yourself."
That's true. But a team needs good leadership to make its dreams a reality. And Hannon provided that.
Looking for a way to honor and help firefighters? Eat at Jersey Mike's in Gilroy March 27 and 100 percent of the proceeds this year go to the California State Firefighters Association. Owner Laurie Sontag said the eatery selects a nonprofit every year, as do all Jersey Mike's.
"It's part of our culture and our motto of 'Give to Give,'" Sontag told us. Well, there's a way to help with the money going directly to firefighters. See you at Jersey Mike's March 27!

Robert Airoldi is the editor of Gilroy Life newspaper. If you have a story idea or an Around Town column item you want to tell him about, you can reach him at (408) 427-5865 or at editor@gilroylife.com.

Latest posts by Robert Airoldi (see all)