Nonprofit organization celebrates big milestone
Click here to find more stories published in the April 3 – 16, 2019 issue of Gilroy Life
At the 2019 Academy Awards ceremony, celebrity chef José Andrés proclaimed that "immigrants and women … move humanity forward." If that's true, there's an organization in Morgan Hill that's been propelling humanity for a quarter of a century. The Learning and Loving Center recently celebrated 25 years of serving women and children of Morgan Hill's immigrant community. Following a Celebration of Mass at St. Catherine Church March 2, guests attended a gala honoring and recognizing those who have contributed to the center.
Christa Hanson, who has served as the Learning and Loving Center's director for seven years, said, "What I'm most proud of is that we've been able to sustain the Learning and Loving Center to provide a quality program to educate women and empower them to become leaders, as well as prepare the kids for kindergarten."
That includes embracing diversity and honoring each family's culture while learning critical new skills. Currently, the center serves about 170 women and 55 children. Hanson estimated that 30 countries are represented.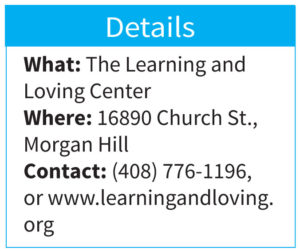 With so many languages and cultures converging, how does one communicate?
"Through love, food, play, and learning," Hanson explained. "The kids come into the center speaking their native languages and leave bilingual."
It's been said that when you have more than you need, instead of building a higher fence you should build a longer table. And that concept certainly applies at the Learning and Loving Center. Along the way, these women and children form bonds by sharing a meal, a ride, or perhaps a hobby. Similar to the idea of a potluck, each family brings their own personal "dish," passes it around, learns about their neighbors, shares a few laughs, discovers common ground, and gains a mutual understanding that can only thrive beyond the boundaries of isolation.
A Brazilian woman who attended the gala said she first came to the center feeling lost. But after being welcomed from the beginning, she understood that the center respects the differences of each student.
For a $70 annual fee, families have access to open-entry classes and workshops. The cost of this education is $2,200, but the remaining $2,130 is provided through grants and donations. No one is turned away. In fact, men are welcome to attend the GED courses.
In order to make improvements to their program, the center follows preschoolers through second grade, requesting information on their development. Many teachers say the young students have a strong foundation, making special note of their English skills.
"We developed as a literacy center for women," Hanson said, "but along the way we became a family literacy center. Our name says it all. Learning is from literacy. Loving is from community. These women and children become part of a wider community and begin to feel like there's somewhere they belong."
The Learning and Loving Center opened March 25, 1994. A nonprofit educational project of the Sisters of the Presentation, it served 20 immigrant women and their children in the beginning. The objective was to provide a focused response, giving direction to adult immigrant women and their children living in the surrounding low- and extremely low-income areas. Even with all the prosperity and economic wealth of Silicon Valley and south Santa Clara County, this segment of its population had a high concentration of isolated, marginalized, illiterate, and underserved women and children. It seemed there was something unnecessarily lacking in these vulnerable communities, for which the Learning and Loving Center could provide a solution by creating a systemic change in the educational process.
The center's location has changed a few times before moving to its current site on Church Street in Morgan Hill. But its core mission has persevered: to increase literacy among immigrant women and provide education and child care to their children. During the past quarter century, more than 3,000 women have increased their literacy and improved their computer and job skills, all while their children have learned English and became better prepared for academic success.
Jim Yinger, the board chair at the Learning and Loving Center, has also been there about seven years.
"At this point in the development of the program, we're not looking at our obligation to help the needy," he said. "We're already there with our generation. It's so powerful to hear these women talk about their stories and their children going to college, having the economic opportunity to do that. We have affected a generation now."
Many of the volunteer instructors are retired, credentialed teachers. "Our volunteers are totally dedicated," Yinger added. "They often comment that they receive more than they give."
Hanson echoed his sentiment. "There's not a day that goes by that I don't go home and realize I've received more than I gave."
These invaluable resources extend well beyond the classroom. Through literacy, technology, and basic skills education achieved at the Learning and Loving Center, immigrant women and their children gain the tools to overcome poverty, unemployment, poor health, and low self-esteem. Barriers that complicate self-reliance are eroded, and a sense of confidence and empowerment begins to develop. Isolation dissolves and hope begins to thrive.
With all of these benefits funneling into an often forgotten community during the past 25 years, it's easy to see how the Learning and Loving Center has pushed humanity forward, one step, one family, at a time.

Latest posts by Donna Lane
(see all)