Click HERE for more stories published in the May 1 – 13, 2019 issue of Gilroy Life
The tourists are coming. The tourists are coming.
Last month, the South Valley region received good news in terms of our development as a destination for vacationers and day-trippers from the Bay Area.
At the April 1 Gilroy City Council meeting, Barb Granter, the general manager of Gilroy Garden reported that in 2018 the family theme park on Hecker Pass had its "best year ever." The park's number of visitors hit 457,000, a rise of about 50,000 in its annual attendance. (The park usually reaches about 330,000 visitors when attendance is lower.) The membership to Gilroy Gardens rose significantly to 66,400, compared with 40,900 in the previous year. The park, which is run by a nonprofit corporation, also experienced a 12 percent profit margin, helping to achieve sustainability.
Meanwhile, in downtown Morgan Hill after four years of delays, on April 15 a work crew broke ground on land owned by entrepreneur Frank Leal to begin work on his Granada Hotel + Spa project. The four-story, 65,000-square foot hotel project is designed by KTGY, an Oakland-based architecture firm. Intended to serve as a destination hotel, it will attract visitors to the South Valley to experience good food, fine wine and entertainment as they stay in luxurious accommodations in 60 guest rooms. It will feature a restaurant, a bar, retail space and a banquet hall. If construction schedules are met, the Granada Hotel expects to open its doors to guests in the fall of 2020, according to Leal.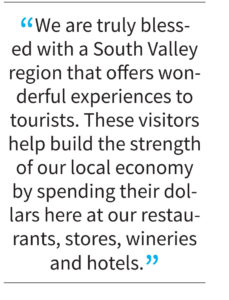 From our downtown Morgan Hill headquarters, we can look out the window across Monterey Road and see the bulldozers now being used to dig the dirt to prepare the foundation for the Granada Hotel.
We're excited to watch the project unfold in the next 18 or so months. Leal's massive renovation of the Granada Theater, situated adjacent to the hotel site, has proven his ability to make a high-quality local destination for entertainment. It is popular for luring visitors from throughout the Silicon Valley to downtown Morgan Hill for music or comedy dinner shows or company conferences.
We see the potential for his hotel to do even more. The increased tourism from Leal's hotel is projected by Morgan Hill city staff to potentially bring in nearly $300,000 in general fund revenues every year from sales, property and hotel taxes.
We project that in the coming years with Gilroy Gardens expanding its offerings for visitors and the Granada Hotel completed, our region will gain a reputation as a fun and friendly destination for business and vacation tourism. We're part of the Silicon Valley, a place famous for its high-tech industry. And yet with our agricultural heritage and small-town atmosphere, we have differentiated ourselves from the high-stress hustle and bustle of cities to the north of us in Santa Clara County. That rural quality of life is something we need to protect because it's one of the main reasons people visit us.
In the past decade or so, we also have built a reputation for our world-class wineries and excellent restaurants. Many people come to the South Valley from as far away as San Francisco and Monterey for weekend excursions to enjoy sipping fine wines among the vines or to enjoy a tasty lunch or dinner in our eateries. But we offer more than just a relaxing excursion.
For the more adventurous visitors, we have plenty of splendid county parks and the rugged Henry W. Coe State Park for exploring on foot, horse or mountain bike — or a camping trip to enjoy the canvas of the night sky beside a cozy camp fire. We also have become a destination for avid cyclists to pedal through our region along the country backroads, enjoying the rural scenery.
The California Welcome Center site located at the Gilroy Premium Outlets is a place for out-of-town visitors shopping at the stores to learn more about the South Valley's amazing opportunities to experience. Jane Howard, the executive director of the center, has done an excellent job in promoting the region through her outreach and information.
But we see even more opportunities to increase the public awareness for tourism. One opportunity that is low-hanging fruit for increasing tourism marketing is to take advantage of the various festivals and other entertainment events — such as the Poppy Jasper International Film Festival — with a booth or table that provides information to potential vacationers. The Gilroy Garlic Festival as well as Morgan Hill's Mushroom Mardi Gras and the Taste of Morgan Hill are excellent places to undertake these activities for bringing visitors from elsewhere back to explore more.
We are truly blessed with a South Valley region that offers wonderful experiences to tourists. These visitors help build the strength of our local economy by spending their dollars here at our restaurants, stores, wineries and hotels. Let's take advantage of these tourism opportunities by enhancing the marketing of our region and showing the world how proud we are of this place we call home.

If you would like to share your thoughts about this editorial, please email Robert Airoldi, the Gilroy Life editor, at editor@GilroyLife.com or call him at (408) 427-5865.

Latest posts by Gilroy Life Editorial (see all)