The Great Horned Owl sits along a creek-side trail
Click HERE for more stories published in the May 1 – 13, 2019 issue of Gilroy Life
The bronze sculpture of Loki along the paved trail near the Centennial Recreation Center stands as a tribute to a Morgan Hill woman who has dedicated many years to protecting our local wildlife.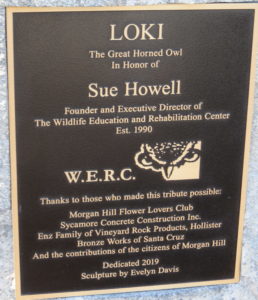 Unveiled March 16, the life-sized Great Horned Owl perches on top of a granite rock, upon which is a plaque telling the art work was made in honor of Sue Howell, the founder and executive director of the Wildlife Education and Rehabilitation Center.
Howell founded WERC in 1990 after several years of volunteering at the Youth Science Institute in San Jose. For more than 25 years the center has been located on her property in southwest Morgan Hill. She has devoted her life to the rehabilitation of native wildlife and the education of thousands of children.
In honor of all Howell's contributions, two years ago WERC Board Member Teresa Stephenson got approval from the city council for the installation of Loki on the wildlife trail. Loki was there at the beginning of WERC and helped with its education and rehabilitation effort. He was the original logo for the center and died last year at 20. Local artist Evelyn Davis serves as a WERC volunteer and got to know Loki personally, which helped her bring the owl's spirit into the piece.
Tears filled Howell's eyes as her son, Jeff, untied a cord and pulled the cloth off the owl sculpture to reveal it to a crowd of about 25 people. A few commented on the piece: "It looks just like him." "Thank you, Sue."
The piece is placed next to a bench under the shade of trees so people can sit and enjoy Loki staring down at them. It joins "Liberty the Bobcat," another bronze sculpture on the trail nearby that was created by Davis.
"It's beautiful. The eyes are just like him. It's so magnificent," Howell said of the owl sculpture. "Loki was beautiful. He had a wonderful spirit. Evelyn did a gorgeous job. It's like a friend of mine and I'll come and visit him."
She expects families years from now will come to view the bronze owl. Those who helped make the sculpture possible with financial help or in-kind donations include the Morgan Hill Flower Lovers Club, Sycamore Concrete Construction, the Enz family of Hollister (who own Vineyard Rock Products that provided the granite rock), Bronze Works of Santa Cruz, John and Teresa Stephenson, Theresa Bradshaw, Jane Hale, Neal DeChene, Colleen and Mark Grzan, Evonne Davenport and Gloria Zufall, Rene Spring, Janie and Roger Knopf and Evelyn Davis. The value of the project including the rock and installation is about $15,000, said Chris Ghione, city of Morgan Hill's community services director.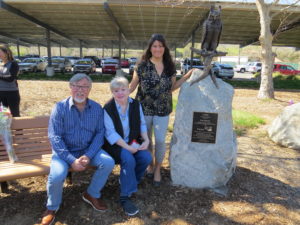 The expression in the owl's eyes was true to life, the artist said. She remembers coming into his caged enclosure and cleaning up Loki's site.
"He was a curmudgeon," she said. "Volunteers would come and go and after a while he got in his head to do a fly-by. He found he could scare people because owls have silent wings. He was pushing his weight around a little bit."
Howell provided construction helmets to the volunteers to protect them from the playful antics of the owl.  Davis felt good the first time the owl perched on her arm.
"I think the sculpture of Loki is good for everybody. It's good for the city and the wildlife center and people," she said. "For me, it's really honestly an honor because I volunteer there and I see what goes on there with the effort and dedication that these people give."
Howell said the sculpture of Loki shows the dedication people of South Valley have toward preserving its wildlife heritage.
"This is such a beautiful community and to honor Loki is wonderful," she said.
Stephenson noted at the unveiling she has volunteered with WERC for many years and enjoyed helping animals brought in from throughout South Valley after suffering some misfortune.
"I learned so much from Sue," she said. "I would never imagine trapping injured eagles and picking them up and feeding them. These are experiences I never imagined having. I feel so privileged. I think the  best feeling in the world is helping an injured animal and releasing it back into the wild — and we owe Sue for that."
Many locals know WERC as a part of the annual Taste of Morgan Hill downtown. In front of the Old Republic Building during that late September event, the public is treated to close-up views of raptors and mammals and snakes along with displays and conversation about native habitats and the importance of living in harmony with wildlife. Howell has also been a staunch supporter of the community. She has been a part of the Morgan Hill Chamber of Commerce for many years and served as an ambassador. She is a member of the National Wildlife Rehabilitators Association and founding member of California Council of Wildlife Rehabilitators.
The sculpture of Loki is a wonderful addition to our community, Stephenson told the crowd at the unveiling.
"It's special because over 30 years ago Sue Howell and her family moved to Morgan Hill. And at the time, she had young boys and she was afraid of animals," she said. "She didn't want her children to be afraid so she wound up volunteering at the Youth Science Institute in San Jose. The next thing she knows, she's standing there with an owl on her arm explaining owls to all the school children. I think she found her passion."
Howell grew interested in rehabilitating wild animals hurt in nature or through human contact. She and others applied for a rehabilitation permit from the state of California and founded WERC, she said.
"Then the fun began," Stephenson said.
Howell and other volunteers learned how to rehabilitate animals, concentrating on the native critters. They brought the non-releasable animals into schools and other places to teach adults and children about the creatures. She went through training and certification and even traveled to Alaska to learn about eagle rescue.
WERC volunteers often take in bobcat orphans and raise them until they're mature enough to be released. To prevent the bobcats from becoming habituated to humans, volunteers dress in a bobcat costume and crawl on hands and knees into the enclosure, a technique Howell developed.
"She did such a great job that her procedure became part of the Fish and Game protocols of raising orphan bobcats," Stephenson said.
While alive, Loki served as WERC's mascot. He went to schools, rode in the parade, showed himself off at barbecues, and helped raise money.
"Thousands of school children for multiple generations all across the county and beyond have been charmed and educated by our educational ambassadors, chief of which is Loki the Great Horned Owl," she said. "Generally, he was my favorite curmudgeon. So when I decided to put this tribute together for Sue, I thought Loki was a great way to honor Sue for all her contributions to the community."
City Councilmember John McKay recalled that in 2010 when he graduated from Leadership Morgan Hill, its organizers told class members about opportunities to join a nonprofit board in kind of an apprenticeship program. He picked WERC.
"I was given the opportunity to tour the facilities," he said. "We live in an area where we see wild animals on a daily basis and I think we have a responsibility to take care of them because we're impacting their habitats."
Latest posts by Marty Cheek
(see all)