Click HERE to find more stories published in the May 15 – 28, 2019 issue of Gilroy Life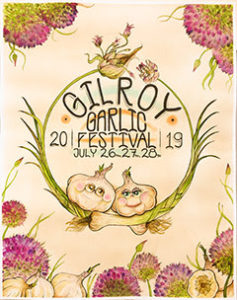 In advance of July's Gilroy Garlic Festival, we're getting more news every week, and this week we're pleased to announce that artist Chloe Crossman's heart-warming poster was awarded first-place and prints of her design will be available for sale during the 41st annual party celebrating the pungent herb.
Crossman, who lives in Southern California, said she has been making art — and loving garlic — for as long as she can remember. In her watercolor poster (above), she wanted to create something fun and fresh that focused on the beauty of garlic flowers and also captured the spirit of the festival. She said she is looking forward to attending the festival for the first time this year. "I'm really excited to eat as much garlic as I can," she said. William Harris of Maricopa, Ariz., took second and Priscilla Martinez from Watsonville took third.
Finally, it's been announced that for the first time in its 41-year history, the Gilroy Garlic Festival is welcoming a Grammy Award-winning, multi-platinum-selling singer/songwriter to perform at the festival. Colbie Caillat, who has sold more than 10 million singles worldwide, will appear with her new band Gone West on the Amphitheater Stage Saturday, July 27.
And, Alexander La Motte, executive chef at the Rosewood CordeValle Resort in San Martin, will bring his culinary expertise to the festival Sunday, July 28. La Motte will emcee the Garlic Showdown competition for professional chefs on the Garlic Cook-Off Stage.
With the San Jose Sharks heading to the NHL Western Conference Finals, we have some fun news. The city of Gilroy has entered a one-year exclusivity period with Sharks Sports & Entertainment LLC to assess the potential of having the Sharks organization operate a new indoor recreational facility the city is considering building in Gilroy.
While project details are still under discussion, the facility would likely include opportunities for a variety of programs and events to include ice hockey and would be located off Monterey Road, as part of the Gilroy Sports Park, according to a press release from the city.
Having the facility operated by a national brand with a proven track record would be an amazing opportunity for economic development. It has the potential to heighten the city's position in the region as a destination location and increase travel and tourism to Gilroy. That's fantastic for ice hockey fans and anyone looking to learn more about the sport.
Congratulations to Sam Bozzo and Gene Sakahara who will be honored June 8 with the Gilroy American Legion Post #217's Community Leadership Award honorees. The pair, known as SakaBozzo, are twins separated at birth and celebrity chefs at the Gilroy Garlic Festival. They're not "identical twins" but they have the same passion for the Garlic Festival and live to have fun and good food and share them with family and friends. They have entertained audiences and fans for 28 years.
"Thank you very much to Post 217," Sakahara told us in an email. "We are both humbled to be recognized."
The Gilroy Memorial Day Parade Committee, along with the American Legion Post #217, will honor our fallen, but not forgotten heroes Memorial Day, Monday, May 27. The American Legion will begin with a Remembrance Ceremony at St. Mary's Cemetery, at 1000 First St. from 9 to 10 a.m., Monday. "We are honored to host such an important event for our community," said Bob Armendariz, American Legion Commander and event organizer. The ceremony will feature Mayor Roland Velasco and City Council Member Marie Blankley as the guest speakers, and Tom Brozene playing Taps. The highlight will be the reading of the 80 names of Gilroy veterans, from Word War I to Afghanistan, who paid the ultimate sacrifice in serving our country.
Following the ceremony, the Gilroy Memorial Day Committee has organized a parade starting at 11 a.m. at Monterey Street and progressing along 10th Street ending at Gilroy High School. Veteran Joe Loquiao will serve as this year's grand marshal.
For additional information or applications to enter your organization or business into the parade go to www.gilroycommunity.org or [email protected]  You may also contact Albert Lambert at 408.781.3396 or Christy Valdez at 669.327.9624.

Latest posts by Robert Airoldi
(see all)