A Bay Area Explorer group started Scot Smithee onto career that sees him now as Gilroy's top cop
Click HERE to find more stories published in the May 15 – 28, 2019 issue of Gilroy Life
By Jan Janes
Scot Smithee weighed a career between construction and law enforcement, and the beat won.
A teenage friend invited Smithee to a Bay Area Explorers group. He recalled the program as full of camaraderie. Helping with community-based events taught members about the local police department and the people side of law enforcement.
"I never thought I would go any further," he said. "I grew up in construction and worked as a framer."
A Bay Area native and Woodside High School graduate, Smithee's life changed at age 18. His dad moved the family construction business to the South Valley, viewing Gilroy as prime for new development. Smithee promptly enrolled at Gavilan Community College, majoring in business.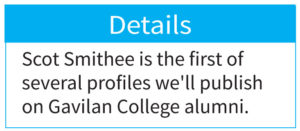 "Gavilan was a very peaceful place," he said. "I loved the campus." Strolling Sycamore Lane instilled calm, and he studied in the student center or outdoors.
"I liked this town," he said. "It was totally different from where I grew up."
A job listing opened up for a reserve police officer before he turned 21. Recalling the Explorer program, Smithee applied. "I figured it was a fun thing to do for three to five years before returning to construction." Landing the job, he discovered every day was exciting and challenging.
"Swinging a hammer, I would think 'three more hours of this?'" he said. But when a reserve duty shift wound down, he felt disappointment.
While working to earn his AA from Gavilan College in 1988, Lanny Brown, former Gilroy assistant chief of police, helped advance his career. He was teaching reserve officer classes and encouraged Smithee to get involved.
"He brought me to class and asked me to help teach it," said Smithee, who learned the curriculum segment by segment.
"I was terrified of public speaking," he said, recalling sweaty hands gripping the podium. As a solution, Smithee enrolled in Robert Funk's public speaking communications class.
"I did not want to take that class, but I had to conquer the fear," he said. "He was a really good teacher, and I learned to do much better with feedback and encouragement." Currently, Smithee speaks to many groups each week, at times under challenging conditions.
Smithee worked with the Gilroy Police Department more than 30 years, rising to the rank of captain.
For more than two decades he also has taught police skills and emergency vehicle training to area police academies.
"I love working with the students," he said. "The best part is working through something they struggle with, getting to where they can understand it."
During his career, Smithee earned a Bachelor of Science in Organizational Behavior from University of San Francisco and an MA in Leadership from Saint Mary's College of California. In January 2017 he returned as Gilroy's interim chief of police.
He continues to teach at the academy, now at Gavilan's Coyote Valley campus, as well as in San Mateo and Seaside. As the first instructor new recruits see, Smithee relates his experiences. "If you want to make a positive difference in the lives of people," he tells them, "You're in the right room."
Smithee described a boy whose bicycle was stolen. The department found and returned it to the youth, who made good on a vow to become a police officer. He speaks with pride about the number of Gavilan graduates hired by the Gilroy Police Department.
"In law enforcement, we deal with people in crisis," he said. "Dealing with victims of crime, we have the ability to make things right."
This year Smithee serves as president of Gilroy Rotary, describing the work as giving back to improve the community. "Gavilan is a big part of that, along with the people who lead and work at the college."
Community college is a family affair. Smithee's youngest attends Cabrillo College; another took classes at Gavilan before transferring to Cal Poly Pomona. Gavilan College alum Katie Smithee continued on to graduate from San José State University and works in hospitality management.
After high school, Smithee could have chosen from three Bay Area community colleges. When his family relocated to Gilroy, he was grateful Gavilan College was nearby.
"It was very attractive to me there was a college here," he said. "To have a local option to be able to go to school, that's a wonderful thing."

Latest posts by Guest Column
(see all)