Kylie Kuwada will represent the Garlic Festival
Click HERE to read stories published in the May 29 – June 11, 2019 issue of Gilroy Life
Kylie Kuwada knows garlic. Her knowledge of the stinking rose helped her earn the crown and sash of the 2019 Miss Gilroy Garlic Festival Queen.
She and nine other women waited in anticipation for the results of the annual Gilroy Garlic Festival Pageant held the afternoon of May 19 at New Hope Community Church in Gilroy. With an audience of about 150 watching, the tension mounted as emcee Andrea Yafai announced the winners.
Second  runner-up was Lauryn Longoria from Vanguard University. First Runner-Up was Lilly Higgins from Presentation High School. And then for the top royal spot: Kylie Kuwada.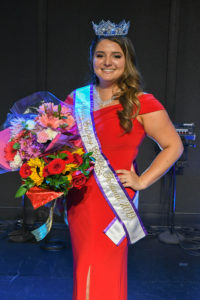 "My jaw dropped. I still can't believe it," she said in an interview two days later. "It's such an honor and I just feel so lucky to represent the Garlic Festival, Christopher Ranch and Gilroy as a whole."
The third time Kuwada has participated in the festival's pageant, the Gilroy native did well in the interview with the five judges — Ken Christopher, Stephanie Vegh, Dewey Lucero, Claudia Sandoval, and Shay Matthews. Her speech about garlic played on the personality of Mr. Rogers with the theme of how the festival enables her to be a community helper and volunteering. Her traditional Japanese dance in the talent contest showed off her culture.
A junior at California Polytechnic State University in San Luis Obispo, Kuwada was awarded $1,000 as queen as well as a $10,000 scholarship from Christopher Ranch. She was also awarded the Past Queen ($400) and Past President ($800) scholarships. She tied with contestant Higgins for the best speech and tied for best talent with Brianna Budelli, a Christopher High School student.
The rest of the 2019 royal court include princesses Amaya Leyba-Guerra, Simran Sihra, Jenessa Andrade, Katie Van Horn, Brianna Budelli, Rae Ceballos, and Gisselle Oliveira, who each received $1,500 from Christopher Ranch. For the next 12 months, the members of the royal court will serve as goodwill ambassadors for the festival and the community of Gilroy.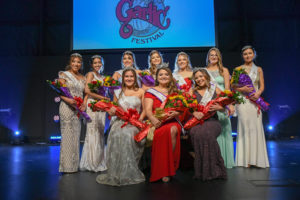 In July, the women will participate in luncheons in the community as well as a friendly visit with representatives from Gilroy's Sister City Takko-machi in Japan. July 26, 27, and 28 at the 41st Annual Gilroy Garlic Festival they will roam the grounds at Christmas Hill Park chatting with and having their picture taken with many of the tens of thousands of visitors.
"The festival is going to be the most fun part of this experience. Getting to be with the girls for three days, we'll really bond," Kuwada said. "Y