Children work to make the world a better place
Click HERE for to read stories published in the June 12 – 25, 2019 issue of Gilroy Life
Pacific Point School students have been out in the community helping those in need, according to Principal Amanda Riley. In December 2018, the group of 42 students ages 5 to 11 started a club called Little Missionaries where with the help of Riley and third-grade teacher Kari Baldwin, they meet at lunch time every Wednesday to prepare for the projects, then after school the last Wednesday of the month they head out into the community.
Since its inception, the students brought candy canes and sang Christmas Carols at Merrill Gardens, brought cards and blues baskets of goodies to the police station and cards and red baskets to fire stations. They made 200 lunches donated to St. Joseph's, picked up six bags of garbage from Christmas Hill Park, made and sold 200 salvation bracelets to donate funds to support the SVCC orphanage in Haiti, and visited seven local churches and brought them donuts and praise posters.
Sounds like an amazing group of children working to make the community a better place for all.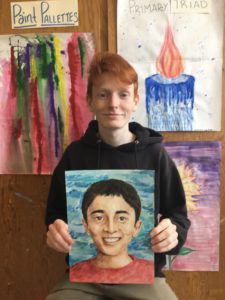 In other school news, students in Haviland Hage's art classes at Christopher High School and Mt. Madonna Continuation High School recently completed portraits of children living in Afghanistan as part of the Memory Project.
The Memory Project is a charitable nonprofit that invites art teachers, students and solo artists to help cultivate global kindness by creating portraits for children around the world who have faced substantial challenges, such as violence, war, extreme poverty, neglect and loss of parents.
Students create these portraits to help these children feel valued and important, to know that many people care about their well-being, and to provide a special childhood memory.
"I hope that our participation in The Memory Project serves two purposes: that my students understand they can impact our world using their artistic talents, and that the children who receive the portraits show them people across the world care about them and their well-being," Hage said. "We are all a part of something bigger than we can imagine and it is our job, as global citizens, to take care of each other." For information on the Memory Project, visit: www.memoryproject.org/afghanistan. View finished portraits by art students at CHS and MMHS at bit.ly/GUSDMemoryProject.
Childhood hunger is all too common in the summertime, when school is out of session and some children don't have access to free or low-cost breakfast or lunch. So, once again the Santa Clara County Library District is teaming up with Second Harvest Food Bank of Santa Clara and San Mateo Counties and the Silicon Valley YMCA to offer free, nutritious lunches to children and their caregivers at three South County locations this summer — Morgan Hill and Gilroy libraries, and San Martin/Gwinn Elementary School.
During the 2018 Lunch in the Library program, 5,783 meals were served at the three locations, a 42 percent increase from the year before. According to SHFB, kids who don't get enough to eat often suffer emotional and physical effects that can last into adulthood. SHFB also points out that low-income kids who have access to food assistance are healthier and perform better at school than their peers who don't.
Listed below is information about this summer's local free meal sites.
From noon to 1 p.m. Monday through Friday June 10 to Aug. 2 at the Gilroy Library, 350 W. Sixth St.; and from noon to 1 p.m., Tuesdays and Thursdays from June 11 to Aug. 8, at San Martin Gwinn Elementary School, 100 North St., San Martin.
Updates can be found at sccl.org/summer2019/.
Finally, congratulations to the Gavilan Hill Chapter of the Embroiderers' Guild of America, which celebrated their 40th anniversary May 22. It all began in March 1979 when a group of women interested in the art of hand-stitched needlework formed the first chapter called Tri-Counties. The name was changed to Gavilan Hills in 1991.
Members participate in monthly meetings, programs, correspondence courses, and local, regional and national events, most notably, the 2010 EGA National Seminar, "Stitching on the Barbary Coast," held in San Francisco. They also host community educational outreach programs, fostering the art of hand-stitched embroidery for all ages, beginners and veterans alike. While enjoying the camaraderie of each other, they teach, learn, and seek to keep needlework heritage and traditions. For information on joining, contact Kathleen Gay at (510) 579-0273.

Robert Airoldi is the editor of Gilroy Life newspaper. If you have a story idea or an Around Town column item you want to tell him about, you can reach him at (408) 427-5865 or at editor@gilroylife.com.

Latest posts by Robert Airoldi (see all)