Classes teach students skills that can translate into real world jobs
Click HERE for to read stories published in the June 12 – 25, 2019 issue of Gilroy Life
As summer approaches, graduating students are thinking about life beyond the high school halls. Some will pursue higher education, while others will enter the workforce right away. But for many, a traditional four-year college is not for them.
The digital arts courses at Christopher High School offer some Gilroy students a taste of the valuable skills needed to begin a career in a field that feels right to them — and one that's critical to businesses around the globe.
Mark Carrick teaches digital arts at Christopher High, where he has also coached track and field, as well as football. "It's estimated that 50 percent of students don't go to a four-year college," Carrick said. "What do you do with them? There's no exposure to other careers in business if you're only focused on serving the other 50 percent."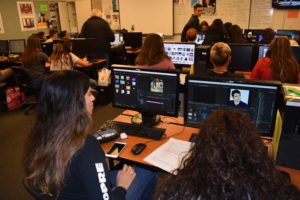 His own experiences are indicative of the dilemma many students face.  Carrick's teaching career began in Oregon in 1978, where he taught industrial arts, drafting, woodshop, small engines, and photography. He was initially interested in drafting and thought he'd enter a career in architecture. But after working as a draftsman for a computer firm, he recalled, "I was making money hand over fist, but there was no time to enjoy it. That's when I realized I'm a people person, not a paper person."
The Christopher High School courses, part of the Career Technical Education Department, include Digital Design, Advanced Digital Design, and AP Studio Art 2D. These classes teach valuable skills that can translate into real world jobs.
"I tell (my students) right away, you may not be a designer, but these are skills you'll use in college and later on in life," Carrick said.
From web pages to publications, to printed advertisements or commercial signage, digital artists enjoy a wide range of employment options. They can prepare for careers that rely on digital design include graphic designers, web designers and developers, and multimedia artists, all of which use technology to bring art to life.
The students, under Carrick's encouragement and direction, have taken on several projects. They've designed the logo for the Gilroy Teachers Association, as well as the logo for the Gilroy Mounted Police. They've also done the signage for a police car driven by GUSD School Resource Officer Mark Tarasco. Carrick's 4th period crew is now working on signage for a client.
Additionally, he has facilitated numerous contest entries for many students. A popular contest is Space Art, and another is a contest to design pop sensation Billie Eilish's next album cover. It's something many students wouldn't be inclined to do on their own. But Carrick understands the importance of putting one's work out there.
"This is the real world," he said. "I have one student who won two awards with the Santa Clara County District Attorney's office. She won $1,000 for second place. Sure, you might also win an art kit, and it looks good on a resume. But you can't take a math class and get paid $1,000 for it."
They can also see their work around town as digital design students take part in various school and community events. Recently, Carrick ran into a former student who now has a Master's degree in Game Design, and he uses the skills he learned in Carrick's program daily. Imagine making your living designing video games — a dream come true for students who may have otherwise struggled in a traditional classroom.
One thing that sets Carrick's classes apart is that he personalizes the instruction. He sees some students are shy and unfocused when it comes to other subjects, but given the chance to be creative, they thrive. He also recognizes that some students struggle with the computer's mouse, so he offers drawing tablets as an alternative.
"Some find the tablets difficult to use. It's a matter of letting them explore," he said. "But as a teacher, sometimes all you need to do is get out of the way. I'm blown away sometimes by what (my students) do. They power through and do a great job."
These classes offer a creative outlet for those who want to blend their artistic talent with technical skills. "They're always full," Carrick said. "We're limited to the number of machines, which is 34. This is not the kind of instruction students can grasp solely from a lecture. They need to get their hands on computers to truly learn."
That hands-on practice is critical for success. Carrick is also known for showing good and bad examples, like the invitation to an event that didn't include a location, encouraging budding digital artists to see the big picture rather than rush through a design. Students also learn about copyright law, which is an important factor in any designer's job. And Carrick holds his students to high standards.
"After the first year, their final is a visual portfolio with music," he said. "You have to show me you've done some film editing, not just a slide show. They make it an AVI (a multimedia container format), 90 seconds. And I tell them, don't put everything in there, only the best stuff. You don't need to overdo it. Just include what's necessary, be ready to edit and leave something behind if it's not a good fit."
Advanced students also design a "creative resume," which includes visual elements in the layout. Again, it's practical, real life experience.
In today's multimedia world, skills like digital design are becoming more important. Most trade schools or career tech programs offer two-year programs that lead to certification, but if you can hold out for that four-year degree, you'll be in better shape in terms of earning power and opportunities.
According to Study.com, in 2017, the median salary for multimedia artists and animators with a bachelor's degree was $70,530. Not a bad chunk of change for someone who might not have considered a traditional career.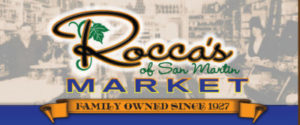 Donna Lane is a storyteller and San Jose native who earned her journalism degree at San Francisco State University. She lives in Gilroy with her family, who inspire her to celebrate life each day.

Latest posts by Donna Lane (see all)