Purpose of program is not just graduation, it empowers students to gain skills for life success
Click HERE for to read stories published in the June 12 – 25, 2019 issue of Gilroy Life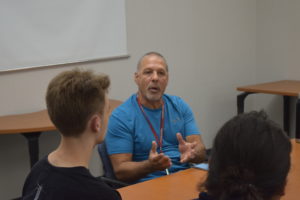 Gilroy High School teacher Rick Charvet took on the challenge of helping local at-risk kids discover their interests and develop the enthusiasm to lead them to a brighter future.
Each week, his program, Project H.O.P.E. (Helping Our Pupils Excel), connects struggling youth with inspiring guest speakers to show them possibilities they may not have considered.
When many people hear the term "at-risk youth," it's easy for them to assume these kids are getting in trouble, dropping out of school, and not contributing to society. Although that may be true of some, it's often a matter of finding the motivation to do better.
That's why about 15 years ago, Charvet proposed Project H.O.P.E. for a Michael Jordan Fundamental's Grant. Although it wasn't approved, it was the ripple in the pond Charvet needed to start changing how these "forgotten kids" approached learning and related to their community. Instead of biding their time to fulfill low expectations and hope they might still earn a diploma, suddenly there was an opportunity to rise to the occasion that a motivated, supported imagination creates.
"While I was teaching art, since most of my at-risk kids showed up for art, my premise was to use art as a catalyst for moving beyond the classroom walls," Charvet said. "I wanted to connect student skill sets with community members. The 'hope' was to create internships within our own community. Far too many of our struggling students do not feel valued in the Gilroy community. I envisioned connecting students with great mentors and such. One thing led to another and here we are today."
Charvet has taught in Gilroy for 27 years, most recently with Graduation Alliance at Mount Madonna Continuation High School. But once upon a time, he had a middle school student named Brian Harrigan. He probably had no idea they'd work together one day.
"It made a big difference in my life," said Harrigan, now a successful member of Gilroy's business community as a co-partner at Executive Plan Design. Several years later, through the Gilroy Chamber of Commerce, he reconnected with Charvet to head the project. It was a fortuitous opportunity to repay it forward, so to speak.
Charvet's  tireless dedication to the program has made an immeasurable impact on those it serves.
"Rick is passionate about helping students. This program is his opus," Harrigan said. "There's a saying, show me your friends and I'll show you your future. The purpose (of Project H.O.P.E.) is not just graduation but for these students to have the skills to be successful in life. We want to see it grow and keep going."
For Charvet, pairing up with Harrigan is a chance to see his legacy in action, while continuing to develop that legacy in full.
"We are working together to bring real life learning to students who were unmotivated at school," he said. "The most important thing is to paint the educational journey as more than facing forward, being a good little boy or girl, and doing well on tests. There is so much more to life and I wanted my kids to know: with passion and perseverance, they can not only dream but make their dreams a reality."
They also need to know that it's okay to make nontraditional choices about college or career paths. And they don't have to feel burdened by low expectations, the consequences of foolish decisions, and limited opportunities. But, Charvet said, too often that message isn't received.
"Perhaps," Charvet mused, "the pendulum will swing in the other direction, but for many of our kids, school is boring. Project H.O.P.E. is a motivational tool that's desperately needed for the unmotivated student. School should be a magical place where kids yearn to learn the way they learn. The one size fits all, everyone is going to college (assumption) is old school mentality.  That is why there is such a huge home school and 'unschool/uncollege' movement."
To combat that, Project H.O.P.E. strives to connect these students to members of their community. Charvet has always brought speakers into his classrooms, "because it made learning REAL. When I taught government, I had a school board member speak, as well as a representative of former Representative Mike Honda, and a Gilroy City Council member." Other guests have included those with ties to Universal Technical Institute, the culinary arts, and more.
"I believe strongly in the power of the classroom presenter, the connection with the successful community person, and the motivation it brought students to finish school and transition to the next level," Charvet said. "Project H.O.P.E. has created many pathways to college, the military, internships, and careers."
Harrigan stressed the impact of these speakers on the students they address, and encourages members of Gilroy's community to participate in Project H.O.P.E.
"If you can make a difference in the life of one person, it's worth an hour of your time," he said. "We mainly bring in business owners and executives. They see the value. A lot of people like helping kids, especially those who may have been dealt a bad hand. And these are small groups of 15 to 20 kids, sometimes 10 kids or fewer. But that makes it more intimate, and students and speakers feel they can better engage."
All students are welcome, but no one is forced to attend a presentation. Charvet said that he promotes each speaker, but some students have goals and dreams which may prevent them from seeing that speaker as relevant. This year, he developed a core group of 'workshop kids,' who attended each week.
That's not to say the program isn't without challenges.
"With at-risk youth, every day is something new," Charvet said.
He said what works one day might not work the next because it's a tumultuous roller coaster ride.
"The key is developing a personal relationship with each student with empathetic listening and beginning with the end in mind, otherwise known as 'backward design,'" he said. "I want my students to learn how the real world operates and to know key community members so that later, as adults, they can nurture those relationships to become part of the community."

Donna Lane is a storyteller and San Jose native who earned her journalism degree at San Francisco State University. She lives in Gilroy with her family, who inspire her to celebrate life each day.

Latest posts by Donna Lane (see all)