Fun at U.S. birthday bash brings South Valley residents together
---
With a patriotic sing-along, fun run, parade, car cruise and show, family-friendly concert, and of course, fireworks, Freedom Fest is set to make Independence Day celebrations unforgettable for South Valley residents.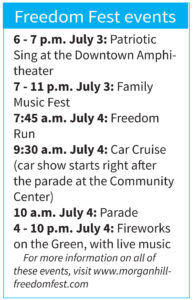 The theme for this year's U.S. birthday bash is "Sing the Songs of America." Music will be heavily featured July 3 and 4 in downtown Morgan Hill. Changes to this year's festivities include a second concert headliner, an additional pie-eating contest, an improved entrance for VIPs, and new chairpersons overseeing fireworks and the parade, replacing Bob and Maureen Hunt.
Events take place at the Morgan Hill Community and Cultural Center and through the streets of downtown Morgan Hill, culminating in the concert and fireworks show at the Outdoor Sports Center.
One of the biggest Freedom Fest draws is the fireworks show. "We're trying to improve the experience in several ways," said Freedom Fest President Jeff Dixon. "We've added another headliner and the music will start earlier, at 5 p.m. instead of 6.
The addition of a second headliner starts building a 'festival' feeling to the fireworks show. We also expanded the pie-eating contest so that there's one for kids and one for adults."
"Marlon Spencer, the new fireworks chair, is back with us after a hiatus of many years," he said. "Marlon's a tremendous asset and it's great to have his support and participation."
A stronger security presence should also stop guests from bringing their own fireworks in. This is good news for those who may have a negative reaction to unexpected noises.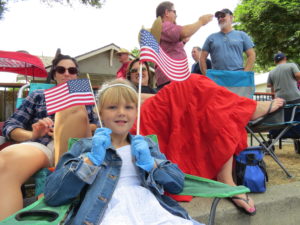 "We'd like to thank the partnership with the Youth Sports Alliance, which ends after this year, for offsetting the cost of our events," Dixon said. "Their generosity has enabled us to move to the Outdoor Sports Center, and this has allowed us to enlarge our show, use larger shells, and have enough room to keep everyone safe and entertained."
Another fun element is the handing out of "test shots" to various community members, such as event sponsors. Freedom Fest has donated a few of these to community raffles like the Chamber of Commerce mixer that was recently held at the Outdoor Sports Center.
"The fireworks operator wires the old plunge box like you'd see in a Wile E. Coyote cartoon," Dixon said. "You know, 'fire in the hole,' and then you press down on the plunger. It's old school, instead of all digital, and a lot of fun. The people with the test shots get to set off fireworks."
The July 4 concert will open with Cook 'N Fenny, then a performance by The Usual Suspects, and patriotic singers. Cocktail Monkeys, who feature rock, pop and R&B, will play the final set before the big fireworks extravaganza. But the changes to Freedom Fest aren't limited to the concert and fireworks show.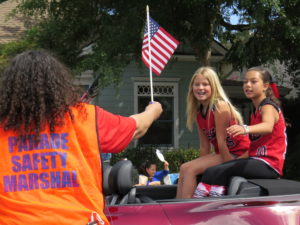 "We also have a new parade chair, Matthew Stein, who comes to us after being our Red Cross liaison for many years. He's another tremendous addition," Dixon said.
The fun kicks off July 3, with the 31st Annual Patriotic Sing, held at the Morgan Hill Community and Cultural Center from 6 to 7 p.m. The chorus features elementary school children from Morgan Hill and San Martin.
The special songs honor members of the Armed Forces who have served in the past as well as those who are currently serving in the Army, Air Force, Navy, Marines, and Coast Guard.
Next up is the Family Music Fest, from 7 to 11 p.m. One of Morgan Hill's most popular Independence Day events, this downtown street dance is held at Morgan Hill's Downtown Amphitheater. There will be live music from local favorites The Recurrents, dancing, food, and drinks.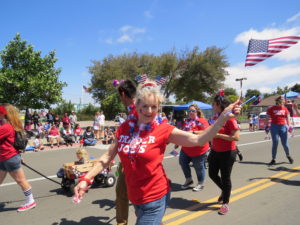 If you want to work off some calories to celebrate your independence, take to the streets for the Morgan Hill Freedom Run. This 5K run and walk, and kids' 1 mile run, will be held along the parade route. The kids' event starts at July 4 at 7:45 a.m. The 5K begins at 8:15 a.m. The starting line is near the corner of West Dunne and Peak avenues.
Participants can hear the cheers of spectators lined up to watch the parade, encouraging them along the flat and fast course as they sprint to the finish line.
For people who would rather not work up a sweat, the Freedom Fest Cruise and Car Show runs from 9:30 a.m. to 2 p.m. Check out more than 100 classic, hot rod, and muscle cars as they cruise along the parade route, to the soundtrack of American pop. Then head to the Community and Cultural Center parking lot to get a closer look of these oldies but goodies.
The 143rd Fourth of July Parade begins at 10 a.m., at Fourth and Monterey streets. A true symbol of wholesome family entertainment, the parade winds through downtown streets and is old-fashioned patriotic fun for all ages.
The grand finale everyone has been waiting for, the Fireworks on the Green show begins at 4 p.m. when the Outdoor Sports Center opens to the public. (Parking opens at 3 p.m.) Attendees can bring a picnic basket, and plan to buy beer, wine, soft drinks, and other beverages on the premises.
There will be games, bounce houses, face painting, family entertainment, and the concert. Plus the old-fashioned pie eating contests and an encore performance of the patriotic sing. Then get ready to ooh and ahh, and perhaps revisit your inner child, as the festivities conclude with a bang.
"This is an entirely, all-volunteer operation. The support of the community and residents has been amazing," Dixon said. "We invite one and all to join us in celebrating America."

Donna Lane is a storyteller and San Jose native who earned her journalism degree at San Francisco State University. She lives in Gilroy with her family, who inspire her to celebrate life each day.

Latest posts by Donna Lane (see all)