Students earn certification that can put them into a job after graduation
---
Flowers can express a variety of sentiments including love, sympathy, and congratulations.
For several Gilroy High School students, they can also open the doors to a career in the floral business. Gilroy's Future Farmers of America floral design program trains students to discover their inner artist while learning helpful skills that can translate to a budding industry.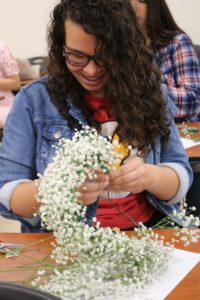 Chelsi Faria, who has taught at Gilroy High School for three years, described how growing interest in the Career and Technology Education course has expanded it to three periods from two. Aside from floral design skills, the program focuses on diverse topics such as art, history, leadership, and agricultural chemistry. Students can take an online test and become certified in floral design. The result is a well-rounded introduction to the floral business and job preparation that can put them directly into a career after high school.
"The students learn all the basic skills to get into a shop, and the growing industry," Faria said. "They learn about colors, technical skills, how to properly cut and store flowers. We have units on business, production and harvest, floral manufacturers, flower brokers. Did you know you can get paid to find flowers for someone? It's a big overview of the entire industry, with skills they can take into the real world."
Students in Faria's classes learn these skills in fun, engaging ways. For example, to learn about the color wheel, they mix frosting in primary colors (blue, red, and yellow) to create other shades. Then they spread the different colors of frosting on cookies to see a relatable — and edible — example of how colors work with or against each other.
"Agriculture programs make it as hands-on as possible," Faria said of the FFA curricula like floral design. "They get kids involved and out of their seat. They gain skills, patience, experience to put on their resume."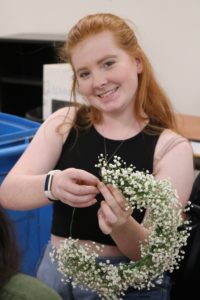 But it's the hands-on