Students earn certification that can put them into a job after graduation
---
Flowers can express a variety of sentiments including love, sympathy, and congratulations.
For several Gilroy High School students, they can also open the doors to a career in the floral business. Gilroy's Future Farmers of America floral design program trains students to discover their inner artist while learning helpful skills that can translate to a budding industry.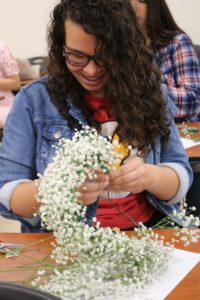 Chelsi Faria, who has taught at Gilroy High School for three years, described how growing interest in the Career and Technology Education course has expanded it to three periods from two. Aside from floral design skills, the program focuses on diverse topics such as art, history, leadership, and agricultural chemistry. Students can take an online test and become certified in floral design. The result is a well-rounded introduction to the floral business and job preparation that can put them directly into a career after high school.
"The students learn all the basic skills to get into a shop, and the growing industry," Faria said. "They learn about colors, technical skills, how to properly cut and store flowers. We have units on business, production and harvest, floral manufacturers, flower brokers. Did you know you can get paid to find flowers for someone? It's a big overview of the entire industry, with skills they can take into the real world."
Students in Faria's classes learn these skills in fun, engaging ways. For example, to learn about the color wheel, they mix frosting in primary colors (blue, red, and yellow) to create other shades. Then they spread the different colors of frosting on cookies to see a relatable — and edible — example of how colors work with or against each other.
"Agriculture programs make it as hands-on as possible," Faria said of the FFA curricula like floral design. "They get kids involved and out of their seat. They gain skills, patience, experience to put on their resume."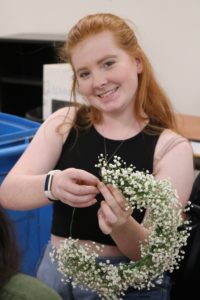 But it's the hands-on training that comes from creating arrangements that helps students develop competency in the skills needed to work in a floral department, own a shop, or understand the ins and outs of flower growing. Through the FFA's floral design program, individuals can purchase a subscription for floral centerpieces and other arrangements, which are then made by students throughout the school year. It's been a big hit with parents and others in the community.
"For $200 upfront, you can get a monthly arrangement for nine months," Faria said. "Or you can order individually. We have a centerpiece for Thanksgiving, Christmas wreaths, Mother's Day bouquets. We did a fun St. Patrick's Day arrangement. We made an Instagram account, @gilroyhighfloral, and we post each arrangement so people can see them."
The subscriptions have been very popular, and they help support the program. Faria noted that after a few months, the students have become proficient enough that little instruction is needed to create the arrangements.
Students are as varied as the arrangements they create. In fact, she's had several burly athletes spend time working floral magics. And they're industrious, too. At the beginning of the year, they started making simple floral pins. Now she has students who sell the pins online in their Etsy store.
The next challenge? Creating bouquets and centerpieces for a wedding after a bride asked Faria if the floral design program could handle the task.
"I've never done a wedding before," Faria admitted. "But we'll start small. A couple kids have committed for during the summer, to do bouquets."
Talk about hands-on experience. And a good lead-in to a potential career that's sure to be coming up roses for these talented, creative Gilroy High students.
Marty Cheek is the publisher of Morgan Hill Life and Gilroy Life. He is also the co-author with Congressman Jerry McNerney of the book Clean Energy Nation: Freeing America From the Tyranny of Fossil Fuels. Email: marty@gilroylife.com Phone: (408) 782-7575
Latest posts by Marty Cheek (see all)