Locals know we have wonderful wineries. And now the rest of the world knows as well.
Santa Clara County wine makers were recognized for their quality vino in recent international and state competitions, participating in the Orange County Fair Commercial Wine Competition, The Central Coast Wine Competition and the Sunset International Wine Competition.
The highlights include Solis Winery, awarded Best of Show/Best White Wine, for their 2018 Fiano at the Central Coast Wine Competition. Church Creek Cellars received at Double Gold and a 92-point rating for their 2014 Merlot at the Orange County Fair Commercial Wine Competition. La Vie Dansante took Best of Class Double Gold at the Sunset International Wine Competition with their 2015 Nocturne.
"With the bar set high for 2019 after a winning 2018 competition year, all of our 34 wineries, big or small, continue to prove to other wine regions statewide and internationally that the Santa Clara Valley is one to watch." said Stacy Giannini, director of marketing for the Wineries of Santa Clara Valley. "Collectively, the wineries racked up seven Double Gold Medal, 13 Gold Medals, 42 Silver Medals and 17 Bronze Medals as well as two Best in Class and one Best in Show. Many of these award-winning wines will be shared during our Fall Passport VIP Kick Off party Sept. 6."
The Wineries of Santa Clara Valley is an association representing member wineries that grow and produce wines in one of the oldest wine producing regions of California.
With the first plantings at the Santa Clara Mission in 1798, the region of Santa Clara Valley represents one of the oldest growing traditions in the country. The Santa Clara Valley is now home to over three dozen wineries, of every size and shape, from long-established family operations to relatively small newcomers. On March 28, 1989, the Santa Clara Valley received AVA status; prior to this the region's wines were typically labeled 'Central Coast' or 'Santa Clara County.'
Congrats to all our wineries that are producing fabulous wines. They are making the South Valley the place for wonderful wine-tasting.
The eight amateur chefs from across the country have been selected as finalists to compete on the Challenge Butter Cook-Off Stage at the Gilroy Garlic Festival, preparing their own original recipes for the chance to win a $3,000 prize and the coveted garlic crown.
James Beard Award-winning chef, restaurateur, and "Top Chef" head judge Tom Colicchio will emcee and judge the 41st annual Great Garlic Cook-Off Saturday, July 27.
This year, half the finalists hail from the Golden State. Ellen Rivera of Gilroy, will have plenty of hometown fans cheering for her as she cooks up her Ribeye Triple Garlic Coconut Rice Bowl with Zippy Sauce. Representing southern California will be Robyn Price from Brea, making CoCoa-Coffee Crusted Garlic & Bacon Cheesecake with Caramel Drizzle; Emily Falke from Santa Barbara, preparing Chilies en Nogada with Roasted Garlic Walnut Sauce; and Merry Graham from Newhall serving up Garlicky BBQ Pork Fluffy Japanese Pancake with Strawberry Sritacha Syrup. Graham was a finalist in the 2015 Cook-Off.
Two finalists will be heading south to Gilroy from Oregon. Kim Banick from Turner, will prepare her original recipe for Rolled Greek Ribeye with Garlic Goat Cheese Tzatziki and Pita. Gary Exner from Wilsonville, will hope to wow the judges with his Strawberry Tart with Garlic Shiso Cream and Yuzu Glaze.
The two remaining finalists will have to travel a little further to get to the Garlic Capital of the World. Karen Harris from Littleton, Colo., will make Stuffed Savory Beef Sopaipillas with Garlic Lime Sofrito. And Pamela Gelsomini from Wrentham, Mass., will represent the entire east coast with her recipe for Garlicky Clam Clouds topped with Bacon and Arugula Salad.
The Great Garlic Cook-Off recipe contest has been an annual tradition since the very first Gilroy Garlic Festival back in 1979. Per contest rules, each recipe must contain at least six cloves of garlic. Contestants will prepare their dishes in front of festival guests on the Challenge Butter Cook-Off Stage and present them to a panel of six judges. Each of the dishes will be judged on flavor, texture, creativity, appearance, and use of garlic. The winner is awarded $3,000 and a garlic crown.
Besides Colicchio, other judges include Jason Ryczek from prestigious Farallon Restaurant in San Francisco; Adam Sanchez, owner/chef of downtown Gilroy's The Milias Restaurant and a previous Cook-Off winner; Maurizio Cutrignelli of the amazing Italian dining Osteria al Mare in Monterey and Maurizio's in Morgan Hill; Mark Segovia of Segovia Catering in Gilroy; and Diana Phipps from L'Aubergine Restaurant in Carmel.
If you plan to see the amateur chefs showing off their culinary skills at the 2019 Great Garlic Cook-Off, get there early for a good seat. It begins at 10 a.m. on the Challenge Butter Cook-Off Stage. The winners will announced at 12:15 p.m.
Can't wait to see who gets the prize!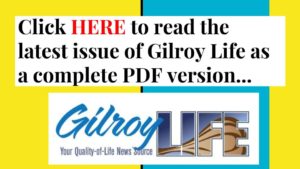 Robert Airoldi is the editor of Gilroy Life newspaper. If you have a story idea or an Around Town column item you want to tell him about, you can reach him at (408) 427-5865 or at editor@gilroylife.com.

Latest posts by Robert Airoldi (see all)