Will Rogers would definitely enjoy meeting Kylie Kuwada, the 2019 festival queen
In the 1930s, the cowboy comedian Will Rogers would sometimes stop at the Milias Hotel in downtown Gilroy to enjoy a steak at its restaurant. In one of his newspaper columns, Rogers even joked about the city's garlic industry, calling Gilroy "the only place in America where you can marinate a steak by hanging it on a clothesline."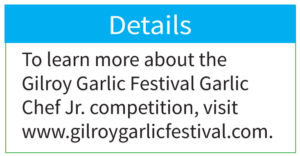 Rogers might appreciate how much Gilroy's garlic reputation has grown in the past 80 or so years since he visited. He'd be impressed with the annual Gilroy Garlic Festival and how it brings people from around the world to taste foods made with the herb that made the South Valley region famous. But more than the fun, friends, and food, Rogers, a humanitarian, would appreciate the true spirit of the event founded in 1979. The world's greatest summer food festival gives thousands of community volunteers the opportunity to raise millions of dollars for local schools, charities, and nonprofit organizations — and thus improve the quality of life for our region.
Will Rogers would definitely enjoy meeting Kylie Kuwada, the 2019 festival queen, and the Gilroy Garlic Festival Court of nine other women. Her depth of knowledge of the stinking rose helped her earn the crown and sash. At the 41st annual festival July 26, 27, and 28, they will roam the grounds at Christmas Hill Park chatting with and having their picture taken with many of the tens of thousands of visitors.
Kuwada is thankful for her seasonal work at Christopher Ranch for helping her appreciate the local garlic industry. She worked there as a receptionist in the summer of 2017 during her college break. In the summer of 2018, she was an intern in the garlic grower's facilities department.
"Christopher Ranch has been a huge part of my college experience," she said. "Being able to work for them and being part of that family has been one of the greatest experiences and I feel so lucky to have that. And now being the queen and able to represent the company and the Gilroy Garlic Festival Association is such an honor that I can't even put it into words."
Local garlic grower Christopher Ranch has been a big part of the Gilroy Garlic Festival since the beginning when farmer Don Christopher developed the idea with then-Gavilan Community College president Rudy Melone and Val Filice as a way for nonprofit groups to make money. The first year held on the farm's Bloomfield Ranch property exceeded all expectations. The story goes that the organizers  printed only 5,000 tickets and some of the 50 volunteers that year had to keep running the tickets back to the entry gate to be resold.
Now, it's the more than 4,000 volunteers that make the festival a real success and great experience for visitors. Many of those volunteers are high school students. By working at the festival, they raise money for their school groups, sports teams, and nonprofit organizations. Since 1979, the festival has raised $11.7 million in funding for these groups.
Although it's called the "Gilroy Garlic Festival," the event has really become a big get-together for the entire South Valley. Organizations and volunteers come from Morgan Hill and San Martin as well as San Benito County to participate and raise money to support their nonprofit or school group.
While enjoying garlicky grub prepared at Gourmet Alley, visitors will also get their fill of entertainment. There will be cooking demos and cook-offs featuring some of the culinary world's top celebrity chefs. Music headliners will include the popular Grammy-Award winner singer Colbie Caillat, with her band Gone West, performing Saturday evening.
If he was still around, Will Rogers would no doubt enjoy a day out visiting this year's Gilroy Garlic Festival. And we hope you and your family will, too.

If you would like to share your thoughts about this editorial, please email Robert Airoldi, the Gilroy Life editor, at editor@GilroyLife.com or call him at (408) 427-5865.

Latest posts by Gilroy Life Editorial (see all)