AMR team looks to three-peat, donate to Alzheimer's Association
---
To respond to an emergency, you need a clear head, polished skills, the ability to think on your feet, and a willingness to work as part of a team. And a little bit of luck doesn't hurt. The same can be said for competing in a cooking challenge.
In the 2019 Gilroy Garlic Festival's Champions for Charity challenge, teams of local first responders will square off to showcase those attributes, all while competing for a $3,000 prize that will go to a worthy cause. Raising the stakes even higher this year is the possibility that the July 26 event may feature a three-peat.
EMT John Campbell and paramedic Morgan Sanders of AMR Santa Clara County are the defending champs from 2018, as well as 2017. But as medical professionals who are required to handle stressful situations with ease, going for the trifecta was a challenge they couldn't refuse.
Campbell has a background in hospitality, having worked 17 years in that industry. He'd been approached to compete in 2016 but wasn't sure he had time. When he was approached again in 2017, he didn't have a partner in mind yet. Sanders enjoys cooking, baking, and experimenting in her home kitchen. When they ended working the same shift one day, Campbell asked her, and she agreed.
"Actually, I said, 'I'll think about it,' with the intention of saying no," she said. "I hate to be in the limelight. John's the mastermind and I defer to him. I'm happy to be his sous chef. But the first year, it just clicked."
Campbell noted that the first year was hectic. "We didn't know what we were doing, but I said, 'Let's just have fun,' which was good, because it was nerve wracking at first. But we got through the first round and we started feeling more confident as the competition progressed. And then, we won."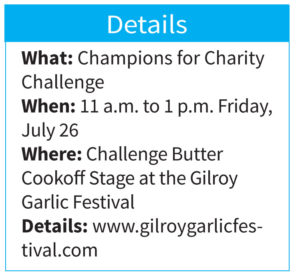 There was a personal connection working in the background as well. Campbell chose the Alzheimer's Association as the charity they'd compete for, as it has affected people in his family. And as first responders, he and Sanders have both encountered memory loss patients and understand how challenging their unique symptoms can be.
"Unbeknownst to me, Morgan's mom was in the early stages of Alzheimer's," Campbell recalled. "And she didn't know I'd chosen that charity until she showed up to the competition. So, it ended up being personal."
In fact, Sanders remembered, "I was blown away. My mother was diagnosed with juvenile onset dementia after she began presenting symptoms in her early 50s. She's in her 60s now. It was nice to call my parents and tell them that we'd won $3,000 for an organization that's so near and dear to my family."
Open to active or retired firefighters, law enforcement officers, EMS professionals, and military, the three-round cooking challenge will be hosted by MasterChef Season 9 winner Gerron Hurt. It's limited to four teams of two. Each team will create dishes in three elimination rounds, including appetizer (20 minutes), entrée (30 minutes), and dessert (20 minutes). All courses are required to include garlic.
Being well-prepared is essential to getting through any crisis. But instead of planning the dishes ahead of time, these teams will have to scramble — just like in an emergency — as they won't learn which ingredients they'll be using until the beginning of each round. Although a pantry will be available for spices, condiments, and staples, no outside food items are allowed.
The 2018 competition was a perfect example of not knowing what to expect and needing to employ creative problem solving. Since it was the festival's 40th year, the mystery food baskets included 1970s-era processed foods like a box of macaroni and cheese, a frozen Salisbury steak dinner, and pudding cups. Plus, all the dishes are required to include garlic.
Though it would be stretch to say Campbell and Sanders were unfazed, in the end, there was no need to panic.
"If you think about it, it's just like our job," Campbell pointed out. "I said, 'Let's see what we have to work with, formulate a game plan and go.' I love that part where we get to be creative."
While Sanders still prefers cooking for friends and family to being in the limelight, she's looking forward to this year's event. "I'm excited and it all feels new again," she said. "It's getting easier year after year. And, I think I'll be a little starstruck by celebrity chef Tom Colicchio."
Fortunately for Sanders, the Champions for Charity challenge takes place at 11 a.m. Friday, July 26, with the winning team announced at 1 p.m. Colicchio, James Beard winner, restaurateur, and Top Chef head judge, is the master of ceremonies for the events Saturday, July 27. So, she should be able to focus on the task at hand.
Each round of the competition will be judged on taste, appearance, creativity, and use of garlic by a panel of three judges and the emcee. One team will be eliminated after each round until the final winners are determined based on their dishes from all three rounds. The winners will be announced the end of the competition and presented a check for $3,000 to their charity.
But more importantly, the teams who are competing know that they're doing something that goes beyond any personal accolades. And while a three-peat would be a wonderful achievement, it's not the driving force that motivates these teams to compete.
"This is a way of giving back to the community," Campbell said. "When you do what we do, helping the public, you're trying to do a good deed all the time. But if our $3,000 helps find something that helps treat Alzheimer's, then so be it."
Sanders agreed. "Even if we don't win, the money goes to charity anyway," she said.
Now that's a first-rate response.

Latest posts by Donna Lane
(see all)