Let us remember the happy memories to fight the horror of a mass shooting
In challenging times following an act of evil, human nature sometimes makes us fall into the trap of forgetting there is still good in the world. In the aftermath of the violence that happened with the shooting at this year's Gilroy Garlic Festival, let us not forget that there was still plenty of joy and laughter and food and fun enjoyed by tens of thousands of guests served by more than 4,000 volunteers that will contribute dollars to local nonprofits, school groups and sports teams. I'd like to take a healing moment in this column to put a spotlight on the chefs who competed on the Challenge Butter Cook-Off Stage.
This kid can cook! Twelve-year-old Kaiden Gonzalez of Gilroy won the second annual Garlic Chef Jr. competition with his recipe for Papa's Crab Cakes and Good Fortune Spring Rolls. As the first place winner, he goes home with a new notebook computer valued at $500.
The competition was hosted by "MasterChef" winner Gerron Hurt. Each contestant had to create one baked or grilled dish containing at least six cloves of garlic. A panel of expert judges evaluated each dish for taste, appearance, creativity, and use of garlic.
Other contestants were:
Spencer Arpajian, 15, from Portola Valley, with Spencer's Spanish Fiduea with Grilled Bread with Garlic Tomato Paste
Lucy Fassl, 12, from Martinez with Lucy's Yummy Shepherd's Pie
Rayen Garcia, 11, from Gilroy with Gilroy Garlic-Infused Empanada with Spanish Rice and Plantain Chips
Winston James, 13, from Gilroy with Garlic Chicken Curry with Rice Pilaf and Garlic Raitha
Brandon Makiyama, 11, from San Jose Brandon's Fried Rockfish Puttanesca and Green Beans
Sandra Jissel Martinez, 10, from Gilroy with Creamy Garlic Pastry
Maya Torres, 13, from Gilroy with Garlic Steak Quesadilla with Chimichuri and Pico de Gallo
Amateur chef Gary Exner from Wilsonville, Oregon, claimed the coveted garlic crown — and a $3,000 cash prize — as winner of the 2019 Great Garlic Cook-Off. The 41st annual recipe contest was hosted by "Top Chef" head judge Tom Colicchio on the Challenge Butter Cook-Off Stage.
Exner beat out seven other finalists from around the country with his original recipe, "Strawberry Tart with Garlic Shiso Cream and Yuzu Glaze."
Second place was awarded to Merry Graham for Garlicky BBQ Pork Fluffy Japanese Pancake with Strawberry Sritacha Syrup. Third place was awarded to Robyn Price for CoCoa-Coffee Crusted Garlic & Bacon Cheesecake with Caramel Drizzle. Other contestants were Ellen Rivera of Gilroy with Ribeye Triple Garlic Coconut Rice Bowl with Zippy Sauce; Emily Falke of Santa Barbara with Chilies en Nogada with Roasted Garlic Walnut Sauce; Kim Banick of Turner, Oregon, with Rolled Greek Ribeye with Garlic Goat Cheese Tzatziki and Pita; Karen Harris of Littleton, Colorado with Stuffed Savory Beef Sopaipillas with Garlic Lime Sofrito; and Pamela Gelsomini of Wrentham, Mass, with Garlicky Clam Clouds topped with Bacon and Arugula Salad.
It's a three-peet for our good friend chef Carlos Pineda and sous chef Kishon Southy from Gilroy who won the annual Garlic Showdown at the festival July 28. Pineda impressed the panel of judges with Mixed Herb and Red Beet Pan-Seared Quail and Rib Eye Steak with Five Onion Vinaigrette. They were awarded a $2,500 prize. Pineda runs the Culinary Academy at Rebekah Children's Home in Gilroy
Four professional chefs competed against each other in a timed challenge to create two dishes using include secret ingredients that were revealed during the contest. This year's secret ingredient was watercress.
Other contestants were  Mark Segovia, owner of Segovia Catering in Gilroy; Jon Toste, a freelance chef; and Steven Catalano, the executive chef at Zoox.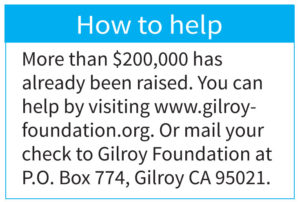 Finally, we encourage residents to donate to a charitable fund set up in partnership with the Gilroy Foundation and Silicon Valley Community Foundation. Foundation board member Joel Goldsmith announced at the Aug. 1 downtown vigil that the fund raised more than $200,000. A $10,000 donation came from garlic grower Christopher Ranch.
The funds collected will be distributed by Gilroy Foundation to victims and to local nonprofit organizations that provide effective relief to those affected by Sunday's shooting. Find the link to donate on www.gilroyfoundation.org. Or mail your check to Gilroy Foundation at P.O. Box 774, Gilroy CA 95021.

Robert Airoldi is the editor of Gilroy Life newspaper. If you have a story idea or an Around Town column item you want to tell him about, you can reach him at (408) 427-5865 or at editor@gilroylife.com.

Latest posts by Robert Airoldi (see all)