At least 50 hours of volunteer time a year is expected of participants
---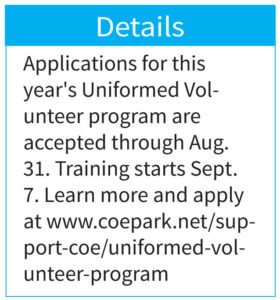 By Marty Cheek
Without the dedication of hundreds of volunteers, Henry W. Coe State Park would not be kept open. People who love nature and might wish to become a Coe "Uniformed Volunteer" have until the end of August to apply for this year's training program.
"Henry W. Coe State Park is our wilderness next door. At over 87,000 acres, there is much to see, and much to do," said Anne Sanquini, a geologist and uniformed volunteer who went through the 2018 class. "Each fall, the park rangers plus a cadre of experienced Uniformed Volunteers host a fun, comprehensive training program for our new volunteers. "
Online applications for this year's program will be accepted until Aug. 31. Recruits must go through three basic training classes from 8:30 a.m. to 4:30 p.m. on three Saturdays: Sept. 7, Sept. 14, and Sept. 28.  Also required is a "ride along" weekend scheduled for Oct. 12-13. Other required training takes place Oct. 26 and Nov. 9, as well as a day of the volunteer's choosing at the Visitors Center.
Run by the nonprofit Pine Ridge Association, an organization dedicated to Coe's preservation, the program and training is free to join. A minimum of 50 hours of volunteer time a year is expected of participants.
Sanquini loves wilderness parks, and especially Coe, the second largest state park in California. Volunteering lets her share her interest and expertise in geology and other subjects of nature. The Uniformed Volunteers help keep Coe Park beautiful and available to all visitors throughout the year, she said.
"We depend on volunteers to assist staff in countless ways," she said. "One significant contribution is to enhance visitors' experiences through interpretation. Volunteers design and lead themed events for visitors such as Ranch Day, Tarantula Fest, the 5K/10K Run, and Backcountry Weekend. Guided hikes introduce visitors to wildflowers, songbirds, towering pines, mighty oaks, fun fungi, and exceptional ge