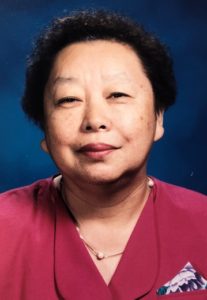 Alice Keiko Sakahara, beloved sister, aunt, grand-aunt, and friend passed peacefully Sunday,  Aug. 11, 2019. Alice was born to the late Takeo and Tsuyako Sakahara April 10, 1937 in Fresno, California.
Alice's legacy is best known as the "head" secretary at Gilroy High School for 42 years.  She loved Gilroy High School, the staff and students and the respect was mutual. More than four decades of students passed by her desk onto graduation. Alice served 11 principals and seven superintendents before her retirement. GHS staff remarked that "Alice ran the school," and often went to her for answers.
Alice's blood ran Mustang Blue.  Always a super fan, she wore her colors proudly at GHS football, boys' and girls' basketball, volleyball, softball and baseball games. Her permanent seat is still reserved for her in the gym. Alice was honored into the Gilroy High Hall of Fame in 2000.
Alice is survived by her brothers, William ( Janet) Sakahara, Gene (Kathryn) Sakahara, and stepbrother, Dale Sakahara. She loved her nieces, Kristin (Kendall) Cummings, Robin (Dan) Allen,  Karin (Kenn) Kashima, Gena (Fortune) Gonzales and nephew, Tim (Karisse) Sakahara. She absolutely adored and spoiled her five grandnieces: Kaitlin, Kayla, Kenna, Sumiye and Makena and four grandnephews: Shea, Bode, Kaiden and Shiogo.
At the age of 10, Alice's mother died and she assumed the role of mother, making her brothers' school lunches, doing the household chores, and later as a young working adult, making sure her brothers received gifts on their birthdays and Christmas.
Alice was an avid Bay Area sports fan. She loved the San Francisco Giants and listened to the radio broadcast each game while working. She would only switch Mustang Blue when she wore 49er red and watched the Golden State Warriors long before they became champions. She beamed proudly watching her niece, Gena, playing on GHS championship basketball teams and her nephew, Tim playing GHS football and baseball.
Alice's memorial service will be held at 11 a.m., Saturday, Sept. 14, 2019 at Habing Family Funeral Home followed by a Celebration of Life reception at the Gilroy High Student Center. Go to www.habingfamilyfuneralhome.com to express condolences.
In lieu of flowers, donations may be made toward the Alice Sakahara Memorial Scholarship, which will be established through the Gilroy Foundation/SakaBozzo Scholarship.
Online condolences may be made at www.habingfamilyfuneralhome.com.

Latest posts by Guest Column
(see all)