People procrastinate. It's human nature, but it can cause a lot of problems to the individual and their family and loved ones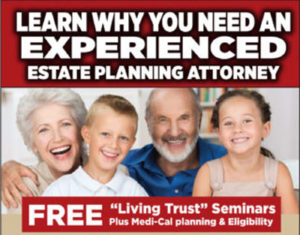 By James Ward
I was recently reading a book written by a surgeon, and he commented that about 95 percent of people die before they expect to.
Why? Maybe it's a sudden death, maybe it's misguided optimism from the individual or their medical team, or maybe it's just plain denial.
A close friend died a month ago at age 55. She was healthy and athletic and thought maybe she had the flu. Two days later they diagnosed her with pneumonia, and the next day she died. It wasn't pneumonia. It was sepsis that wasn't diagnosed until the last hours when it was too late.
I had prepared her trust package of documents years earlier, so her husband and family had the roadmap of her wishes.
Another friend of mine died just a week ago. He was in his late 50s, overweight, and had previously had two heart surgeries, but he felt fine and was still working fulltime in his own business. His business was booming and he owned seven properties, but he always laughed at the need for a trust package of documents to protect his family because he said he was "still too young."
Well, he had a heart attack and died suddenly leaving his family with a huge mess and likely more than one hundred thousand dollars just in probate fees.
And another client came to me three years ago but didn't feel any need to rush until he was hospitalized with a medical mystery that left him mostly unable to breath for a week or so. He told me that as he was lying in the hospital bed, he kept thinking he was going to die, and what a huge mess he was leaving for his daughter. As soon as he was discharged from the hospital and felt better, he rushed into our office to get his legal documents in order.
We all hear of these cases over and over. In my profession, I hear it even more than others.
Why? People procrastinate. It's human nature, but it can cause a lot of problems to the individual and their family and loved ones.
A living trust, sometimes called a revocable trust or family trust, can avoid probate, avoid the need for a conservatorship, and set a clear path for the distribution of your assets.
What you have is what you have. I tell all my clients that my magic wand doesn't give me the power to increase their wealth or improve their health, but we can protect their assets and give authority over their assets to the people they trust to use those assets for their benefit and then later distribute those assets per their instructions.
I always carry in the back of my mind the memory of a relatively young man in the nursing home who was told by his doctor that he had better find an estate planning attorney immediately — and he needed one who could come to the nursing home ASAP.
It was an emergency case, so I met with him the next day and then sent two of my staff to the nursing home the following morning to have him sign his documents. It was too late. The breakdown inside his body had sent a flood of toxins to his brain, and he couldn't wake up enough to sign anything.
My staff waited there for six hours to see if the client could possibly sign, but the client never regained consciousness. He passed two days later, and everything went to his daughter who he had wanted to disinherit.
Don't let these things happen in your family. Get your trust documents in place and up to date before it's too late to get it done.

Latest posts by James Ward
(see all)