Once the production starts it moves with an energy that keeps moving at a nonstop pace.
---
By Camille Bounds
Leslie Martinson directs this production of "The 39 Steps" with a giggle and a gasp. She lets loose four kooky talented characters to play over 100 roles in this Hitchcock murder-spy spoof.
Once the production starts it moves with an energy that keeps moving at a nonstop pace. The creative handling of Patrick Barlow's rendering of "The 39 Steps"  will keep you laughing and alert throughout. This well cast murder/spy thriller moves at a quick clip and entertains and is beautifully offered by each artist playing multiple roles. Lance Gardner, Ron Campbell, Cassidy Brown and Annie Abrams deliver hysterical timing and delivery that is almost flawless.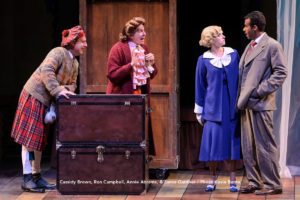 Martinson uses a broad brush, painting the four characters and their images of over 100 characters with over fifty costume changes that transform their persona with a flick of a hat, jacket or wig before your eyes. The timing is intricate and tricky but this nutty group use minimum props and is at times ingenious and adds to the hilarity of the production. Example: Four large trunks double as seats on a train and also act as the roof of the train that the characters use to do a typical Hitchcock chase scene, flapping their coats with flashing lights to give the effect of wind and rain.  A bunch of mismatched chairs and a podium create a getaway car, a moveable door, a mock-up window and picture frames become ingenious props that tickle the funny-bone and create a mental picture of what could be next in this off the wall adventure that is done completely tongue in cheek with a homage to Hitchcock.
This is a truly, inane parody of his most recognized movies, Anyone who is familiar with Hitchcock's 1935 thriller film "The 39 Steps" that starred Robert Donat and Madeline Carroll, (anyone remember them?) is at this time wondering if I am referring to the same story. It is, with an outrages burlesque comedy twist adapted by Patrick Barlow from the novel by John Buchan that keeps the audience for the most part giggling and groaning at the action and puns.
Martinson directs this whacked-out talented group like a conductor performing "Fantasia's" Sorcerer's Apprentice in triple time. These actors must really sleep well, especially when they sometimes do two shows in one day. The energy expended by this entire goofy group is seductive and over the top and leaves the audience pleasantly exhausted.
The movement of a few pieces of furniture and props shows the  creative mentality of David Lee Cuthbert set, resourceful lighting delivered by Steven B. Mannshardt, with time fitting wardrobe  by Cathleen Edwards  that lets the actors fast change, bend and move without splitting seams with excellent sound by Cliff Caruthers .
For anyone who is a Hitchcock fan, this might be the ticket to lighten up a bit. To those who aren't familiar with his genius, it's time to get acquainted, go and rent the movie then see this show. You will definitely have an interesting experience.
Camille Bounds is the Theatre and Arts columnist for the Morgan Hill and Gilroy Life
---
The 39 Steps
Where: Mountain Center For The Performing Arts
Through: Sept 15
Running time: Two hours with one intermission
Tickets: $30-$100
Reservations and information call (650 ) 463-196- or visit www.theaterworks.org

Camille Bounds is the theater columnist for the Morgan Hill Life and Gilroy LIfe newspapers. She has performed on Broadway and traveled around the world. She can be reached at: bounds17@gmail,com

Latest posts by Camille Bounds (see all)