The 2020 Gilroy Chamber of Commerce award ceremony will take place Feb. 1 at the Granada Theater in Morgan Hill.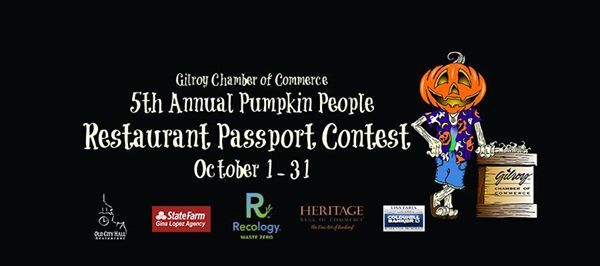 Time is running out for Spice of Life nominations. You have until Friday, Oct. 4, if you want to put a spotlight on an individual or business or nonprofit organization that has done an exceptional job in making the South Valley a wonderful place to live.
Next year's Gilroy Chamber of Commerce award ceremony will take place Feb. 1 at the Granada Theater in Morgan Hill. Spice of Life applications are available online at www.gilroy.org and at the Gilroy Chamber office.
Man and Woman of the Year — recognizes persons who have a history of unselfish service to the community, contributing to Gilroy's welfare and betterment.
Small and Large Business of the Year — recognizes an outstanding Gilroy Chamber of Commerce business with entrepreneurial spirit. Separate categories are presented based on business size with small businesses being 25 full or part-time employees or less and large businesses with 26 and above full or part-time employees.
Gilroy Educator of the Year —  recognizes a individual who has made a significant contribution within the educational community.
Firman B. Voorhies Volunteer of the Year — recognizes a Gilroy Chamber of Commerce volunteer.
Non-Profit of the Year — recognizes an outstanding charity organization in Gilroy.
Young Professional of the Year — recognizes the accomplishments of a highly motivated young business person.
Speaking of awards, Gavilan College announces its 2019 Community Spirit Awards. The awards are presented annually in each of the communities served by Gavilan College, to honor the people and institutions that contribute to improving the quality of life in each community. Each of the three sets of awards includes an individual, a business, and an organization.
The awards will be presented at three chamber of commerce breakfasts this fall. The winners from Morgan Hill/San Martin are: Individual — Cecilia Ponzini, Organization — Operation Freedom Paws, Business — Creative Manufacturing Solutions. For Gilroy: Individual — Michele Pierson, Organization — Gilroy Police Department, Business — Straw Hat Pizza; and from San Benito County: Individual— Kent Child, Organization — Hollister Elks Lodge, Business — DLG Printing.
Oh, my gourd! It's pumpkin season. And that means there are a lot of family fun activities to do in the run-up to Halloween. Uesugi Farms in San Martin has its popular Pumpkin Patch attractions where parents and their kids can ride a train around a giant pyramid of pumpkins or follow a cornfield labyrinth through two-acres of giant stalks of cornucopia — maybe it should be called a "maize maze."
And the popular Pumpkin People Restaurant Passport contest returns to Gilroy. Launched last year, it's a fun way to explore the culinary offerings in Garlic City that focus on the famous squash seen so much during this time of year. If you visit 10 of the 18 restaurants listed on the Gilroy Chamber website and enter at the chamber office, you have a chance to win an all-expense paid vacation to South Lake Tahoe.
The contest takes place through the entire month of October. The dishes range from pumpkin pastries, classic pumpkin pie and spiced lattes, to pumpkin beer, martinis and even margaritas made with pumpkin spice. Don't miss this wonderful opportunity to enjoy the taste of fall and support our local businesses.
Thanks, Zachary Hilton, for letting us know that the Gilroy Bicycle Pedestrian Commission passed a motion at the Sept. 24 meeting to recommend the city of Gilroy or Gilroy Gardens Family Theme Park enter into an agreement to lease with select contracts for the Adventure Park proposal.
"The Adventure Park will be a positive project in the region for people who bike, hike, and enjoy the outdoors," said Hilton, who is a commissioner.
If built, the park will be a resource for high school mountain bike teams, mountain bike enthusiasts, new riders, hikers, and those who enjoy emerging trends in recreation. Gilroy is a Bicycle Friendly Community and the Adventure Park supports the 2018 Tourism in the Hecker Pass Corridor Resolution, Hilton said. 
The proposed outdoors recreational park could make a wonderful tourism addition to Gilroy's Hecker Pass. We encourage the public's support.
Antonio Del Buono Elementary School will close in the summer of 2020. This was a very difficult decision for the Gilroy Unified School District board of trustees and staff to make at the Sept. 5 meeting but it was necessary to help balance the budget during difficult financial times.
Enrollment has steadily dropped during the past few years and is projected to decline for years to come. The decline of more than 400 students in three years has resulted in a loss of revenue of about $5 million. This decline is the result of many factors including a significant drop in the birth rate, the exodus of families to places with lower housing costs, and fewer students from new housing.
Next fall students from Del Bueno will attend either Luigi Aprea or Rucker elementary schools, Melanie Corona, the district public information officer, told us.

Robert Airoldi is the editor of Gilroy Life newspaper. If you have a story idea or an Around Town column item you want to tell him about, you can reach him at (408) 427-5865 or at editor@gilroylife.com.

Latest posts by Robert Airoldi (see all)