Beloved classic fairytale reveals how a glass slipper helps girl to find love
By Marty Cheek
Thanks to some magic from a fairy godmother, mice turn into horses, a pumpkin turns into a carriage, and a young woman turns into a princess on the Morgan Hill Community Playhouse stage starting Oct. 5
The South Valley Civic Theatre opens its 2019-2020 season with the Rodgers and Hammerstein musical version of "Cinderella," the beloved classic story about how a glass slipper brings a transformation that leads to love. Daniel McDonald directs 35 local children and teens in telling the story of a young woman forced into servitude who dreams of — and achieves — a better life.
"The music is beautiful," he said at a rehearsal. "Our kids are really strong with acting, singing and dancing. My focus is telling the story (in a way) that empowers Cinderella so that she's not this passive character who needs her prince to fulfill her or rescue her. She takes matters into her own hands and that's the driving force of our show."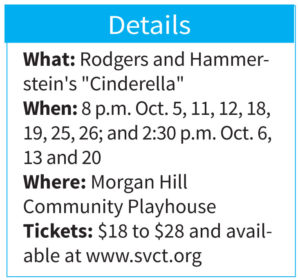 Morgan Hill resident Riley Brown performs as the title character. She describes this version of "Cinderella" taking a more mature slant of the story compared with the well-known 1950 Walt Disney film
"In our version, she's not hopeless and needing her prince," she said about the character she plays. "She's a lot more independent. And when she wants something, she can grab that power that she needs. She can stand up against her step-family and do what she wants instead of being told what to do."
The legendary Broadway musical duo Richard Rodgers and Oscar Hammerstein originally wrote "Cinderella" as a special production for TV which starred Julie Andrews and was broadcast March 31, 1957.
Songs include "In My Own Little Corner," "Impossible," "Do I Love You Because You're Beautiful?" and "Ten Minutes Ago." The show hit the Broadway stage in 2013.