World War I veteran passed away in 1991 at the age of 100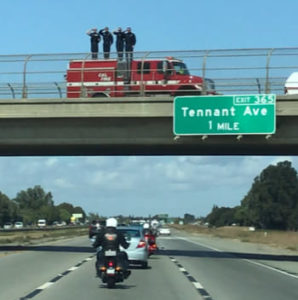 By Robert Airoldi
We received several calls asking why firetrucks were parked on U.S. 101 overpasses, Sept. 30. According to the Gilroy Fire Department, they were there to honor a military veteran who was being transported from Salinas to the San Francisco National Cemetery.
According to news reports, the cremated remains of Edward Auton Adams were discovered in a box at the back of a closet in an old professional building in Monterey two years ago. The World War I veteran passed away in 1991 at the age of 100, having outlived his wife and having no children. The lawyer he worked with had died, thus failing to get Adams to his final resting place.
There's some news from the Gilroy Garlic Festival Victims Relief Fund. The oversight committee recently adjusted its policy about disbursing funds.
"Because of this adjustment, the committee was able to approve disbursements to these victims without assessing their financial need," said Donna Pray, executive director of the Gilroy Foundation which oversees the funds. Now, all victims who were injured by the gunman will receive lump-sum disbursements from the Gilroy Garlic Festival Victims Relief Fund. Tiered payments, based on the length of hospitalization, have been approved.
"We have been so moved by the courage and resilience demonstrated by the victims, and we are humbled to be a part of their recovery," she said. "As difficult as this situation has been for all of us, we are confident that the administration of the relief fund has been effective, fair and reflects the values of this great community that Gilroy Foundation is proud to serve."
The fund has received donations and pledges in excess of $1.7 million.
Pray said they receive daily words of support from around the world. One PayPal donation had this comment: "This donation is from New Light Congregation, another victim of a mass shooting. We grieve with you." This Pittsburg, Penn. congregation lost many members at the synagogue shooting in October of 2018.
"This is our hometown and we will always be #GilroyStrong," she said.
After days of delaying the shutting off electricity to selected areas by PG&E, the predicted power outage finally came to South Valley.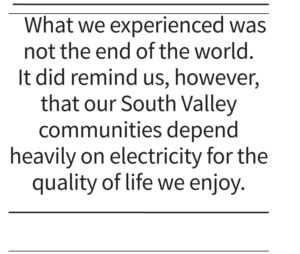 About 11 p.m. Wednesday, Oct. 9, power was shut off in several locations in Morgan Hill, including some areas of Holiday Lake Estates, the Depot and Third streets area of downtown, Diana Avenue and Butterfield Boulevard, and Calle Mazatan and Calle Verde, to name a few. They joined the more than  800,000 Californians who lost their power since Tuesday in what PG&E called a "Public Safety Power Shutoff." The decision to proactively turn off power was based on forecasts of dry, windy weather including potential fire risk. We were warned to expect power outages of up to seven days in an effort to prevent the wildfires that happened last year. We heard of no reports of power outages in Gilroy.
The waiting game of what time the switch might be used to turn off the local grid caused anxiety among South Valley residents. Adding to the worries was the unavailability of information from PG&E's website dedicated to letting people know when and where the outages would occur. We tried many times to get on but received notices of failure to load.
Local supermarkets experienced a run on bags of ice, canned goods and batteries. There was extra time waiting in line at gas stations.
The early evening of Wednesday Oct. 9, news truck and reporters were seen roaming the streets of downtown waiting for the lights to go out. People ate casually in local restaurants, not stressed by the prospect of the shutoff.
The worries of after-dark looting and other crimes prompted the city on Oct. 9 to initiate a curfew for the community in the areas affected by the outage. Initially, this curfew was to begin at 7 p.m. and end the following morning at 6:30 a.m. Later, city officials decided police would enforce the curfew when PG&E cut the power and street lights went dark.
Thursday morning we got an email from police letting us know they arrested two men seen roaming affected neighborhoods. An officer advised the two of the curfew and a records check revealed one had an outstanding warrant and the other was on searchable probation. A 26-year-old Tracy resident and a 21-year-old San Jose resident were arrested.
"The goal of this curfew is to deny people with bad intent the opportunity to victimize our residents or businesses during a power outage," said the press release issued by Morgan Hill Police Sgt. Bill Norman.
Most power was restored by 5 p.m. Oct. 10 to the relief of residents.
What we experienced was not the end of the world. It did remind us, however, that our South Valley communities depend heavily on electricity for the quality of life we enjoy.

Latest posts by Robert Airoldi
(see all)