Morgan Hill Lions Club members reflect on their many decades of service
By Donna Lane
For more than a century, the Lions Club has encouraged their members across the world to contribute to their communities through service. Though they are well known for their vision-related missions, the Lions participate in a wide variety of service projects, with lasting impacts on their local communities. For many, it's a brief commitment, serving for a few years and then moving on to other obligations. The Morgan Hill Lions Club, however, has several members who have served for multiple decades.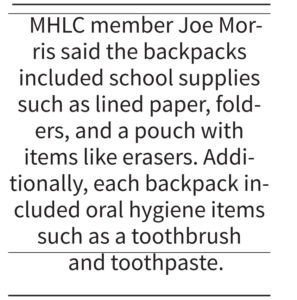 Lon Davis, 76, has the longest tenure of the Morgan Hill Lions Club, at 40 years. For more than half his life, he has participated in numerous fundraisers, and watched the cities and neighborhoods of South County grow and change along the way. Lon grew up in Oakland and moved to the area in 1977. He lives in San Martin but is a member of the Morgan Hill chapter.
"I was new here and wanted to get involved," Davis recalled of his start in the organization. "Morgan Hill and Gilroy were smaller back then. There was a real small-town feel. You'd see the same people all the time."
It didn't take long for Davis to see that he could make an impact in that small but growing community by joining the Lions. Soon, along with other members of the club, he was helping to install playground equipment in a local park, taking donations for sight preservation in honor of White Cane Day, providing transportation for Thanksgiving box deliveries with a local high school group, splitting firewood to be raffled off, and more.
But the big draw was the pancake breakfast, an annual fundraiser that enabled the Lions to support several groups and projects throughout the year. Unfortunately, due to declining attendance and increasing costs, the Lions no longer hold the breakfast. But they continue to contribute throughout South County. There have been scholarships, sponsorship of a local Cub Scout pack, backpacks stuffed with supplies for children in need. They support high school bands, youth and high school sports, Eagle Scout projects, and groups like Canine Companions for Independence, and Books Aloud, which provides recorded materials to the blind, visually impaired and others who have difficulty reading the printed page. For those who require hearing aids, or eye surgery, the Morgan Hill Lions Club can offer assistance.
Like Davis, Kiki Nakauchi, 88, found joy in serving others. She was the first woman to join the Morgan Hill chapter. A retired Live Oak High School teacher, Nakauchi was invited to join the club by a coworker, who happened to be the wife of a Lions Club member. "When I joined the club, I didn't know what this was all about," she joked. But once she learned more about the group, she wanted to pass that feeling on to a younger generation.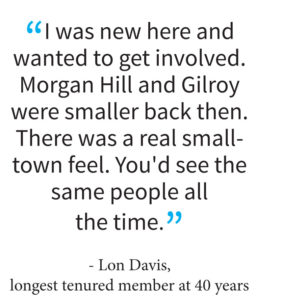 The former Morgan Hill Woman of the Year and Educator of the Year has been retired since 2000. But she still oversees the Future Business Leaders of America (FBLA) group at Live Oak. Each year, FBLA and the Lions team up for Thanksgiving food drive, under Nakauchi's supervision, through the Morgan Hill Unified School District.
The Lions do the driving, while the students load up the vehicles and help distribute the collected food on the day before Thanksgiving. It started small, but as the population in South County has grown, so has the need. Today, they serve 125 families. Nakauchi does it because she enjoys helping the community and knowing that students are learning to help others at an early age.
"Every family gets a big apple box full of groceries (cans), plus a turkey, laundry detergent, and another bag of groceries, like tortillas, potatoes, and bread. I think it's fulfilling, and it makes me proud. But I also think kids need to be a part of their community. I send them out so they can see some of the conditions some of these people live in. There's a message there I want these kids to receive."
Like Davis, Nakauchi has noted several changes in the area over the years. She moved to Morgan Hill in 1962. "I remember when this was all prune orchards," she said.
Jim Pacheco, 80, moved to Morgan Hill in 1970. Like Davis, he has been with the Lions nearly 40 years, spending half his life with the club. But he had a different reason for getting involved.
"My father-in-law was a member of San Francisco Lions Club, and he conned me to go in," Pacheco said with a chuckle, adding, "There were a bunch of old guys there then, too."
Pacheco had his own business as a septic tank contractor and heavy equipment operator. At first the club provided social and business networking opportunities more than anything. But over time, Pacheco came to enjoy meeting new people and giving back to the community.
As a heavy equipment operator, Pacheco could use his splitter on fallen trees. The club would create firewood and raffle it off to raise funds for the various projects they support. He also used his backhoe to dig the foundation for the San Martin Lions Club.
"It's good to do things to support other clubs, and agitate each other," Pacheco joked.
All jokes aside, the Lions have been making a difference in South County for more than four decades. And they'd like to see membership increase, infusing their current roster with new, younger members interested in creating their own impact on the neighborhoods in which they live and work. They hold meetings the second and fourth Monday of each month. Meetings are held in the evening so more people can attend. But it's a challenge, because between work and family, everyone has many obligations.
"The truth is, nobody has the time," Davis said. "But you have to make a commitment and want to do it enough to fit it into your schedule and make the time."
For the members of the Morgan Hill Lions Club, and the community they serve, it's time well spent.

Latest posts by Donna Lane
(see all)