Lemus represented the more than 340,000 people in California with intellectual and developmental disabilities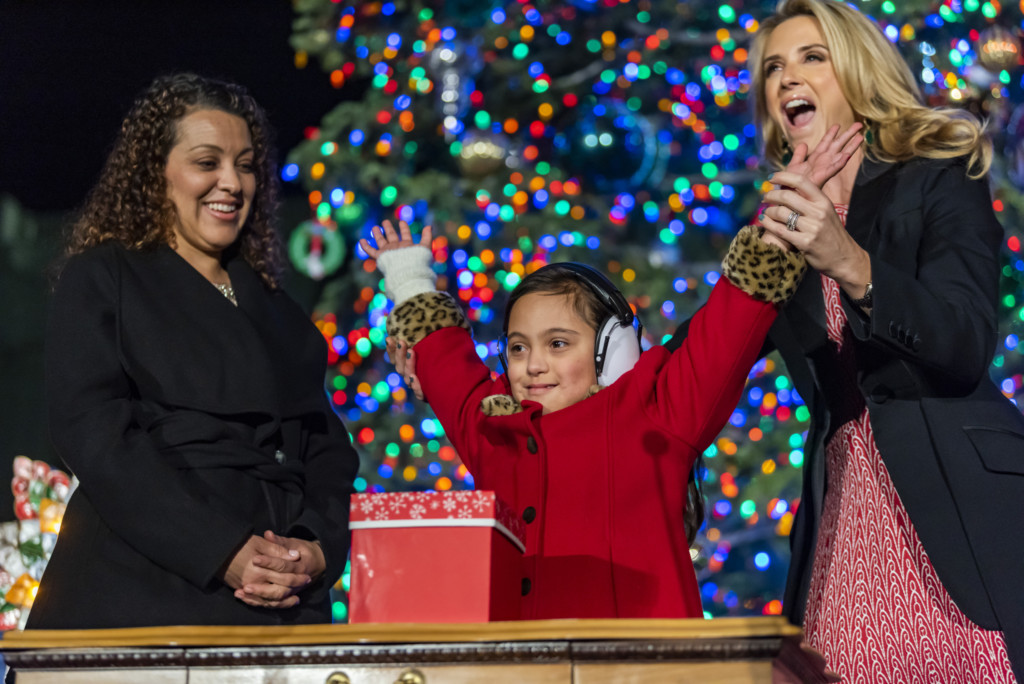 ---
By Robert Airoldi
Gilroy girl Nayeli Lemus got a wonderful start to the holiday season when she helped light the Golden State's official Christmas tree.
The 10-year-old student at Charter School of Morgan Hill joined Gov. Gavin Newsom and first partner Jennifer Siebel Newsom when the couple hosted the 88th Annual California State Capitol Christmas Tree Lighting Ceremony the evening of Dec. 5 on the lawn of the Capitol Building.
Lemus was excited to represent the more than 340,000 people in California with intellectual and developmental disabilities. California's cultural diversity and spirit of inclusion were highlighted during the lighting ceremony.
The California Department of Developmental Services and the San Andreas Regional Center selected Lemus, who has received services from the state since her diagnosis, because she is an, "energetic independent fourth grader who loves school, singing, dancing, going to the beach and reading books."
This year's Capitol Christmas Tree is a white fir that stands 66 feet and 3 inches tall. It is lit by about 10,000 LED lights and is decorated with at least 300 traditional ornaments and more than 500 hand-crafted ornaments made by children and adults with intellectual and developmental disabilities.
"The holiday season is a very special time, and this year, we want to celebrate California's rich history, people, cultures, backgrounds and religious beliefs, which give our state its unique and enviable identity," Gov. Newsom said in a press release.
Mattie Scariot is amazing. The Gilroy woman has transformed the South Valley's Poppy Jasper International Film Festival into one of the world's premier gatherings of independent filmmakers. She was in Santa Barbara at the FestForums convention last month where she received a very prestigious award for the nonprofit arts and cultural group. It was selected by FestForums as the best festival for its "Best of the Fest Awards" ceremony.
"I had the attitude that we were lucky to be finalists and that next year we would come back for the win," she said. "You can imagine my surprise when we won alongside so many great festivals including Outside Lands Music Festival, one of the biggest.
Thanks, Mattie, for turning our film festival into one of the best.
During the season of giving, consider giving the gift of life with a blood donation. This time of year is busy for most Gilroy residents, but slow for blood banks. There is currently a critical need for type O donors, according to the American Red Cross.
People who donate blood to the American Red Cross this holiday season from Nov. 18 to Dec. 18 will be thanked with a $5 gift card from Amazon, thanks to Suburban Propane. A blood drive is scheduled from 12:30 to 6:30 p.m. Dec. 12 at the The Church of Jesus Christ, Latter-day Saints, at 7999 Miller Ave.
My wife, Kathryn, and I completed the Community Emergency Response Team training, with a five-hour exercise Nov. 23. It was a valuable experience to learn how to prepare and react in a disaster that could see residents on their own for at least three days. To that end, we now have preparedness kits that I'll keep in my truck that include among other things, a first-aid kit, flashlight, duct tape, matches, gloves, radio and personal hygiene items.
In addition to learning about disaster preparedness, we also learned about fire safety, medical operations, light search and rescue, disaster psychology and terrorism.
During the final exercise the entire class of about 15 got to extinguish a small fire using a common fire extinguisher found in most homes. Then we split into three groups and rotated among search and rescue, medical operations and damage assessment. Our group first searched a warehouse type building in the dark locating Boy Scout "victims" and classifying them according to priority then helping them out of the building. From there we went to medical operations where the "victims" were examined and taken care of. Finally, we looked at photos of building in various aspects of damage and calling them into the Emergency Operations Center. I'm now at least somewhat prepared to take care of my family, neighbors, and, should I like, volunteer to help others.
I encourage everyone to take this course either in Morgan Hill or Gilroy. Who knows? It could save your life and that of others. To join visit, www.cityofgilroy.org/174/Emergency-Preparedness or www.mhcert.com.
Marty Cheek is the publisher of Morgan Hill Life and Gilroy Life. He is also the co-author with Congressman Jerry McNerney of the book Clean Energy Nation: Freeing America From the Tyranny of Fossil Fuels. Email: marty@gilroylife.com Phone: (408) 782-7575
Latest posts by Marty Cheek (see all)