Orchestra, theater, Gilroy Gardens and much more
By Marty Cheek
The winter holiday season brings plenty of family fun activities in the South Valley to create happy memories with joyful music, comic theater and colorful light displays.
Local music lovers enjoy an annual December tradition of bringing in the holiday season with the joy of music at the South Valley Symphony winter concert. Conductor and musical director Anthony Quartuccio promises a fun night for children of all ages at the Dec. 14 concert held at the Gavilan Community College Theater in Gilroy.
The orchestra will play seasonal favorites and classical sounds with the talent of singers Sandra Marlowe and Ted Sanchez. Sanchez will narrate the classic poem "A Night Before Christmas" with a full symphony orchestra.
"That will be really fun," Quartuccio said. "We haven't had a narration for the holidays for a long time, and he'll be really great at that."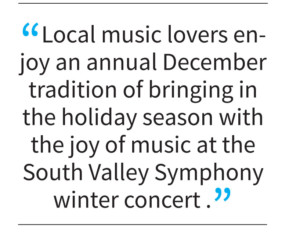 And who knows? Perhaps a certain beloved toymaker who makes his home in the Arctic and spends much of his time playing with elves might make a special appearance at this year's SVS holiday concert and meet with children during the intermission.
The orchestra will perform back-to-back two versions of the popular "Sleigh Ride" piece. The first is the more commonly known one written by Leroy Anderson.
The second version will be one that was written by Leopold Mozart, the father of Wolfgang Mozart. "It has a similar look and feel, except in early classical style," Quartuccio said.
This is a wonderful concert for parents to take their children to and introduce them to the joy of symphonic music. Children under the age of 16 are free and must be accompanied by an adult. Students 17 and older can get into the concert free with student ID.
All tickets are for general admission. To purchase tickets, visit www.southvalleysymphony.org/purchase-tickets.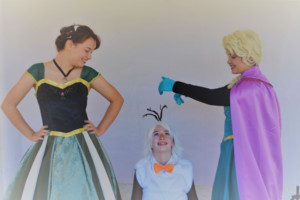 South Valley families will get a warm holiday feeling when they watch the musical "Frozen Jr" performed by Theater Fun. This version of the Disney movie will be performed by South Valley children opening Dec. 12 at the Morgan Hill Community Playhouse. The show will be performed eight times.
In this all-youth production, Carol Romo, the show's director, assembles more than 60 cast members from throughout the South Valley area.
Playing the lovable snowman Olaf, Klotzbach, an 11-year-old sixth grader at Brownell Middle School, enjoys being on stage and making people smile.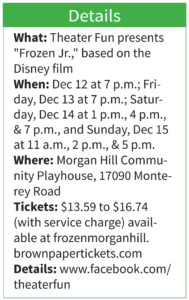 "I love that many of my friends are in the show with me," she said. "I really enjoy theater. It's so much fun."
There are so many wonderful life lessons to be learned from the story of "Frozen" — including to not shut the door on the people you love but rather to let them in and to trust them with your feelings, Romo said. Another lesson from its story is that there are people "worth melting for" — and that those true friends probably would be ready to melt for you as well.  A third lesson is to embrace your dreams no matter how unlikely they seem to others.
"In addition, sometimes you just have to 'Let It Go,' — that whatever's happened to you, whatever choices you've made, whatever hurt you've felt before today, sometimes you have to acknowledge that no amount of worrying will change the past, but it will rob you of your chance for happiness in the present," Romo said.
The musical features a cast of beloved characters and is loaded with magic, adventure, and plenty of humor, she said.
It is sure to thaw even the coldest heart. A story of true love and acceptance between sisters, "Frozen Jr" expands upon the emotional relationship and journey between princesses Anna and Elsa. When faced with danger, the two discover their hidden potential and the powerful bond of sisterhood
"It's been an absolute joy to watch these remarkable children over the past few months transform into the characters they are portraying and see their friendships and confidence grow with each rehearsal," Romo said. "There's truly magic there that would thaw even the most frozen of hearts."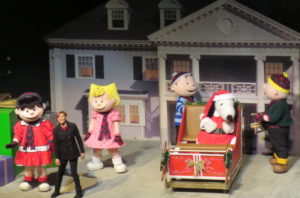 There's plenty of holiday fun for kids and parents at Gilroy Gardens Family Theme Park. The amusement park located in Hecker Pass is open on select evenings until Dec. 31 with plenty of activities and sparkling lights to generate a wonder of winter.
Enjoy the live "Charlie Brown Christmas" musical show where the Peanuts gang learns about the true meaning of the holiday. Visit with Santa Claus and get a photo with the famous man from the North Pole. Go ice skating under the stars on the rink at the park. And, of course, enjoy time on the many amusement rides. On the evening of Dec. 31, make the countdown to 2020 with family and friends for a special New Year's celebration at the park. Visit Gilroy Gardens at night for the holiday, then enjoy music, local wines, and craft beers at the Events Plaza starting at 8 p.m. The fireworks show starts just before midnight and is included free with all holiday night admission tickets.
If your kids are into the Cat in the Hat and other fun characters from the imagination of Dr. Seuss, you'll definitely want to take them to the Mount Madonna School's Hawk's Nest Theater to work "Seussical Jr." This colorful, magical adventure performs Dec. 14 and 15. Adult tickets are $15 and $10 for those 18 and younger. All seats are reserved and tickets can be purchased at mmseussical.brownpapertickets.com.
Gilroy Recreation will be hosting Santa for breakfast on Dec. 14 at the Gilroy Senior Center There will be breakfast, crafts, a visit with Santa and a photo opportunity.
Make sure to bring your cameras and appetites. Every person attending the event must register and pay. For details, visit apm.activecommunities.com/gilroy/Activity_Search/breakfast-with-santa/9818 Children must be accompanied by a registered adult.
A holiday Posada will be held from 3 p.m. to 7 p.m. Dec. 14 at San Ysidro Park at 7700 Murray Avenue in Gilroy. This event is open free to all and offers fun activities for children including entertainment, face painting, and piñatas. The event is sponsored by the South County Youth Task Force.
The Gilroy Library will have a free holiday crafts event for kids, Dec. 15, from 1 to 3 p.m. Drop-in and make something special to share with your friends during the winter festivities.
Latest posts by Marty Cheek
(see all)