"Pride and Prejudice" is a fine refreshing moment in the theater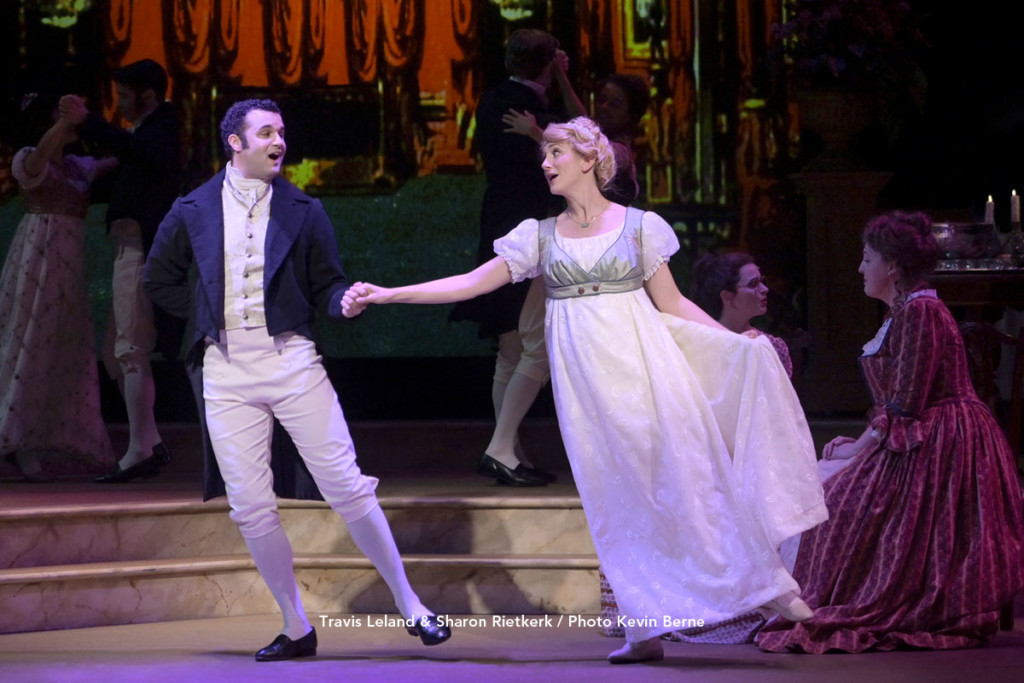 By Camille Bounds
The 70th TheatreWorks' world premier starts out with a production that is fitting for the times and place with Jane Austen's "Pride and Prejudice" as a musical. With book, music and lyrics by award-winning,  prolific playwright Paul Gordon, the group puts together an amazing show with a talented cast.
Mary Mattison brings in an independent woman way ahead of her time with her portrayal of the story's heroine, Lizzie Bennet. Justin Mortelliti brings to life on the stage the rather snobbish but principled Mr. Darcey. He portrays him with gusto and energy. This is the two actors' TheatreWorks debut and they bring a welcome reality to their roles. Mattison has a fine clear voice that carries the sometime unexciting songs to interest. There are  about 25 songs throughout the play, some of which are a wait in line for the fine Austen dialogue.
Multi-award-winning Robert Kelly directs his 175th production in this his last season before retiring, after devoting 50 years of his superb directing talent to TheatreWorks. He directs Pride and Prejudice with his usual genius creating a production of genuine, grand theater.
Joe Ragey's unique set is a true scene stealer. Scenes swirl within one another on movement of furniture or a turn of a  table and change locations of the areas by projected backgrounds. Sound and lighting by Brendon Aanes and Pamila Z. Gray add to the usual TheatreWorks perfection of this presentation. Costumes by Fumiko Bielefeldt bring the time of the piece into accurate focus. William Libereatore as always adds the orchestra with a big fine sound that carries the show.
A mix of comedy, drama and fine actors ensures that the audience stays alert to keep up with the classic story set in Regency England to make for a most enjoyable evening.
"Pride and Prejudice" is grand theater that is well worth spending an evening enjoying a show based on Jane Austen's 1813 romantic novel of manners.
DETAILS

"Pride and Prejudice"

Where:  Lucie Stern Theatre, 1305 Middlefield Road, Palo Alto

Through: Jan. 4

For Reservations and information call: (650) 463-1960 or visit www.theatreworks.org