Multilevel intervention plan helps keep at-risk youth on the right path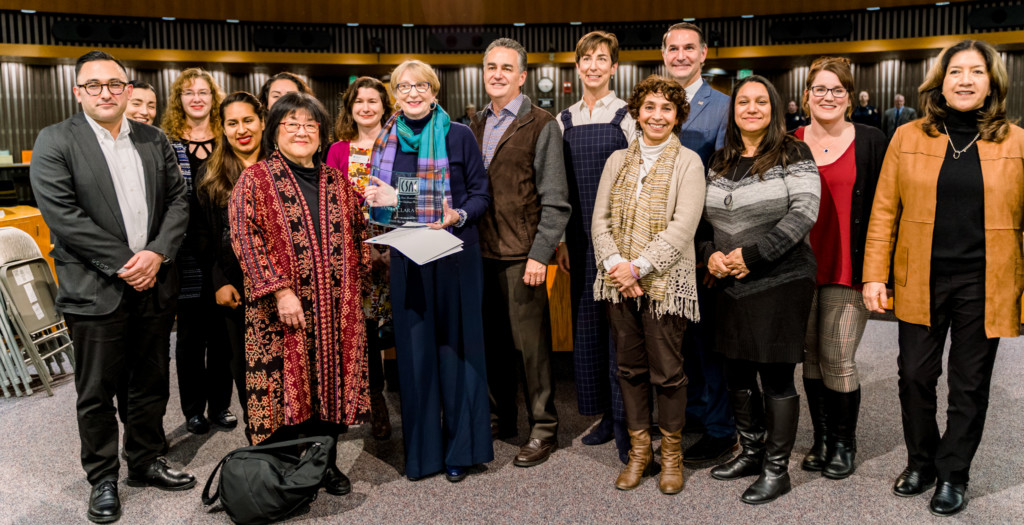 By Donna Lane
The Gilroy Library promotes knowledge and enrichment through its vast array of resources and materials. But it's also providing hope for a better future for some Gilroy families, and that effort has caused others to take notice. An innovative program called Rise Up, which was designed to curb juvenile delinquency, will be recognized at the Santa Clara County Board of Supervisors meeting on December 9.
The recognition is from the California State Association of Counties (CSAC). Rise Up is a partnership between the Gilroy Library and various County agencies, including the District Attorney's office and the Department of Child and Family Services, and the South County Youth Task Force to provide education and support to improve the lives and outcomes for at-risk youth and their families.
In 2016, Gilroy was ranked first in Santa Clara County for juvenile justice arrests and citations. Gilroy Community Librarian Lani Yoshimura said that she had noticed there were a lot of kids who "hang around the peripheral" area surrounding the library. Deputy County Librarian Chris Brown had the idea to secure a grant to give these and other Gilroy youths more opportunities that might keep them out of trouble and worked with the Youth Task Force to get the ball rolling. The idea to incorporate so many programs, addressing the needs of multiple age groups, was key.
"Some of the programs were already helping here in Gilroy, but they were being held in churches," said Kelly Young, Supervising Librarian of Adult & Teen Services at the Gilroy Library. "The library is a more neutral location, so it appeals to some who may not feel comfortable going to a religious institution."
The Santa Clara County Library District was selected as the urban library winner for the Challenge Award in Administration of Justice & Public Safety. Working closely with the South County Youth Council and local nonprofits, Rise Up was created as a multi-pronged intervention program designed to help parents of youth who have been involved in the criminal justice system steer clear of gangs and other negative behaviors.
The diverse roster of programs truly incorporates something for everyone. It includes Late Night Gym, Resilient Families, the Parent Project, Restore Leadership, a one-day culinary academy session at Rebekah's Children's Services, field trips, movies at San Ysidro Park, and Carry the Vision mindfulness training.
Late Night Gym was a natural fit. "The kids are here anyway," Young said. The Late Night Gym youth use a room in the Gilroy Library for an hour prior to the LNG starting at Wheeler Community Center, across the parking lot from the Library, in partnership with the City of Gilroy and Community Solutions. And the Library staff capitalized on the opportunity to reach more community members.
"We did a focus group with LNG," Yoshimura explained. "It gave us another point of view on kids we hadn't seen before. On Tuesday nights, we see a lot of kids who want to be around the action. Here's a way for us to help with that. By having parents here, it gave them a chance to see what the library is about, get library cards, and discover the resources we offer."
Similarly, they did a presentation to the Parent Project, which is a 12-class parenting series in Spanish. Though most of these parents already had library cards, many didn't know the extent of Spanish language materials the Library offered. "It opens a door there for other experiences, which they might use down the line, and gave us exposure to another group of people," Yoshimura noted.
Resilient Families is a seven-week parenting series in Spanish. Restore Leadership is a 12-week training course for nonprofit and government staff. Each of these programs gives participants the opportunity to build a network of resources and develop skills that may strengthen family bonds, potentially curbing youth violence or criminal activity.
Through focus groups and other community events, the Library staff also learned that the youth would enjoy taking field trips. "Many had never been out of Gilroy, didn't have the opportunity," Young stated. "We got feedback that they wanted to meet new people. They may feel isolation, or be afraid to meet their neighbors, branch out, and get to know their community. These activities create a neighborhood sense, and that's what they want more of."
And what better place to create a feeling of community than a library, filled with resources, people of all backgrounds, and an emphasis on learning?
"Rise Up has been the perfect approach to the challenges faced by Gilroy area youth," said Mike Wasserman, Santa Clara County Supervisor and President of the Library Joint Powers Authority Board. "SCCLD has been a major partner in this effort, lending meeting space, planning, programming and personnel time."
As for the Challenge Award, Yoshimura said, "It's an honor. Anytime you can get recognition for something you've participated in, it's great. Ours is a very multifaceted grant. And it's nice that we were recognized for such an honor here in Gilroy. So often, these awards go to bigger cities. I have great staff, who have long been doing great things. The idea started as a grant with Chris and the Youth Task Force. And we developed it from there with a lot of input from the community."
"It's great to see our staff's extra effort to help improve the communities we serve recognized by groups as prestigious as CSAC," said County Librarian Nancy Howe. "We will take this honor as validation of our approach to expand the types of services we offer to our patrons."
Yoshimura concluded, "Anytime you can learn more about community, provide them with insight to other things available, I think that's what public libraries are all about."

Latest posts by Donna Lane
(see all)